Brunch salad with roasted potatoes, radishes and fennel
May 7th, 2020 by Raphaël Podlasiewicz, Executive Chef of the restaurants, Strøm Nordic Spa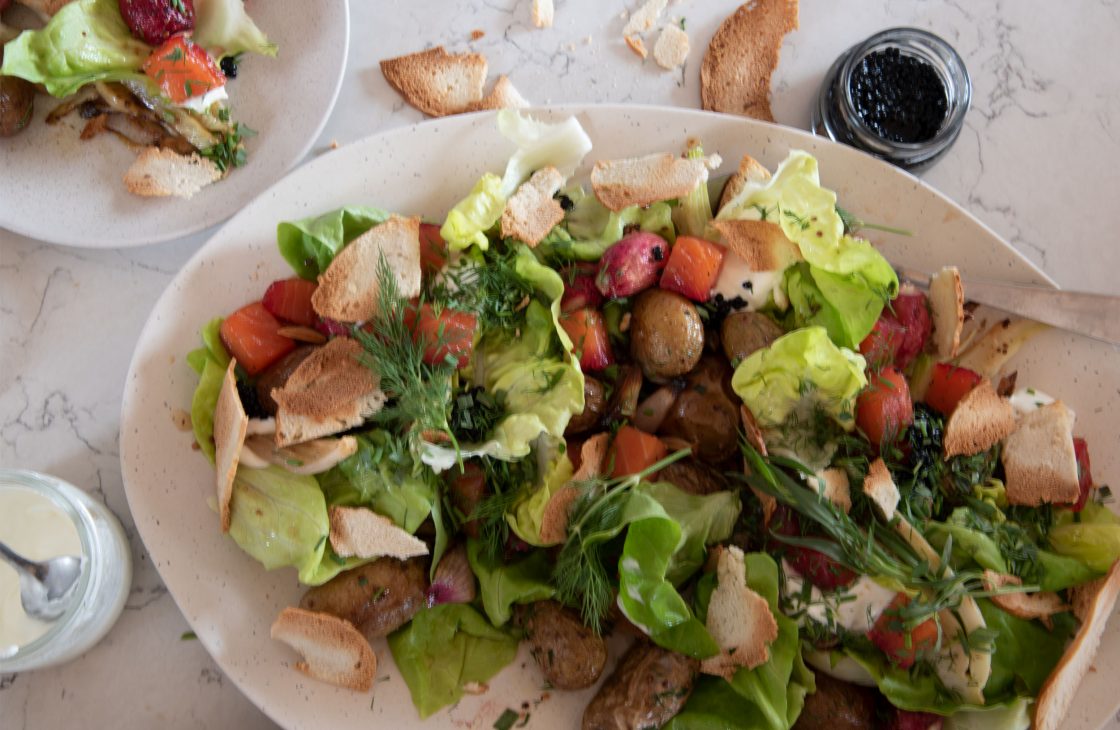 Salmon gravlax candies | Fresh cream
To celebrate Mother's Day at home, here's a fresh and flavourful recipe. Take the time to concoct a delicious meal that will bring you together around the table (in real life or virtually!) to remember how precious and essential our time together is. Raphaël Podlasiewicz, executive chef of Nord restaurants and Fika café at Strøm Nordic Spa, presents his surprising and comforting brunch salad recipe. Enjoy!
Preparation time: 1 hour | Waiting time: 3 days (for the salmon gravlax) | Cooking time: 30 minutes | Servings: 4 to 6
Ingredients

Brunch salad
½ cup bagel chips (optional)
6 cups roasted potato, radish and fennel salad
1 Boston lettuce, the leaves
4 tablespoons fresh cream
2 tablespoons mullet caviar
2 cups beetroot salmon gravlax candies
½ cup fresh herbs roughly chopped (such as dill and tarragon)
Beetroot salmon gravlax
1 salmon fillet of about 700 g, skin removed
300 g red beets
1 bunch dill
100 g coarse salt
100 g brown sugar
1 teaspoon vodka
The zest of one lemon
1 teaspoon freshly ground pepper
Fresh cream
2 cups 35 % cream
2 tablespoons buttermilk
Beetroot salmon gravlax candies
2 cups beetroot salmon gravlax, diced in cubes of 1.5 cm
¼ teaspoon fleur de sel
Pepper, to taste
1/4 cup maple syrup
Roasted potato, radish and fennel salad
3 cups baby potatoes
2 cups radishes
1 fennel cut into 12 pieces
4 shallots, peeled and cut into pieces
½ cup olive oil
1 tablespoon mustard seeds
1 tablespoon maple syrup
¼ cup cider vinegar
Salt and pepper, to taste
Preparation
Beetroot salmon gravlax
Clean the salmon fillet and remove bones if any remain.
Peel and grate the beets.
Chop the bunch of dill.
Place the salmon fillet in a large, deep bowl and spread the coarse salt and brown sugar over the entire fillet.
Add the grated beetroot, then drizzle with vodka and add the lemon zest. Add the dill and pepper. Spread the ingredients evenly over the entire fillet.
Carefully wrap the fillet and its coating with plastic wrap, then place a weight on it to facilitate maceration. Let marinate for 48 hours in the refrigerator.
Remove the plastic wrap and remove all the coating from the salmon.
Rinse the fillet lightly in cold water and dry it gently with paper towels.
Fresh cream
In a 3-cup container, put the cream and buttermilk and mix gently.
Cover with a cheesecloth and seal with a rubber band. Leave at room temperature for 24 hours.
Seal the container and refrigerate for 24 hours before using.
Note: To save time, simply make the recipe with a store-bought fresh cream.
Beetroot salmon gravlax candies
In a bowl, mix the gravlax cubes, fleur de sel and pepper to coat the salmon gravlax cubes well. Let macerate for 15 minutes.
Add the maple syrup and mix to coat the gravlax cubes, then let macerate for 2 to 3 hours in the refrigerator, or a little less if time is short. 
Roasted potato, radish and fennel salad
Preheat the oven to 425°F.
In a bowl, mix the potatoes and radishes, previously washed and dried.
Add the fennel and the shallots and half the olive oil. Season with salt and pepper.
Roast in the oven for 25 to 30 minutes until the ingredients are lightly browned and the potatoes are tender. Transfer to a salad bowl and let temper for 15 to 20 minutes.
Season the mixture with the mustard seeds, maple syrup, cider vinegar and remaining olive oil. Season with salt and pepper.
Note: Pay attention to the salt in the salad as the gravlax candies will already be salty.
Assembling
To make bagel chips, cut a bagel in half to make two half-moons and then make thin slices. Spread on a baking sheet and let dry in the oven preheated to 350°F for 10 to 12 minutes or until bagel chips are lightly browned. Set aside.
In a large plate or serving bowl, arrange the roasted potato, radish and fennel salad alternating with the Boston lettuce leaves.
Spread the fresh cream imperfectly, then randomly arrange the mullet caviar and gravlax candies.
Sprinkle with chopped fresh herbs and bagel chips.
Place in the centre of the table with a serving spoon and plates for sharing.