Rugbrød Nordic bread
April 9th, 2020 by Raphaël Podlasiewicz, chef exécutif des restaurants, Strøm spa nordique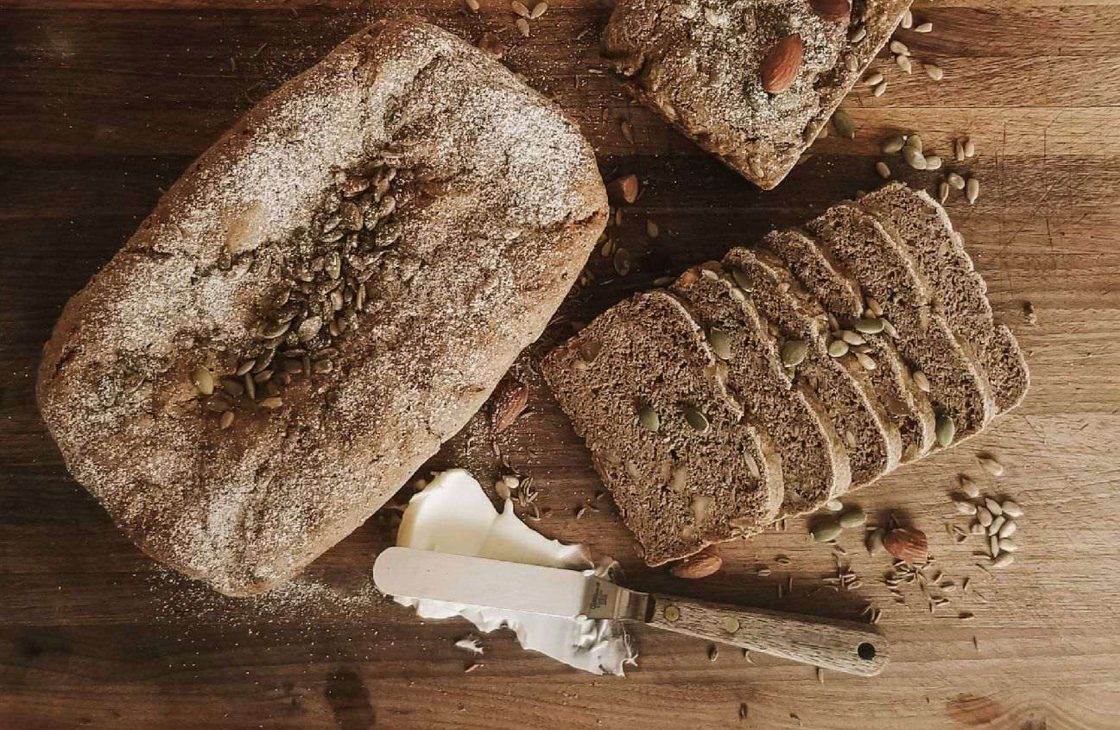 Denmark's iconic bread, rugbrød is a tasty and nourishing Nordic bread that is a perfect base for sandwiches and other sweet or savoury snacks, such as the famous Scandinavian smørrebrøds.  Made from rye flour that is combined with other types of cereals, seeds and nuts, rugbrød is characterised by a dense, dark crumb perfectly balanced by a thin, crunchy crust. This wholemeal bread is rich in fibre and plant-based proteins and is very easy to make. The executive chef of  Strøm Nordic Spa's Nord restaurants and Fika café, Raphaël Podlasiewicz, shares his recipe with you.
Preparation time: 1 h 15 min | Cooking time: 1 h 15 min | Makes: one loaf of bread of medium size
You'll need a loaf pan to make this recipe.
Ingredients
2 cups lukewarm boiled water
5 teaspoons (25 g) fresh yeast or instant yeast
2 ½ cups rye flour
1 ½ cup whole wheat flour
2 tablespoons quick oat flakes
1 teaspoon salt
2 tablespoons molasses
¼ cup walnuts
¼ cup hazelnuts
2 teaspoons caraway seeds
3 tablespoons unsalted roasted pumpkin seeds
3 tablespoons unsalted roasted sunflower seeds
Preparation
In a bowl, mix the yeast with half the lukewarm water. Let the yeast activate for 10 minutes.
In the meantime, in another large bowl, mix the rye flour, whole wheat flour, oat flakes and salt.
Place the flour mixture in a stand mixer fitted with the dough hook, make a well in the centre of the dry mixture and add the lukewarm water and yeast mixture. Knead the dough at low intensity for 2 to 3 minutes, adding the remaining lukewarm water gradually.
Add the remaining ingredients and knead for an additional 3 to 4 minutes.
Line a loaf pan with parchment paper and place the dough in it. The dough should fill a little more than halfway.
Cover with a clean cloth and leave the dough to rise in a warm place for 45 to 60 minutes.
Fill an ovenproof bowl with water and put on the rack in the lowest position in the oven.
Once the bread has risen, put it in the oven on the middle rack. Preheat the oven to 375 °F (190 °C) (the bread will start baking in a cold oven). Bake for one hour or until the bread is golden brown on the outside. Let cool before serving.
Note: To allow the bread dough to rise in a warm place, you can simply place it in the turned off oven with the light on and place a bowl of hot water on one of the oven racks. The oven light will provide the desired heat and the bowl of hot water will provide the needed moisture.