Frisk Mocktail
April 21st, 2020 by Raphaël Podlasiewicz, Executive Chef of the restaurants, Strøm Nordic Spa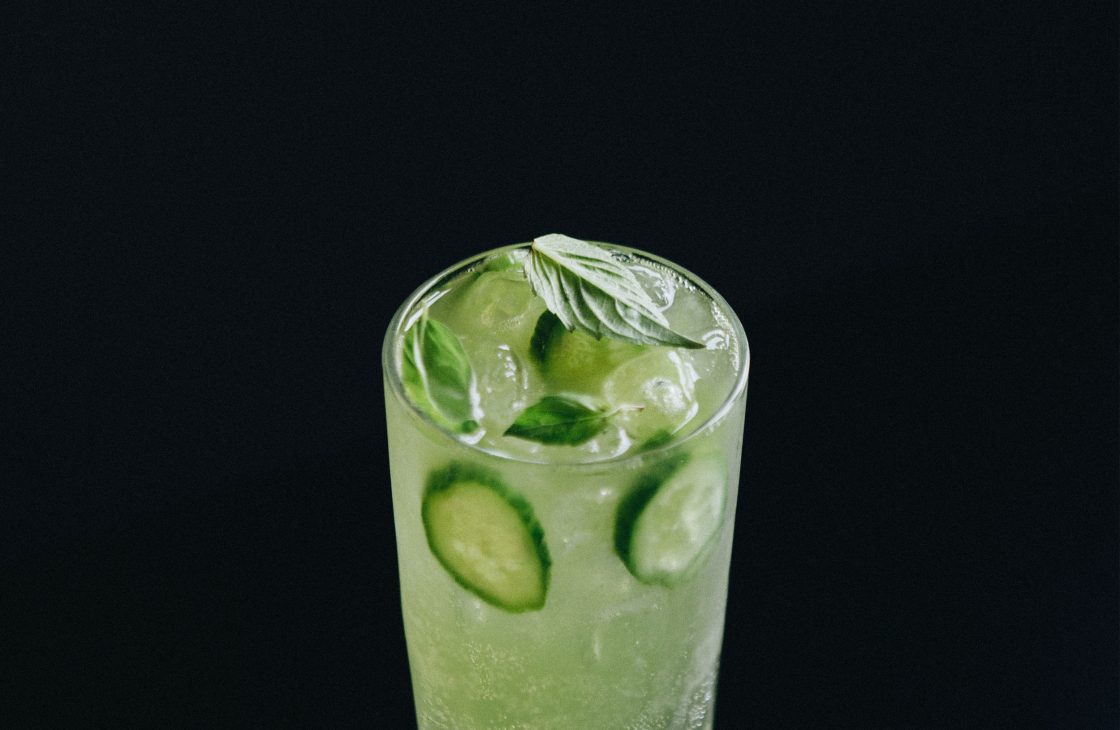 Raphaël Podlasiewicz, the executive chef of Nord restaurants and Fika café at Strøm Nordic Spas, introduces its Frisk mocktail recipe, a fresh drink featuring unusual combinations from the boreal pantry. To be repeated all summer long to quench your thirst at any time of day. Cheers!
Preparation time: 30 minutes | Cooking time: 15 minutes | Makes: 1 cocktail (240 ml or 8 oz)
Ingredients
For the mocktail
½ cup (4 oz) cucumber water (see recipe below)
1 tablespoon (½ oz) lime juice
3 tablespoons (1 ½ oz) Nordic syrup (see recipe below)
5 cucumber slices
1 grapefruit zest
¼ cup (2 oz) 1642 Yuzu
Cucumber water pulp granita, to taste (optional)
Ice cubes
For the Nordic syrup
2 teaspoons coriander seeds
2 teaspoons juniper berries
1 teaspoon caraway seeds
3 cardamom pods
2 grapefruit zests
½ cup water
½ cup sugar
For the cucumber water
1 English cucumber
The juice of 1 grapefruit
The juice of 1 lime
½ cup of your favourite fresh herbs (such as mint, basil, coriander or dill)
1 teaspoon chopped jalapeno
Preparation
Mocktail
Fill half of a shaker with ice.
Add the cucumber water, lime juice and Nordic syrup.
Shake vigorously for 15 seconds.
Fill half the glass of your choosing with ice and place the cucumber slices in it.
Pour the preparation into the glass. Squeeze the grapefruit zest to extract the essential oils and then rub it around the rim of the glass. Place the zest in the glass. Add the 1642 Yuzu and garnish with the granita, if desired.
Nordic syrup
In a dry skillet, toast on medium heat the spices and the grapefruit zests, tossing continuously for 1 to 2 minutes.
Remove the grapefruit zests and set aside. Transfer the spices to a mortar and crush coarsely with a pestle.
In a small saucepan, bring the water and sugar to a boil. Add the spices and grapefruit zests, then simmer over very low heat for 1 minute.
Pour the syrup in a container and allow to cool completely in the refrigerator. To use to syrup quickly, allow to cool on an ice-filled bowl and stir often until cool.
Strain the syrup through a sieve before use.
Cucumber water
In a blender, blend all the ingredients.
Strain the preparation through a sieve ideally fitted with a cheesecloth (optional) to collect only the liquid.
Once the liquid has been completely separated from the solid, transfer to a container and store in the refrigerator.
Notes: To prepare the granita, collect the pulp from the cucumber water and mix it with 2 tablespoons of Nordic syrup. Freeze for 3 to 4 hours. Scrape the preparation with a fork to transform it into a granita that can be used as a garnish for your cocktail. Also delicious on its own.