Berry smoothie bowl with homemade granola
April 20th, 2020 by Raphaël Podlasiewicz, Executive Chef of the restaurants, Strøm Nordic Spa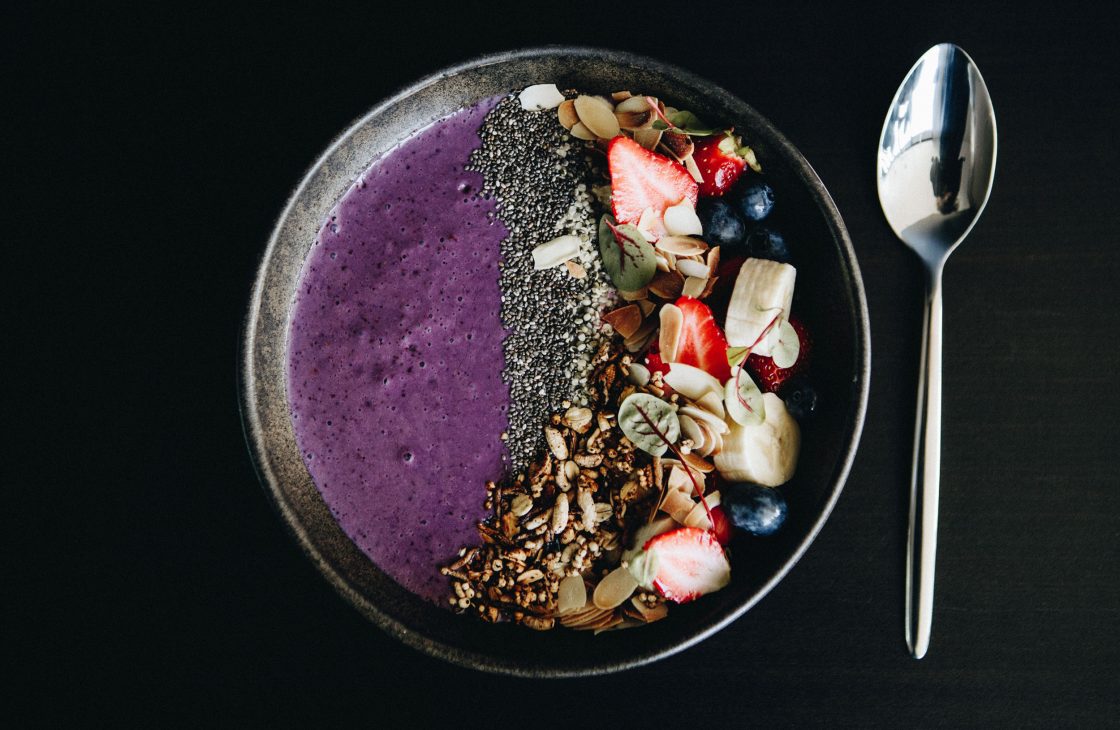 Full of colour and packed with vitamins and antioxidants, this berry smoothie bowl recipe is perfect for breakfast or as a snack at any time of the day. Topped with a crunchy, high-protein granola, this nutritious bowl is sure to please young and old alike. Why not involve the kids in making this quick and easy recipe? Our Executive Chef Raphaël Podlasiewicz tried the experiment at home, helped by an adorable kitchen crew featuring his four children.
Preparation time: 45 minutes | Cooking time: 30 minutes | Servings: 3 smoothie bowls of 375 ml
Ingredients
Homemade granola
1 cup brown sugar
1 ½ cups maple syrup
2 cups quick oat flakes
2 cups of puffed cereal of your choice
½ cup of sunflower seeds
½ cup of roasted squash seeds
1 cup of nuts of your choice
¾ cup of dried fruit of your choice
1 teaspoon salt
Berry smoothie
2 cups frozen berries of your choice
1 ripe banana
¾ cup fermented milk or plain kefir
½ cup cranberry or blueberry juice
½ cup plain yogurt
1 tsp. sweet clover essence or vanilla extract
1 ½ tablespoons honey or maple syrup
Topping
½ cup homemade granola
1 ½ cups of your favourite fresh fruit cut into pieces
3 tablespoons chia seeds (optional)
3 teaspoons hemp seeds (optional)
Notes : For this recipe we recommend you use frozen local berries such as raspberry, wild blueberry and honeyberry.
Preparation
Step 1 – Making the homemade granola
Preheat the oven to 325 °F.
In a deep saucepan, bring brown sugar and maple syrup to a boil and boil for 5 minutes.
In a large bowl, combine all dry ingredients. Pour the maple syrup and brown sugar mixture over the dry ingredients and mix so that all ingredients are well coated.
Spread the mixture on a non-stick baking sheet or on a baking sheet lined with parchment paper and bake for 30 minutes, stirring the granola a few times during cooking to obtain an even colour.
Let cool and store in an airtight container.
Step 2 – Preparing the berry smoothie
In a blender, blend all smoothie ingredients together until smooth.
Fill the bowls with the smoothie.
Step 3 – Assembling the bowls
Fill the smoothie bowls with homemade granola, your favourite fruit cut into chunks, chia seeds and hemp seeds. Enjoy!