Raspberry and spruce Nordic kombucha
April 27th, 2020 by Raphaël Podlasiewicz, Executive Chef of the restaurants, Strøm Nordic Spa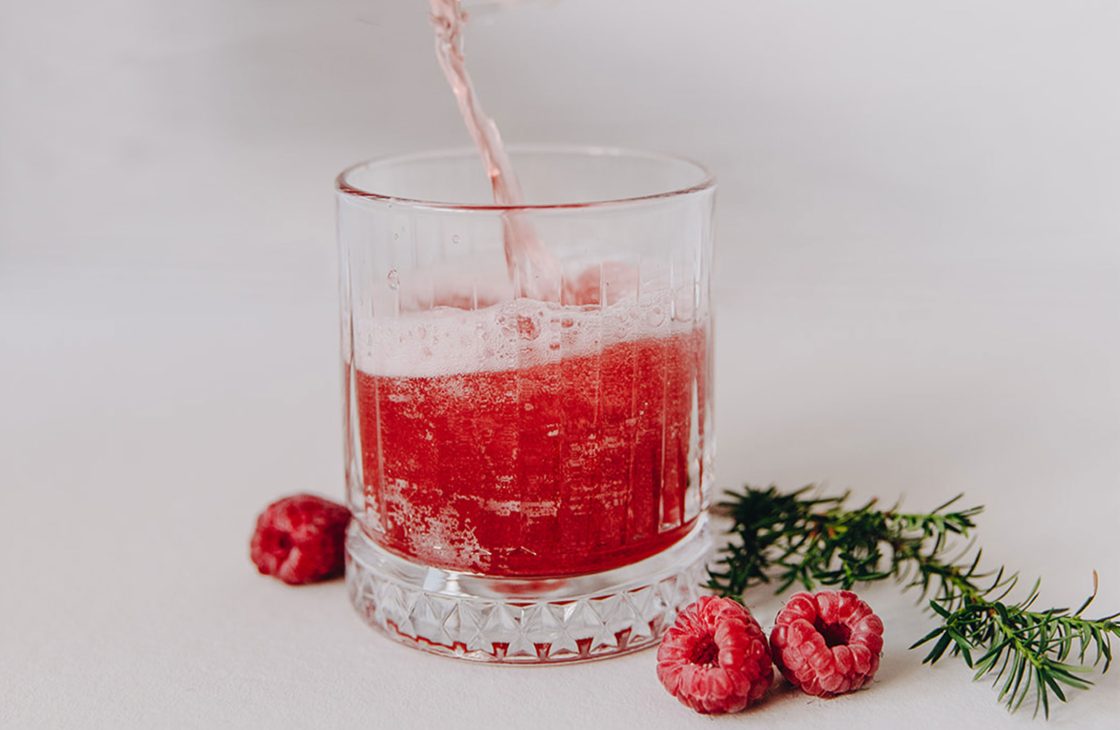 Kombucha is a natural beverage made from fermented tea. It can be flavoured according to the inspiration of the moment with seasonal ingredients such as herbs, local honey and berries to give it a unique boreal touch. Lately, kombucha has become increasingly popular thanks to its high antioxidant content and its benefits on digestion, the immune system and energy levels.
The executive chef of Strøm Nordic Spa's Nord restaurants and Fika café, Raphaël Podlasiewicz, shares with you the recipe of the Strøm kombucha we have been serving in our four locations in the last few months.
Preparation time: Between 9 and 13 days | Makes: 4 1-L bottles
Ingredients
First fermentation
3.75 L (15 cups) filtered water
16 g green tea
1 ¼ cups (250 g) organic cane sugar
1 mother kombucha (SCOBY : Symbiotic Culture of Bacteria and Yest)
1 cup (250 ml) neutral kombucha (comes with the mother kombucha when you buy it)
Second fermentation
2 cups (500 ml) water
4 cups fresh raspberries
½ cup spruce branches or needles (or rosemary or other fir branches)
25 g fresh ginger, peeled and roughly chopped
Required equipment
1 saucepan with a capacity of 6 litres
1 jar with a capacity of 4 litres
1 tea bag or 1 coffee filter and a string
1 thermometer
1 cheesecloth or airy fabric and 1 rubber band
1 straw
1 food processor
1 funnel
4 1-L bottles fitted with a pressure cap
Note: It is important to make sure that all the equipment required for the recipe is clean before starting.

Preparation
First fermentation : Preparing the neutral kombucha
In a saucepan, bring 2 litres (8 cups) of filtered water to a boil, then transfer to the 4-litre jar.
Add the green tea previously placed in a well-sealed tea bag (or in a coffee filter closed with a string).
Leave to brew for 10 minutes, then remove the tea bag.
Add the organic cane sugar and stir until it is dissolved.
Add the remaining water and allow to cool until the temperature drops to 74°F or less.
Add the kombucha mother and neutral kombucha. Stir gently, then cover the jar with the cheesecloth and seal with the rubber band.
Allow to ferment in a ventilated, warm, dry place away from light for a minimum of 6 days (and a maximum of 10 days).
Using a clean straw, taste the kombucha. The taste should be both slightly sweet and slightly vinegary. If this taste is not sufficiently developed, continue fermentation.
Remove the mother kombucha and place in a jar with 2 cups (500 ml) of the neutral kombucha thus created, cover with cheesecloth and seal with the rubber band. Keep for future use. Reserve the remaining neutral kombucha for the second fermentation.
Second fermentation : Flavouring
In a saucepan, bring the water to a boil and infuse the spruce branches.
Allow to cool completely in the refrigerator.
Once the preparation is cold, remove the spruce with a sieve.
In a food processor, mix the raspberries and spruce infusion. Filter the preparation with a fine sieve to obtain a smooth coulis.
Place about 5 grams of fresh ginger in each 1-litre bottle and, using the funnel, pour 200 ml of raspberry and spruce coulis into each 1-litre bottle.
Fill the rest of the bottle with the neutral kombucha and close.
Allow to ferment for 3 days in a warm, dry and dark place, then refrigerate at 4°C. Keep refrigerated and consume within 30 days.