Homemade ricotta on sourdough bread toast | Pan-fried nuts with honey and Nordic spices
May 5th, 2020 by Raphaël Podlasiewicz, Executive Chef of the restaurants, Strøm Nordic Spa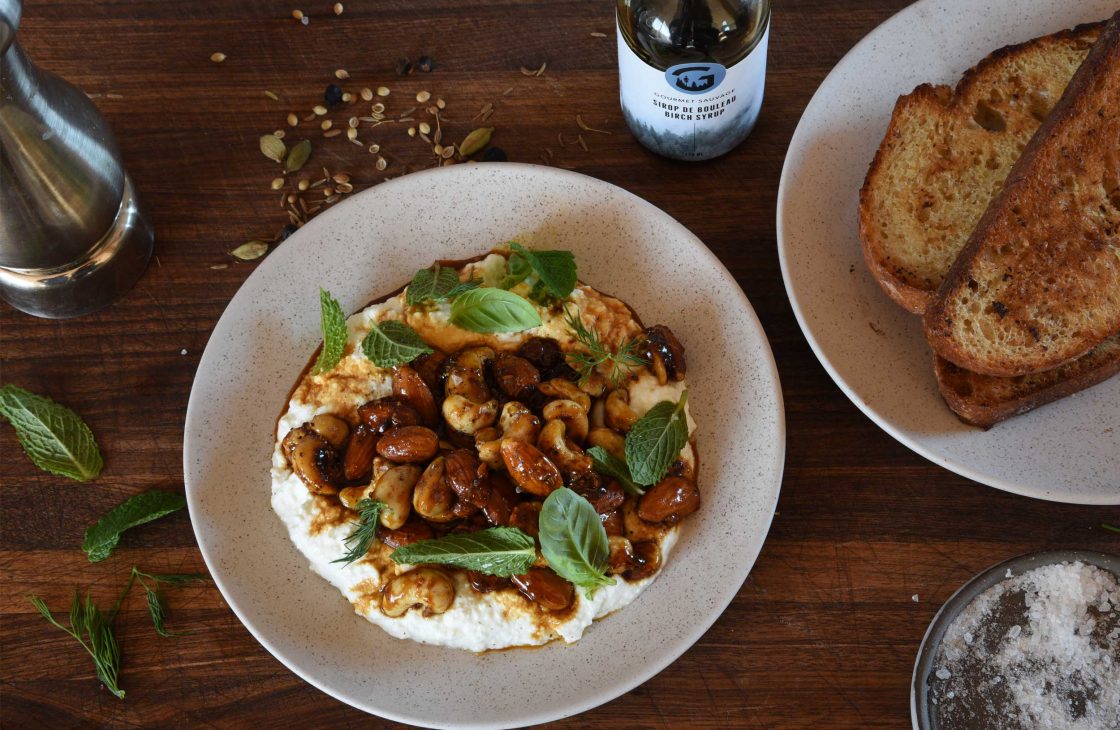 For a nourishing breakfast, a comforting brunch or even a reinvented dessert, this toast topped with homemade ricotta cheese and honey-sweetened, spicy nuts will delight the whole family. In addition to being the perfect opportunity to learn how to make your own homemade cheese, this creation by Raphaël Podlasiewicz, executive chef of Nord restaurants and Fika café at Strøm Nordic Spa, is ideal for discovering the spices and working with the nuts you have on hand.
Preparation time : 2 h 30 minutes | Cooking time : 1 h 15 minutes | Makes : 2 cups ricotta (6 to 8 servings)
Ingredients
Homemade ricotta
2 litres (8 cups) 3,25% milk
2 ¼ cups buttermilk
¾ cup 35% cream
1 lemon zest
½ teaspoon fleur de sel
Pepper, to taste (optional)
Pan-fried nuts with honey and Nordic spices
3 cardamom pods
1 teaspoon caraway seeds
1 teaspoon juniper berries
1 teaspoon coriander seeds
Peppercorns, to taste
2 cups mixed nuts of your choice
1 ½ tablespoon unsalted butter
3 tablespoons honey
½ teaspoon fleur de sel
Assembling (3 to 4 people)
4 to 6 slices of sourdough bread
½ cup homemade ricotta
½ cup pan-fried nuts with honey and Nordic spices
¼ cup shoots of your choice
1 pinch fleur de sel
A drizzle of birch syrup (optional)
Required equipment
1 saucepan with a capacity of 4 litres
1 cheese cloth of 30 cm x 30 cm
1 ladle
1 strainer
Preparation
Homemade ricotta
In a saucepan, heat the milk, buttermilk and ½ cup cream until the temperature reaches 185°F, stirring from time to time.
Once the desired temperature is reached, turn off the heat and let the preparation rest in the pan for 45 minutes.
Place the cheesecloth in the strainer. Using a ladle, pour the milk preparation into the strainer. Let drain in the refrigerator for 1 to 2 hours over a bowl that can collect the liquid.
Transfer the drained preparation to a bowl and add the remaining 35% cream, lemon zest, fleur de sel and pepper to taste. Store in an airtight container for 4 to 5 days.
Pan-fried nuts with honey and Nordic spices
In a skillet, dry roast the spices for 1 to 2 minutes over medium-high heat.
Place the spices in a mortar and grind the spices with a pestle. Set aside.
In a large skillet, roast the nuts until they are nicely coloured. Set aside.
In the same skillet, melt the butter over medium heat until it foams and browns.
Immediately add the roasted nuts, then the honey and spices. Stir to coat the nuts. Add the fleur de sel. Serve hot.
Assembling
In a skillet, toast both sides of the bread slices in a knob of butter, then set aside on a plate.
Put the ricotta in the centre of another plate. Garnish with the hot nuts and the sprouts. Sprinkle with a pinch of fleur de sel. Drizzle with birch syrup and serve with the toasted slices of bread.