Homemade focaccia with herbs, candied tomatoes and dandelion pesto
May 27th, 2020 by Raphaël Podlasiewicz, Executive Chef of the restaurants, Strøm Nordic Spa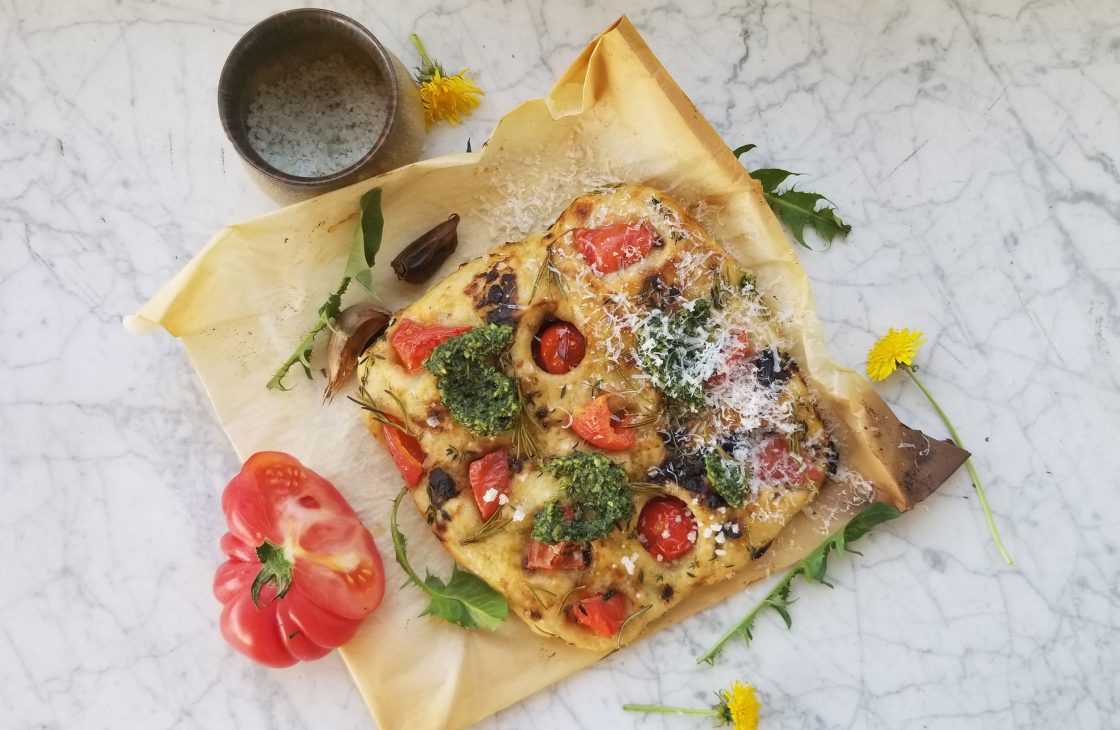 Since the beginning of lockdown, there has been a sudden craze for making bread at home.
That's why Raphaël Podlasiewicz, the executive chef of Nord restaurants and Fika café at Strøm Nordic Spa, offers you his delicious recipe for focaccia with herbs, a flat bread of Italian origin which you can easily make at home and which will go perfectly with your cocktail during your aperitif.
Preparation time: 40 minutes | Rest time: 16-24 hours | Cooking time: 20-25 minutes
Makes: 1 focaccia of 25 centimeters (10 inches) in diameter
Ingredients
Homemade focaccia with herbs
1 teaspoon dried yeast
1 cup warm water
325 g (2 ½ cups) Italian 00 flour
6 sprigs fresh thyme, leaves removed
2 sprigs fresh rosemary, leaves removed
3 cloves black garlic
4 tablespoons olive oil
½ teaspoon fleur de sel
10 to 12 cherry tomatoes
Dandelion pesto
2 cups dandelion leaves, well washed and wrung out
2 cups fresh basil leaves
½ cup olive oil
¼ cup roasted almonds
1 lemon, squeezed juice and grated zest
2 tablespoons honey
Salt and pepper, to taste
Finishing
Parmigiano-Reggiano cheese, to taste (optional)
1 teaspoon of honey
Preparation
Homemade focaccia with herbs
In the bowl of a stand mixer, dissolve the dry yeast in warm water and let stand for 10 minutes. Gradually stir in the Italian flour when the dry yeast is activated.
Using the kneading hook, stir lightly until the dough begins to form.
Transfer the dough to a lightly oiled bowl and cover with plastic wrap.
Let the dough rise on the counter between 16 and 24 hours at room temperature.
Place the rack in the middle of the oven. Preheat the oven to 230°C (450°F).
Transfer the dough to a lightly oiled work surface, stretch the dough slightly and fold each side toward the center, then repeat the operation 5 to 6 times.
Line a 25-cm (10-inch) diameter springform pan with parchment paper.
Place the dough in the pan, level by pressing lightly with fingers, then sprinkle with thyme and rosemary.
In a bowl, using a fork, mash the black garlic cloves. Pour in the olive oil and mix.
Spread the cherry tomatoes over the dough, brush the focaccia with the olive oil and black garlic mixture, then sprinkle with fleur de sel.
Cook the focaccia for 20 to 25 minutes or until golden brown.
Dandelion pesto
In a food processor, combine all ingredients, then grind until smooth.
Season with salt and pepper.
Finishing
Remove from the oven and spread 3 to 4 tablespoons of dandelion pesto on top of the focaccia.
Using a Microplane grater, grate the Parmigiano-Reggiano cheese, sprinkle generously over the focaccia and drizzle with honey.
Cut the focaccia according to the number of guests. Enjoy!