Rainbow "punch"
May 8th, 2020 by Raphaël Podlasiewicz, Executive Chef of the restaurants, Strøm Nordic Spa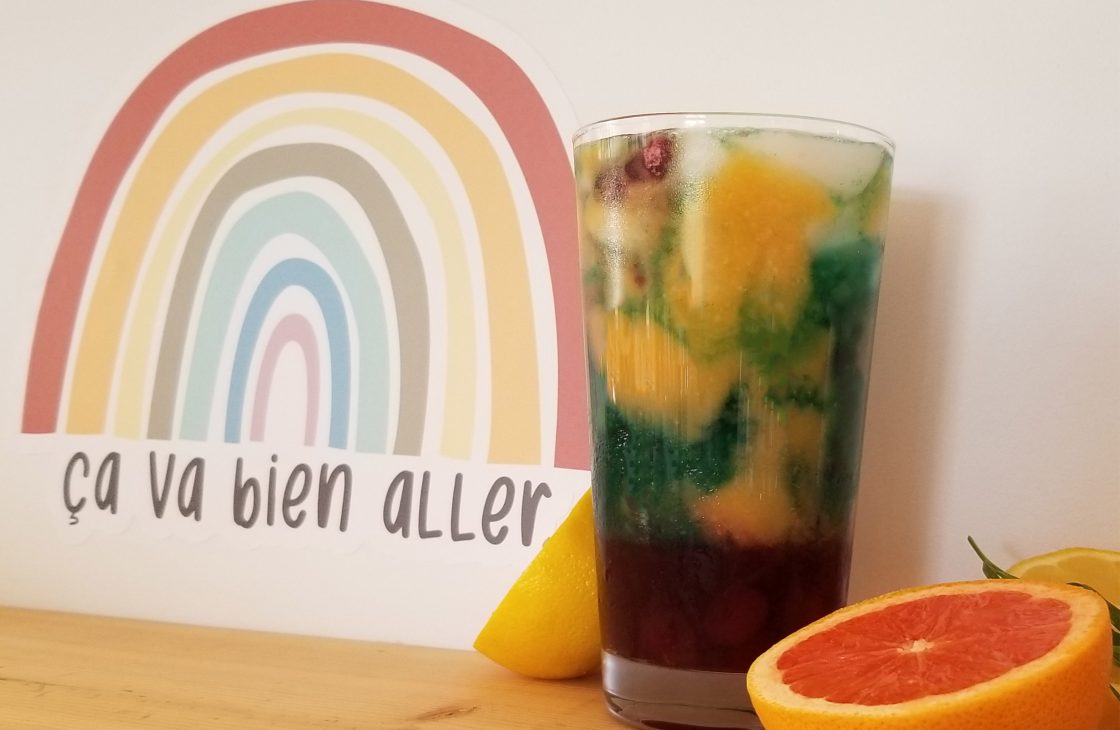 Prepare a refreshing drink for the whole family! Full of vitamins, this non-alcoholic rainbow punch celebrates the messages of hope that we've seen a lot lately, and it's a great way to quench the thirst of young and old after a busy day full of activities. Raphaël Podlasiewicz, executive chef of the Nord restaurants and Fika café at Strøm Nordic Spa, introduces this easy-to-make recipe surrounded by his four sous-chefs.
Preparation time: 2 h (including the cooling of grenadine and lemonade) | Servings: 8 to 10 glasses
Ingredients
Rainbow punch
1 litre (4 cups) orange juice
1 ½ cups homemade cranberry grenadine
1 litre (4 cups) homemade honey lemonade
4 teaspoons spirulina food colouring
4 sprigs of fresh mint
2 sliced clementines
½ cup frozen cranberries
Ice cubes
Honey lemonade
1 litre (4 cups) water
3 sprigs of fresh mint
1 tablespoon fresh ginger, roughly chopped
The zest of 1 lemon
¾ cup honey
¼ cup lime juice
½ cup lemon juice
Cranberry grenadine
1 cup pure cranberry juice
2 cups fresh or frozen cranberries
2 cups water
1 ½ cups sugar
Spirulina food colouring
1 teaspoon spirulina powder
4 teaspoon water
Note: To save time, the homemade honey lemonade and the homemade cranberry grenadine can be replaced by store-bought lemonade and grenadine.
Preparation
Honey lemonade
In a saucepan, bring half of the water to a boil.
Add the mint sprigs, ginger and lemon zest.
Allow to infuse for 15 minutes, then strain the preparation through a fine sieve.
Add the honey, lime juice, lemon juice and the rest of the water and mix well.
Transfer to a suitable container and refrigerate.
Cranberry grenadine
In a medium saucepan, bring all ingredients to a boil.
Reduce until mixture has a syrupy texture, then strain through a fine sieve.
Allow to cool completely in the refrigerator.
Spirulina food colouring
Mix water and spirulina and let rest for 30 minutes.
Rainbow punch
Fill one third of a 4-litre pitcher or bowl with ice cubes.
Add the orange juice and then the grenadine.
Add the spirulina food colouring to the honey lemonade and mix gently.
Once the grenadine has fallen to the bottom of the pitcher, add the honey lemonade.
Garnish with mint, clementine slices and frozen cranberries. Enjoy!