28-day alcohol-free cocktail
February 19th, 2021 by Raphaël Podlasiewicz, Executive Chef of the Nord restaurants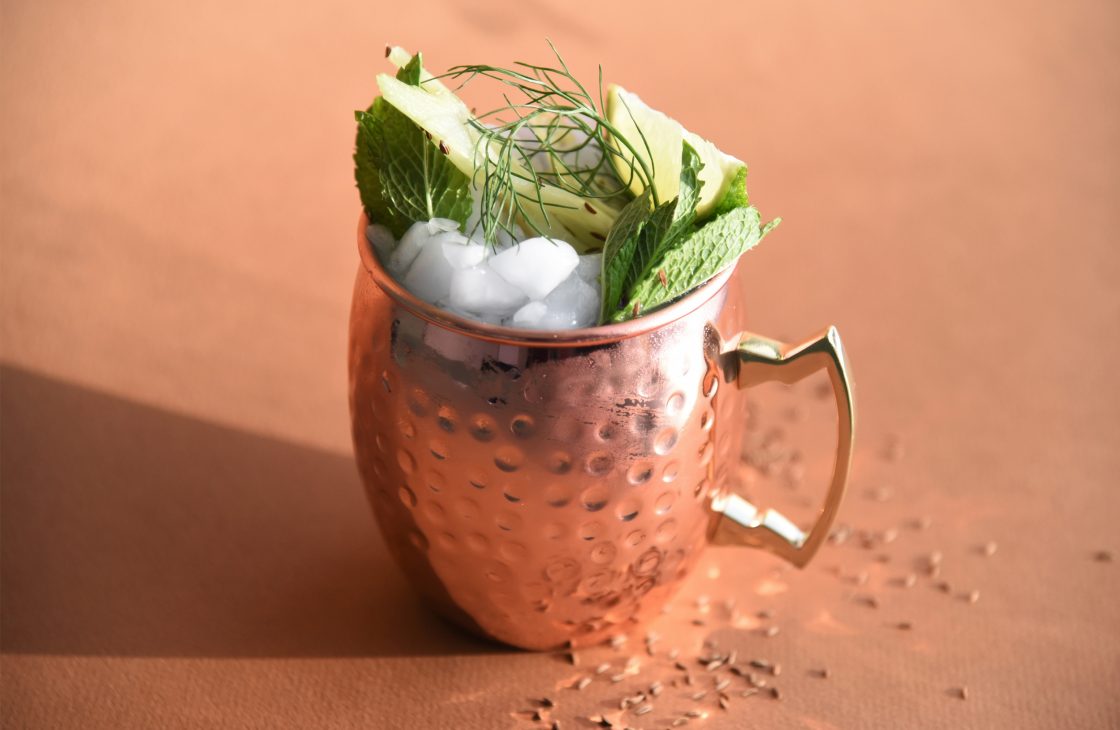 Nordic Mule
To end the alcohol-free month on a good note, our executive chef Raphaël Podlasiewicz revisits the classic Moscow mule in a spicy mocktail version! Flavoured with caraway and wintergreen and prepared with non-alcoholic gin, this Nordic drink is perfect to be enjoyed outdoors after a winter hike or wrapped up in a blanket by the fire with a book in hand.
INGREDIENTs
6 fresh mint leaves
2 oz non-alcoholic gin (HP Juniper, Alphonse, Noroi Esprit-de-London)
1 oz fennel and caraway syrup (see recipe below)
½ oz lime juice
2 oz Harrington wintegreen sparkling water or sparkling water of your choice
2 oz 1642 ginger beer
1 fennel wedge in syrup (see recipe below)
1 sprig of fresh mint
Ice cubes
PREPARATION 
Crush fresh mint leaves between the palms of your hands and place in a mule glass. Fill the glass with ice.
Pour in the alcohol-free gin, fennel and caraway syrup and lime juice.
Add the sparkling water and ginger beer.
Garnish with the fennel wedge and fresh mint sprig.
---
Fennel and caraway syrup
INGREDIENTS
2 tbsp caraway seeds
2 cups water
2 cups organic cane sugar or white sugar
½ medium fennel bulb cut into 8 wedges
PREPARATION 
Toast the caraway seeds in a dry frying pan for 1 to 2 minutes, stirring regularly.
In a saucepan, bring water and sugar to a boil.
Add the fennel quarters and the roasted caraway seeds to the boiling syrup. Let simmer for 2 minutes over low heat.
Transfer the syrup to a suitable container and leave to cool completely in the refrigerator for at least 2 hours.
Remove the fennel quarters and use them as a garnish. Filter the syrup through a fine sieve before use.