Marie-Ève's detox routine
April 21st, 2015 by Strøm Spa Nordique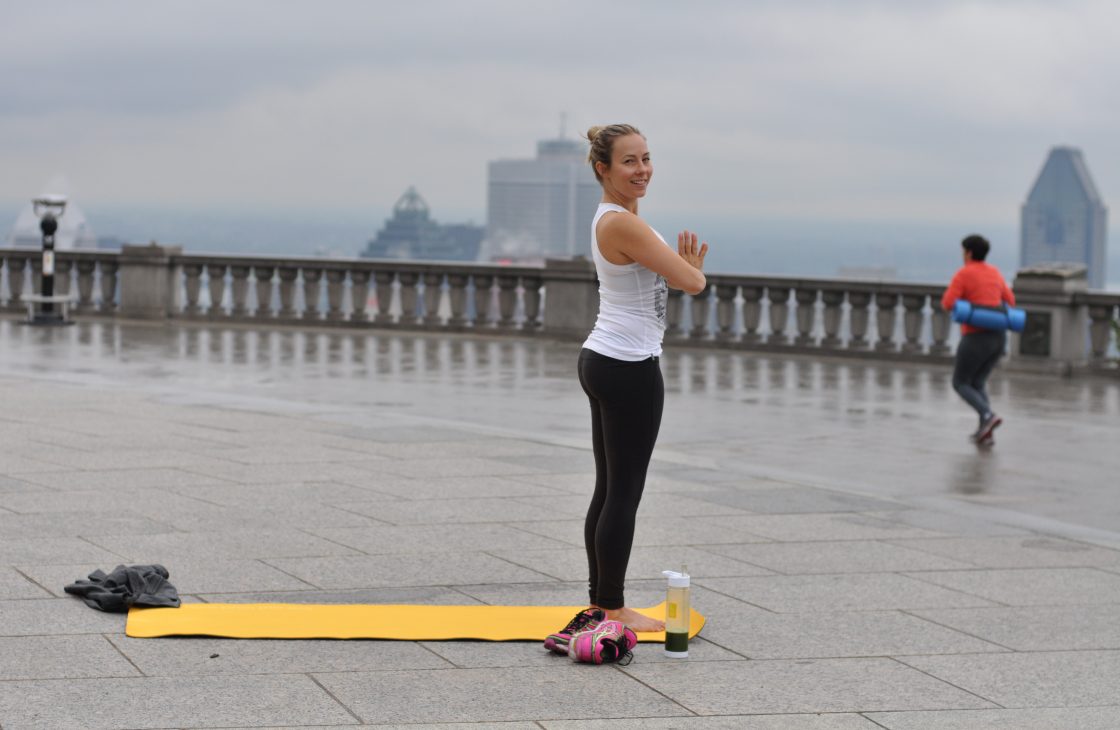 We invited Marie-Ève ​​Trudel to come and talk to us about the detox routine she has developed over the years. In the previous section, we looked into the quest for a balanced life through choosing sensible New Year's resolutions. And since spring has finally arrived, in the following article Marie-Ève calls to mind balance, energy, ayurvedic nutrition and yoga postures to help remove toxins. An inspiring routine to achieve well-being in this season of renewal!
Interview
How did you develop a detox routine?
Good organization is at the base of every routine. By planning my meals, I can make wise food choices. This helps me, among others, to avoid fast food. I call this type of organization, "prevention is better than cure"!
What is your morning routine?
Every morning, I wait an hour before I eat and I drink lemon water with apple cider vinegar. This drink has many benefits in terms of digestion, weight loss, energy and the treatment of several ailments. I recommend choosing an organic apple cider vinegar of good quality. I almost never drink coffee. The few times I do, I make sure to really savor it.
Which are the detoxifying foods we should favor?
Since the Ayurveda science allows aligning your food with your personality and lifestyle, it inspired me in my food choices. Personally, I eat a lot of green vegetables that are detoxifying, energizing and contribute to a proper digestion. My routine consists of adding as much green vegetables to my diet as possible. The important thing is to be aware of foods that give us more energy and adding them to our menu. This may be different from one person to another. Ask yourself: "Why do I eat this? »
I'm not a big fan of diets or juice cures. I love to eat and I believe that a healthy diet lies in the balance. Homemade soups and broths should be favored. Water is life; we must drink a lot! Try to drink a large glass of water before eating to control your hunger. Choose healthy snacks that will keep you energized longer. Choose the right time to pamper yourself; a moment when you are able to enjoy your treat (NOT while you are in front of your computer or watching TV!).
A small detoxifying recipe…
Remove the peel of one lemon and discard, completely mash up the lemon. Mix the mashed lemon with 5 liters of water. Drink 5 liters of this lemon water every day for 3 days.
 What are your 4 essentials to maintain your shape?
A balanced diet: take the time to eat and do nothing else during meal time is essential to have a relaxed mind. This also allows me to be more aware of what I eat and to take a break. Finally, I eat several small meals throughout the day at regular times.
Balance at the level of physical activity: to feel fit, I run regularly and I do a physical activity at least once a day.
Meditation: meditation helps me to be aware of my needs and to listen to myself. I meditate daily to find my balance.
Get enough sleep: I am a big sleeper! I like to take time to relax and I sleep 7 to 8 hours each night in order to be in top shape. I make sure to stop eating 2 to 3 hours before bedtime in order to have a better quality of sleep.
Which habits should be avoided to be more energetic?
First of all, stop saying that you are tired! It's bad for the unconscious and it only accentuates fatigue!
It is paramount to avoid being inactive and force yourself to move. Not doing anything tires the body and mind; we have to break this pattern.
Neglecting to pay attention to our diet will bring us further away from our balance. Learn to watch what you eat and choose food that is suitable for your system and your lifestyle. Food with a high glycemic index (sugar, bread, pasta) gives you a lot of energy very fast, but you will feel tired shortly after the meal. Choose food that will sustain your body for a long time!
Which yoga postures help remove toxins?
Twisting postures are ideal for removing toxins. Here are some poses that in combination with a healthy lifestyle help to stimulate the circulatory system, including the digestive and lymphatic system. Practice 2 to 3 postures every single day or when you feel the need to do so. Listen to yourself.
Halasana (plow pose): Activates the digestion and the immune system.
Ardha matsyendrasanas (sitting half spinal twist pose): A posture for everybody, on the ground. One minute on each side.
Padasthasana (hand to foot pose): Very simple pose, a great anti-fatigue remedy!
Dhanurasana (bow pose): You can practice this pose by keeping your body stable or balancing it back and forth.
Trikonasana (triangle pose): For a more advanced practice, I like to do a twisted triangle pose: turning the torso backwards, left hand on the ground, right arm towards the sky. Work your body…. and your mind.
Utthanasana (Indian prayer): Squat and rise pose.
Ushtrasana (camel pose): Since we pass our days often in a sitting position, I'm a fan of this posture that opens the chest, stretches the neck, abdomen and hips.
How do you manage to maintain these habits for life?
As I mentioned earlier, a healthy lifestyle is associated with a good balance. There is a time for drinking a glass of wine and another for drinking a green juice. Some nights, I'm in bed at 9pm and once a month, I go out and let my hair down with my friends. Choose a menu suited to your needs and know how to make the right choice. Reduce your daily stress, breathe and take in the air. Summer is just around the corner, take advantage. Namaste!
Marie-Ève has been practicing yoga for 16 years and teaches it at Atmayoga Montreal. To follow her on Twitter, click here.
YOU MAY ALSO LIKE THESE ARTICLES
Share your best intention in 2015