Domaine Acer: when maple goes hand in hand with fine spirits
February 24th, 2015 by Strøm Spa Nordique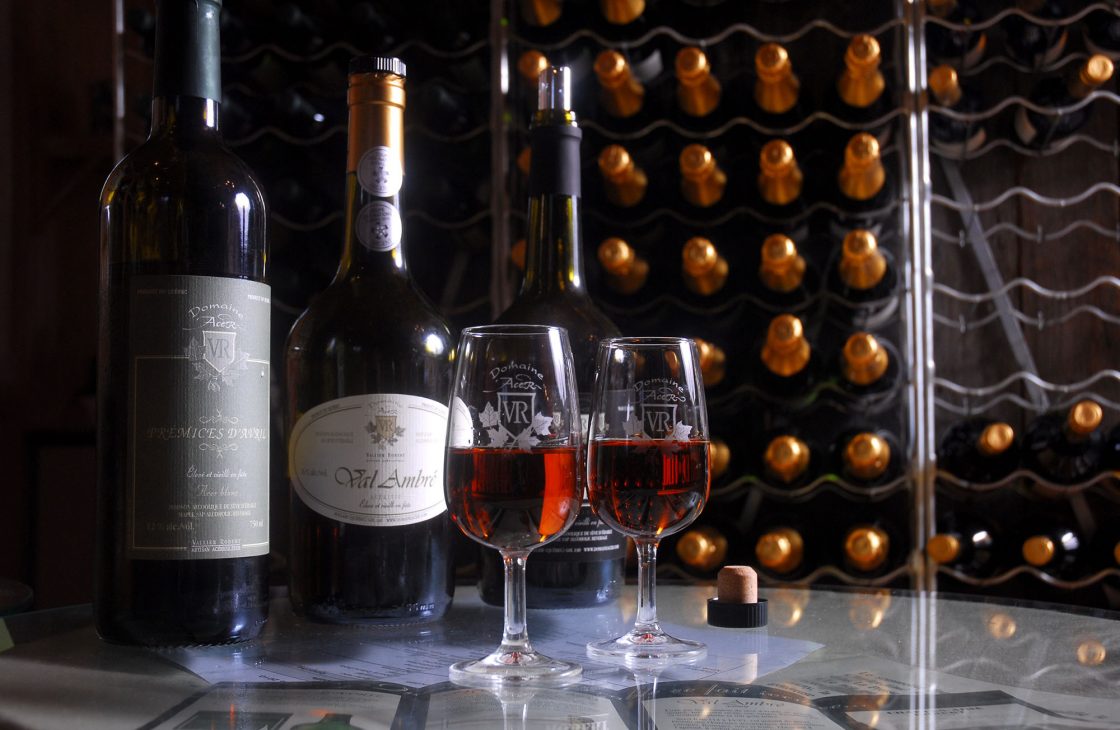 In the month of March, Strøm spa features Québec products with the "local treasures" packages. Since we dedicate this month to our local products, we asked Exquis magazine to help you discover maple syrup in all its forms, from the transformation of the sap into fine spirits.
By Exquis magazine
Is there anything more typical for Quebec than maple syrup? At Domaine Acer, in Témiscouata, they were able to push the love of this iconic product further in transforming the sap into delicious fine spirits.
When Robert Vallier decided to leave his accountant job to take over his father Charles-Aimé's maple grove in Auclair, in Témiscouata, he knew nothing of his future career, but he had to find a way to make the production profitable. "It was the '90s; there was a large surplus of maple syrup and it was not selling, he recalls. We had to make its image nobler by creating high-value niche products." The young entrepreneur then formed the ambitious project of fermenting the maple sap to create different alcohols.
Research and development
Some secretly attempted tests in his apartment in Rimouski convinced him of the feasibility of his project. "At first, I was assisted in my research by Agriculture Canada and the Union of Agricultural Producers, recalls the father of four children. Afterwards, I went to do a series of internships in various wine regions in France. »
A lover of good wines and mead (honey-water wine), Robert Vallier was very enthusiastic when he found out that the manufacturing processes and wine aging could be transposed to his maple project. But he is far from raising the cup to his lips, as it will take five long years of study before the project becomes reality. In 1997, helped by his family, he became the first Quebecer to receive a permit to manufacture alcoholic beverages made from maple sap. He can finally move on to the commercialization stage with the support of his wife Nathalie Decaigny.
A family affair
The latter is an agricultural engineer from Belgium that he met in 1995. While staying with Quebec friends, she wanted to visit a maple grove; and it just so happened that it was the one of Robert Vallier. "Because of my scientific training, I immediately appreciated the originality of the Vallier project and to also I was fascinated by the passionate way he spoke of his company and how he described his vision for the future", says Nathalie Decaigny, who now runs the marketing aspect of the company, while her husband is in charge of production.
Mini pipeline
Fifteen years after its beginnings, Domaine Acer welcomes more than five thousand visitors each year. "We are members of the econo-museums network, which is dedicated to the promotion of traditional crafts," says Nathalie Decaigny. The maple grove is one hundred and twenty acres big and has twenty thousand cut maple trees, they run eighteen kilometers of tube lines (of which six kilometers are underground). It is a true miniature pipeline that allows the 480,000 gallons of sap collected each season to get to the pumping station, which then delivers the sap to huge basins, where the transformation begins. 40% is used for the production of alcohol and the rest to create different products (butter, sugar, jelly, syrup, etc.).
Photos: Domaine Acer, copyright
A selection of four fine spirits
Domaine Acer creates four fine spirits using the same processes and fermentation methods in oak barrels as used for wine, these spirits do not have a pronounced maple taste. But each acer (alcohol) has its own characteristics, which come from the selected syrup. "The sap harvested early in the season gives a pale, light syrup, while the later one contains more yeast and bacteria," says Robert Vallier, which he takes into consideration when it's time for the winemaking. "The late sap has sugars that caramelize faster at lower temperatures and develops aromas of cocoa, chocolate or coffee, we use it for our aperitif alcohols." It is the sugar concentration level that allows the variations of the alcohol percentages.
Made to pair with food
The "Prémices d'avril », a dry white Acer with 12% alcohol, compares to a light white wine. It is excellent with poultry, fish and seafood and cheese with a bloomy rind. The "Mousse des bois" is a 12% brut sparkling Acer created using the traditional method learned by Robert Vallier in Champagne. It has the same versatility as champagne or a dry sparkling wine and it is great with appetizers, foie gras, seafood, white meats, smoked fish, etc. Then there are two aperitif alcohols: the "Val Ambré", comparable to a Pinot of Charentes, 16% alcohol, and the "Charles-Aimé Robert", a type of port wine, with an alcohol volume of 17.5%. The "Charles-Aimé Robert" was born out of a mistake: while preparing the "Val Ambré", Robert Vallier took the wrong recipe and used a sap that was a lot sweeter. The accidental result is a big hit with the customers; the "Charles-Aimé Robert" (named in honor of Vallier's father) has since been the best seller of Domaine Acer. It is delicious with cheese, chocolate and fruit desserts or fruit salad.
Interesting fact: the future vision of Robert Vallier allows him to bring his spirits to their full culmination; they all have the space needed to mature in vast cellars. The "Charles-Aimé Robert" is aging in barrels for nine years before being bottled. "The oldest product we have tasted is over 15 years of age and we found that it has not yet reached its peak," concluded the artisan acériculteur proudly. Today, Acer Domain production has reached its cruising speed with 30,000 bottles annually.
To find their products:
Domaine Acer Maple spirits are available at the Maison des Vins et Boissons Artisanales du Québec at the Jean Talon market, as well as at the local market counter at the Old Port of Quebec. One can also order the products of Domaine Acer directly online at: http://www.domaineacer.com/commande.php.
– Exquis Magazine, copyright
To discover Local treasures Packages available at Strøm Nuns' Island, click here.
To discover Local treasures Packages available at Strøm Mont-Saint-Hilaire, click here.
YOU MAY ALSO LIKE THESE ARTICLES
Healthy treats – Holidays Special