A love match between bubbly and chocolate
February 10th, 2016 by Strøm Spa Nordique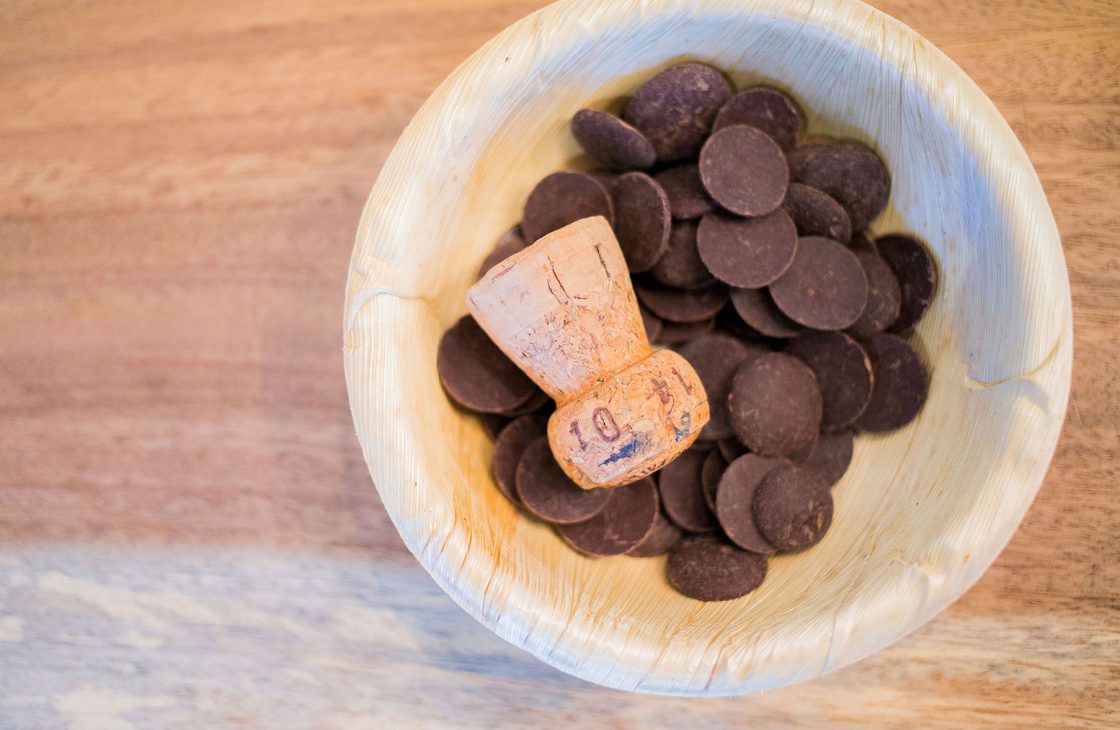 Would you like to serve bubbly and chocolate for Valentine's Day? Here are some tips from Guénaël Revel, Mr. Bubbly himself. Amongst others he also animates a workshop on the pairings between sparkling wine and chocolate at the Chocolate Academy in Montréal[1].
By Anne-Louise Desjardins, Un Monde Exquis
"Let's immediately clear up one thing: general rule, dark chocolate and champagne do not go together!" What to do with the romantic image of strawberries dipped in dark melted chocolate accompanied by a glass of dry champagne and enjoyed in the company of our sweetheart? Being a passionate historian in addition of being a sommelier, Guénaël Revel explains: "The idea of ​​pairing champagne and dark chocolate was conceived by Belgian and Swiss chocolate makers 300 years ago. It must be said that at the time the champagne was as sweet as a Sauterne because they thought it was necessary to add sugar to get the bubbles. "
But since Louis Pasteur, we know that bubbles come from a second fermentation rather than the addition of sugar (chaptalization). Clichés, however, are hard to uproot, and people continued to promote consuming dark chocolate with champagne. Nevertheless, we would never have the idea of ​​tasting a dry white wine with bitter chocolate, how come we do it with champagne? It is, after all in most cases, a dry white wine that contains on average about 9 to 12 g of sugar per liter.
Milk chocolate and white chocolate
But all hope is not lost for your Valentine's Day; simply just choose the right pairings. With bubbly, a good quality white chocolate is a great match. Because it does not have the bitterness conferred by the presence of cocoa, you will be able to enjoy and taste the soft cocoa butter. And the fun does not stop there: in the words of our expert, milk chocolate also provides an interesting versatility. One can also try semi-dry sparkling wines, which contain between 30 and 50 g of sugar per liter. Finally, sweet (or smooth) sparkling wines are great to have with chocolate candy.
What about the dark chocolate?
What to do with the ultimate dark chocolate lover? "The old champagnes, 10 to 15 years of age, often develop roasted notes with a hint of honey, says Mr. Bubbly. Even if they are very dry, these characteristics allow them to be paired with a fruity dark chocolate, a dark chocolate with pistachios, pralines, or even better, orange peel covered in dark chocolate. "
Three exquisite wines for Valentine's Day
Michele Chiarlo Nivole – Sparkling Wine, Italy, SAQ code: 979062, $ 12.00 375 ml
Santi Nello Prosecco – Sparkling Wine, Italy, SAQ code: 10540730, $ 16.90 750 ml
Roederer Estate Brut Anderson Valley – Sparkling Wine, USA, SAQ code: 294181, $ 36.00 750 ml
[1] Anne-Louise Desjardins, « Mariages d'amour entre bulles et chocolat », Exquis Magazine, number 16, winter 2015 – 2016.
YOU MAY ALSO LIKE THIS ARTICLE