Winter Squash and Cardamom Pie
August 27th, 2021 by RAPHAËL PODLASIEWICZ, EXECUTIVE CHEF OF NORD RESTAURANTS AND FIKA CAFÉ AT STRØM NORDIC SPA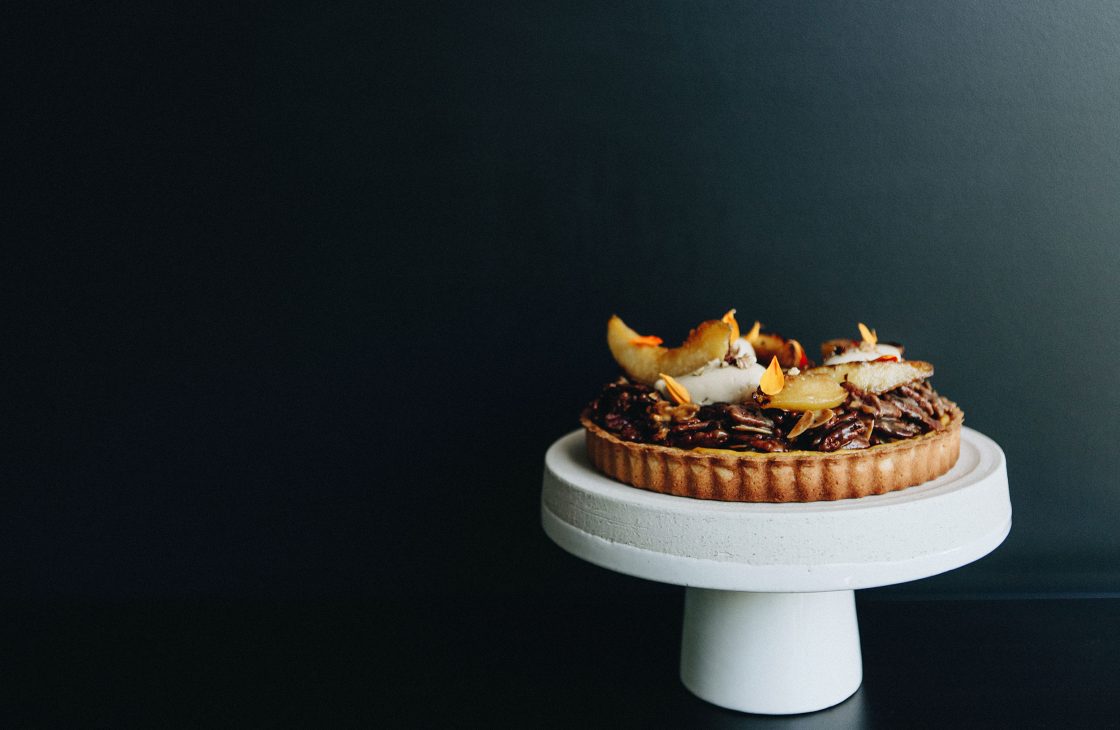 NUTS AND BUTTER-MAPLE CARAMEL | CHANTILLY COFFEE CREAM
INGReDIENTS
Sweet dough
2 cups of flour
¾ cup of powdered sugar
¼ cup of almond powder
½ cup + 2 tbsp. of cold butter, cubed
1 egg (large)
1 orange (zest only)
Winter Squash and Cardamom Filling
2 medium butternut squashes (2 cups of purée)
4 shredded cardamom pods or 1 tsp. of ground cardamom
½ cup of packed brown sugar
½ cup of milk
2 eggs
Nuts and Butter-Maple Caramel
1 cup of pecans
1 cup of walnuts
1 cup of slivered almonds
2 cups of sugar
2/3 cup of Réduit de Léo or Coureur des Bois whisky
1 cup of 35% cream
¼ cup of butter
1 tsp. of fleur de sel
Chantilly Coffee Cream
2 cups of 35% cream
½ cup of sugar
1 cup of arabica coffee beans (preferably organic and fair trade)
2 short espressos
3 gelatin sheets (optional)
Directions
Sweet dough
In a food processor, mix the flour, powdered sugar and almond powder.
Add the butter and mix. Then add the egg and orange zest and mix until the mixture forms a ball.
Knead the ball by hand so that the dough has an even consistency.
Roll the dough uniformly to a thickness of 2–3 mm. Line a 9-inch fluted pie pan and remove excess dough from the rim.
Prick the dough with a fork and set aside.
Winter Squash and Cardamom Filling
Preheat the oven to 375 °F.
Cut the butternut squashes in half lengthwise and remove the seeds. Place them on a tray lined with parchment paper, cut side down.
Roast the squash in the oven for 20 to 25 minutes or until the flesh separates from the skin.
Decrease the oven temperature to 325 °F.
Remove the flesh of the squash with a spoon.
In a food processor, blend the flesh of the squash until it becomes a smooth purée. Set aside 2 cups of squash purée.
Using a hand mixer, combine the milk, brown sugar and eggs. Add the set-aside purée and mix.
Pour the squash mixture into the pie shell and bake (325 °F) for 20 to 25 minutes (the pie is done when the crust is browned and the mixture hardens uniformly).
Let cool and refrigerate.
Nuts and Butter-Maple Caramel
In a saucepan, caramelize the sugar and the Réduit de Léo until the mixture turns a coppery colour.
Remove from heat and add the cream and butter to the mixture. Return to heat and bring to a boil. Set aside.
In a skillet, dry roast the almonds. Add the maple caramel by thoroughly coating the nuts. Set aside the mixture of nuts and caramel.
Chantilly Coffee Cream
In a saucepan, dry roast the coffee beans for 1 minute. Deglaze with the cream, then add the sugar and 2 short espressos. Bring to a boil. Remove from heat, cover and let infuse for 30 minutes.
Rehydrate the gelatin sheets in cold water.
Pass the cream and coffee mixture through a fine sieve, then bring back to a boil. Wring out the gelatin sheets and melt them in the boiling coffee cream.
Put the cream and coffee mixture in a container and refrigerate for 2 to 3 hours.
Using an electric mixer or whisk, whip the cold cream until soft peaks form.
ASSEMBLY
Remove the pie from the refrigerator and let it sit for 10 minutes. Put the mixture of nuts and caramel onto the winter squash pie so that the top is completely covered. Garnish with Chantilly coffee cream to taste and serve.