Winter Vegetable Salad
August 27th, 2021 by Raphaël Podlasiewicz, Executive Chef of Nord restaurants and Fika café at Strøm Nordic Spa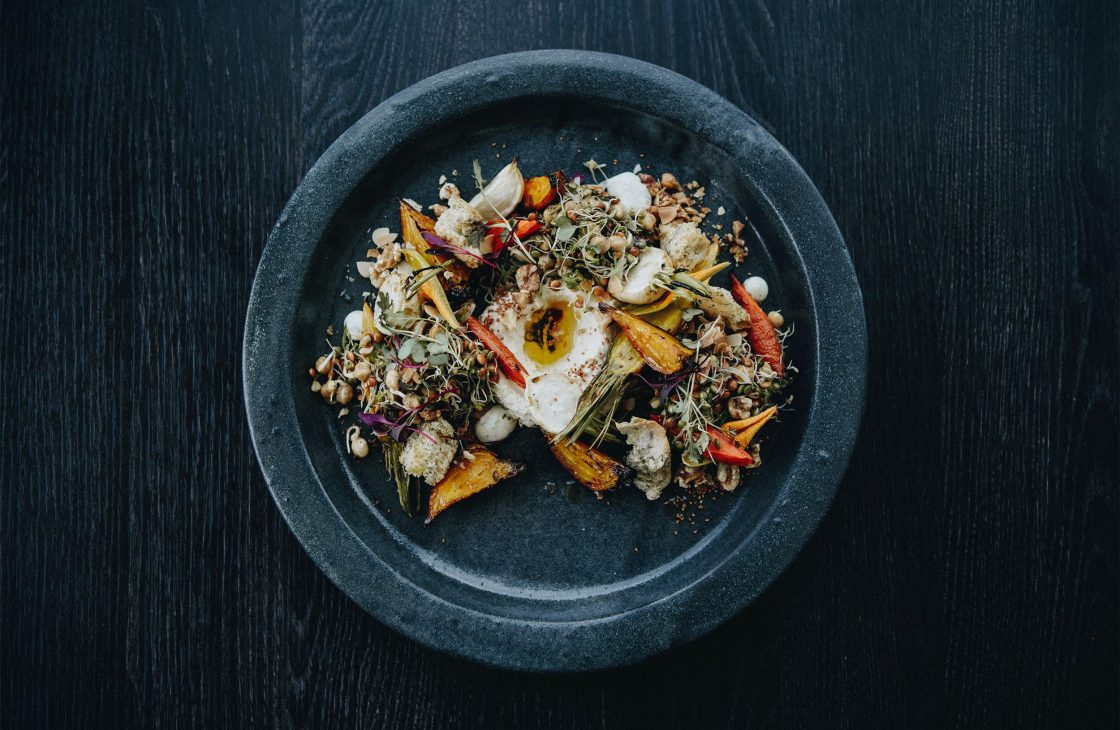 SPROUTs | PAIN DE MICHE CROUTONS | ROASTED ALMOND "RICOTTA" | CAMELINA AÏOLI
Servings : 4
INGREDIENTS
Winter Vegetable Salad
2 medium beets, peeled and cut into 8 quarters each
8 Nantes carrots, washed and cut in half and then into quarters
4 parsnips, peeled and cut in half and then into quarters
8 small Tokyo turnips (or small turnips), cut into quarters
2 tsp. of coarsely crushed caraway seeds
1 tsp. of coarsely crushed fennel seeds
¼ cup of camelina oil
2 cups of sprouts of your choice (chickpeas, azukis, lentils, green peas)
2 French shallots, minced
8 chive leaves, finely chopped
¼ cup of apple cider vinegar
2 tbsp. of maple syrup
Salt and pepper
Toasted Almond "Ricotta"
1 cup of blanched and roasted almonds
3 garlic cloves, chopped
¼ cup of camelina oil
¼ cup of lemon juice
½ cup of unsweetened almond drink
1 ½ tsp. of salt
Pepper to taste
Camelina Aïoli
2 egg yolks
3 garlic cloves, chopped
2 tsp. of maple syrup
1 tbsp. of Dijon mustard
1 lemon (zest and juice)
1 cup of camelina oil
2 tbsp. of camelina seeds
Salt and pepper
DIRECTIONS
Winter Vegetable Salad
1. Preheat the oven to 450 °F
2. In a skillet, dry roast the caraway and fennel seeds.
3. Spread out the vegetables on a baking sheet lined with parchment paper. Rub the vegetables with the crushed caraway and fennel seeds and sprinkle them with camelina oil.
4. Cook vegetables in the oven for 10 to 12 minutes or until vegetables are well browned. (The vegetables should remain crunchy on the inside).
5. Remove tray from the oven and let the vegetables cool.
6. Mix the vegetables with the sprouts blend while retrieving the camelina oil left on the bottom of the tray. Add the apple cider vinegar, maple syrup, minced shallots and chives and season to taste.
Toasted Almond "Ricotta"
1. In a skillet, toast the almonds.
2. Add garlic and brown for 15 seconds.
3. In a grinder or blender, grind all the ingredients.
4. Check the seasoning and adjust to taste.
Camelina Aïoli
1. Mix the egg yolks with the garlic, maple syrup, Dijon mustard and lemon zest.
2. Using a hand blender, emulsify while pouring in a little camelina oil. Add lemon juice and camelina seeds when the mixture thickens.
3. Season to taste.
ASSEMBLY FOR ONE PORTION
INGREDIENTS
1 cup of winter vegetable salad and sprouts
3 tbsp. of toasted almond "ricotta"
2 tsp. of camelina aïoli
1 tsp. of camelina oil
8 pain de miche croutons measuring about 2 cm x 2 cm
2 tbsp. of toasted nuts or seeds of your choice (suggestion: a mixture of pumpkin seeds, almonds and walnuts)
Your choice of microgreens (use crisp microgreens, such as pea shoots)
DIRECTIONS
1. In the centre of a large bowl or large plate, arrange the toasted almond "ricotta" and make a hole in the centre where you can put 1 tsp. of camelina oil.
2. Arrange the winter vegetable and sprout salad around the "ricotta."
3. Drizzle with camelina aïoli.
4. Garnish with croutons and toasted nuts or seeds and microgreens.