Four exquisite moments to savor
July 24th, 2017 by Strøm Spa Nordique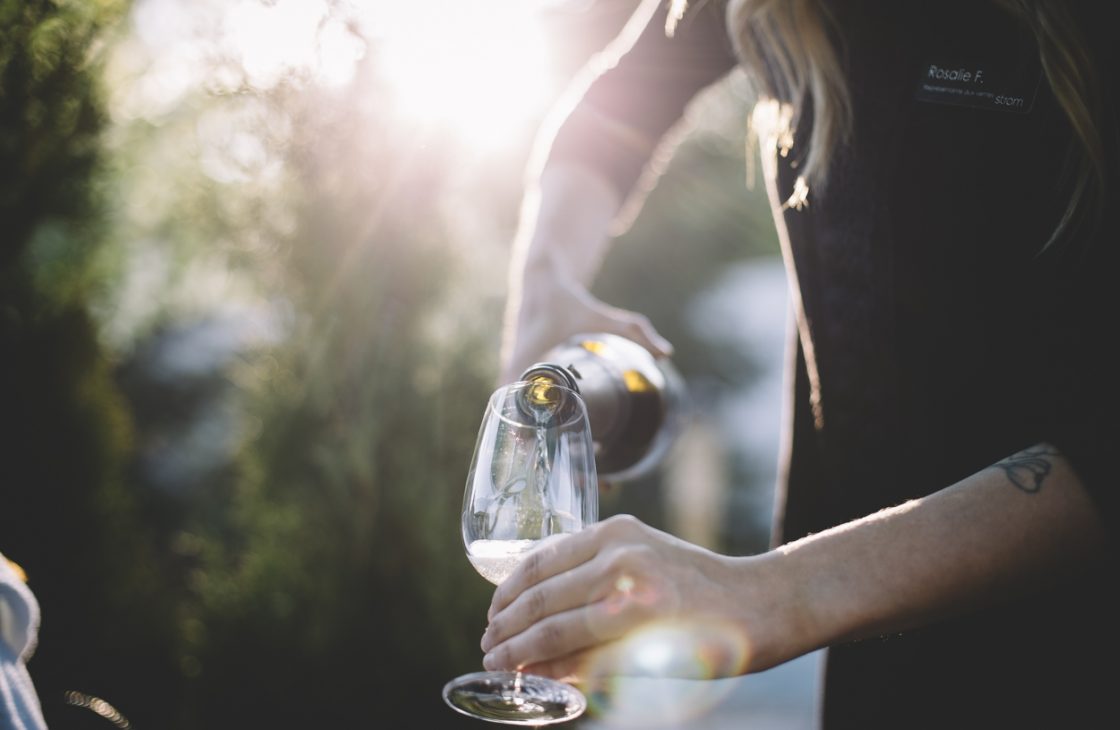 Whether it is to highlight important milestones in life or to appreciate the little pleasures of our everyday life, wine always rises to the occasion. Here are some suggestions of exquisite moments to celebrate and indulge. – By Vincent Lafortune
Any occasion is a good occasion for some bubbly
Louis Bouillot Perle Rare 2012, Crémant de Bourgogne, France, SAQ code: 884379, $21.55
It's very true, nowadays we don't wait for special occasions anymore to break out the bubbly. And this Crémant de Bourgogne will help you celebrate in style and leave enough money in your wallet to buy your loved one the gift of their dreams. Composed of a blend of Pinot noir and Chardonnay, the Cuvée de Perle Rare by Louis Bouillot is refined and the aromas of white fruits and brioche bread will charm you. The bubbles are fine and the finish is generous. To let it develop its full aroma and flavour, serve it at around 10°C. Pair it with the following appetizer, perfect for a bunch of people: grill corn chips on the BBQ, top them with some guacamole, spicy sour cream and scallops, grilled shrimps or even lobster. Simple, yet so exquisite!
For those first heat waves
Domaine Ives Hill Cassigria, flavoured alcoholic beverage, made with blackberry flavoured blackcurrants, Quebec, Canada, SAQ code: 13017629, $13.95
I am the first to wonder what to drink as an aperitif in hot weather. Wine? Beer? Cocktail? The choice is often difficult. But a new product at the SAQ might perhaps simplify your decision, even more so if you have a swimming pool and you like your wine fruity. Cassigria is an alcoholic beverage made from blackcurrants and blackberries from Compton, Quebec. It is a very good locally produced alternative to all the "ready to drink" sangrias on the market. As soon as that first heat wave is upon us, you want to serve it very cold over ice cubes. Here are two ways to enjoy the Cassigria: 1. Serve 3 oz in a glass over ice and fill it up with tonic. 2. Use Cassigria instead of red wine to prepare your favourite sangria (Cassigria, orange juice, fresh fruits, and regular soda). Don't try to find the perfect food pairing for this beverage. Simply serve it alone as an aperitif or with little snacks such as crudités with a mayonnaise and ketchup dip, or with ketchup chips or pretzels etc. If you absolutely want to serve something that is a little fancier, sprinkle balsamic vinegar over blackberries and put them on top of a slice of toasted bread spread with fresh goat cheese.
Choose red wine for your aperitif
Caruso & Minini Terre di Giumara Frappato 2015, Sicily, Italy, red wine, SAQ code: 11793173, $16.60
Sicily is an important wine region of Italy, located just off the "toe" of the famous Italian "boot". This wine, which hardly sees the inside of the oak barrel, is available throughout Quebec for an exquisite price. It introduces us to the frappato grape; they are grown at a certain elevation and give this red wine its freshness and elegance. Its scent is dominated by red fruits and you will be taken by its aromatic purity. It offers a broad texture as well as smooth tannins and makes the tasting of this wine very pleasant and easy! In short, this wine will give you instant pleasure and is perfect to drink with your friends! It is a great table wine, especially for tomato-based dishes like pasta, pizza, etc. Even simpler, it is the perfect wine for cold cut platters. And it is best served at around 16 °C.
The highly anticipated return of the BBQ season
Wolf Blass Gold Label Shiraz 2013, Australia, red wine, SAQ code: 12093486, $23.70
I had the pleasure to taste this wine with Chris Hatcher, the oenologist of Wolf Blass, and to rediscover the Gold Label Shiraz cuvee. Yes, this is a very rich and aromatic wine, but despite its generous structure, this medium-bodied red wine has a very nice finesse. I have to admit that I don't drink a lot of Australian wines, since the ones I have tried were often too heavy to be enjoyed as a table wine. But with this one, I enjoyed a steak from the BBQ with a pepper and blackcurrant sauce. The Gold Label represents an incredible value for the aficionados of this kind of wine. Its nose releases the aromas of blackcurrant and blackberry, with well-integrated woody notes, while the finish is full of silky tannins. It is best served at 16°C.
For more exquisite content, visit www.exquis.ca.
YOU MAY ALSO LIKE THESE ARTICLES