Cheers to summer! Tips and tricks to drink responsibly
July 3rd, 2018 by Strøm Spa Nordique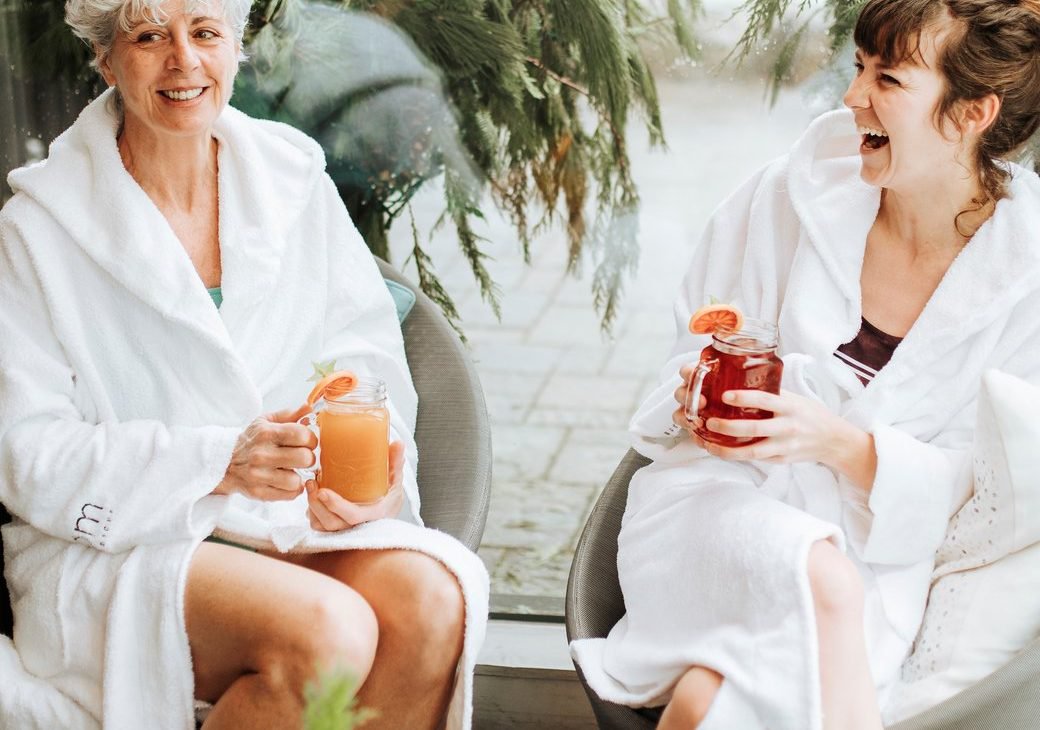 Summer is synonymous with outdoor living and the opportunities to consume alcohol are multiplying. Sometimes it is very difficult to refuse a "5 à 7" on a sunny terrace or to say no to the pretty and colorful cocktails. While it is essential to stay well hydrated during the hot summer months, consuming alcohol has the exact opposite effect on our body…. in addition to contribute to the daily calorie count. Here are a few tips on how to find the right balance and adopt a reasonable way to consume alcohol throughout the summer!
Interview with Isabelle Huot, Ph.D. nutrition
Alcoholic beverages are very high in calories and can quickly add weight to the scale. Where do these calories come from?
The sugar content in alcoholic drinks increases their calorie count. To this value, you have to add the calories coming from ethanol, the alcohol itself. In fact, each gram of alcohol contains 7 calories.
The calories that provide us with the energy we need to function on a daily basis come from 3 other essential nutrients. Let's compare their calorie content with that of alcohol:
Protein: 4 calories per gram
Carbohydrates: 4 calories per gram
Fat: 9 calories per gram
Hence the calorie content of alcohol explains why you have to monitor the consumption if you want to lose a few pounds or maintain a healthy weight!
What are some of the lower calorie drink options if one would like to lose or maintain a healthy weight?
For those who appreciate wine in particular, a great selection of dry and therefore less sugary wines is available at the SAQ (Société des alcools du Québec). To assist you in finding what you are looking for in the store, consult the product sheet which shows you the residual sugar content. For your information:
A dry wine contains 0 to 4 grams of residual sugar per litre
A semi-dry wine contains 4 to 12 grams of residual sugar per litre
A semi-sweet wine contains 12 to 50 grams of residual sugar per litre
A sweet wine contains 50 grams of residual sugar per litre
You prefer beer? Many beer brands offer lighter options that are as interesting as they are refreshing. For example the Sleeman Clear 2.0 (80 calories and 2 grams of carbohydrate per 341 ml bottle), the Michelob Ultra (90 calories and 2.5 grams of carbohydrate per 341 ml bottle), the Molson Canadian 67 (70 calories and 2 grams of carbohydrate per 341 ml bottle) and the Molson Canadian 67 Session IPA, with the same nutritional value as the Molson Canadian 67.
Cider is also a very interesting option because it is naturally light and low in alcohol, it's caloric value is 30% less than beer and half as much as wine. And compared to beer and wine, dry cider contains little to no residual sugar, meaning the calories are almost exclusively coming from alcohol. In addition to being refreshing and flavorful, cider has only 50 calories per glass, making it the "lightest" alcoholic beverage on the market.
Good to know
You can also limit the amount of consumed calories by replacing the carbonated drinks and juices that are added to the alcohol with sparkling water (soda, tonic), which has no calories. Sugary cocktails like Daiquiris and Pina coladas can easily contain 250 – 300 calories per glass or more. Therefore drink them with caution if you are monitoring your weight. The same goes for cream-based liquor such as mint cream liquor and Baileys Irish cream.
Mocktails are a popular option! A non-alcoholic version of a cocktail can limit the amount of alcohol consumed and also the calories ingested. What is your favorite mocktail recipe for the summer?
I love to prepare myself a drink made with sparkling water and ice cubes. To this I add 80ml (⅓ cup) of strawberry puree with a hint of fresh coriander (blended into a fairly smooth puree). Before enjoying my mocktail I mix the ingredients and decorate it with a slice of cucumber and a little lime zest. It is a very refreshing and has only about 30 calories! A flavor- and delightful treat without the guilt!
Last but not least, do you have any tips to consume alcohol responsibly?
Alcohol consumption does not only influence the number of calories ingested, but consequently also the weight. Drinking alcohol irresponsibly can also be harmful to your overall health. In addition to increasing the risk of certain types of cancer (liver, esophagus, breast and colon), alcohol also contributes to increased blood pressure and therefore harms the cardiovascular health. However, moderate consumption can help reduce the risk of type ll diabetes and may even have a protective effect against some cardiovascular diseases. Of all the types of alcohol, red wine remains the king of health benefits.
How to drink responsibly:
Drink while you are eating, rather than at the aperitif;
Alternate alcoholic drinks with sparkling water;
Serve smaller quantities and drink slowly;
By holding your glass in your hand you tend to drink more, so putting your glass on a table is a simple way to drink less.
Cheers!
YOU MAY ALSO LIKE THESE ARTICLES
A smooth transition between work and vacation thanks to massage therapy
Lavender at work for your senses
The art of truthfulness : to convey authenticity