Strøm Nordic Spa in Old Quebec: Winner of 3 Architectural Design Awards
6 August 2019 by Strøm Spa Nordique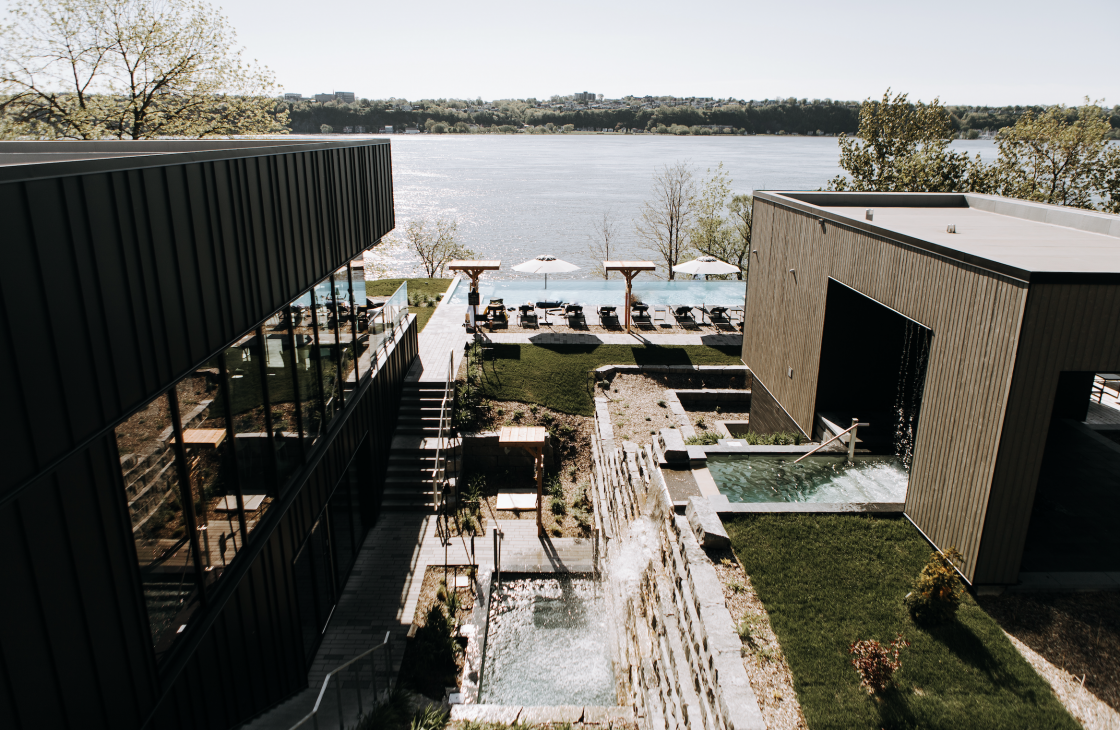 Last April, the Ordre des architectes du Québec honoured Strøm Nordic spa with the People's choice award. Here is an excerpt from what the jury said to justify its decision: "From the exploratory and development phase of the project, the primary source of inspiration was the St. Lawrence River, its vastness and the quiet strength that it emanates. Then, given the geographical location of the site and its history linked to maritime transport, which contributed to the development of the city itself, the decision was taken to implement the project in its physical environment but also to anchor it in its history. As a result, the layout of the spa facilities is inspired by the footprint of the former harbour docks that once formed the banks of the river, creating volumes that alternate between full and empty."
Then, in June, at a gala event in Capri, Italy, Strøm was named the winner in the spa / hotel spa category at the International Hotel & Property Award. These awards in design excellence are presented annually by the Design Society, a world-renowned association whose British branch coordinates these annual awards. The Design Society refers to the Strøm Nordic Spa as a true architectural gem, citing its innovative green roof and the talent with which LemayMichaud's architects have managed to integrate materials and stylistic elements that recall the harbour past of the Brown Basin, located at the very end of the magnificent Champlain Parkway along the river.
Finally, in July, Strøm, who was nominated at the Architizer A+ Awards in the category Hospitality – Health Care & Wellness, was named the winner of the jury prize. Architizer is the largest international community of architects and its mission is to remind us of the importance of architecture, to which we owe the spaces that we live in. The A+ Awards celebrate the most innovative projects, which are judged by more than 400 leading experts from such rich and diverse fields as design, technology, real estate and fashion.
The Strøm Nordic Spa in Old Quebec offers 32,000 square feet of indoor space divided into four pavilions, eight pools, some of which include waterfalls, indoor and outdoor hot tubs, two dry saunas and two steam baths, the largest flotation bath in North America, an infinity pool, a "lazy river" hot water pool, 17 massage rooms and a gastronomic bistro with 70 seats, and an additional 30 seats on the terrace during summer months.
Strøm Nordic Spa would like to thank the entire team of LemayMichaud for their awareness, creativity and deep understanding of Strøm Nordic Spa's DNA, which made it possible to carry out this project, now recognized throughout the world.