An ode to summer | Behind the scenes of the televisual campaign
April 30th, 2019 by Strøm Spa Nordique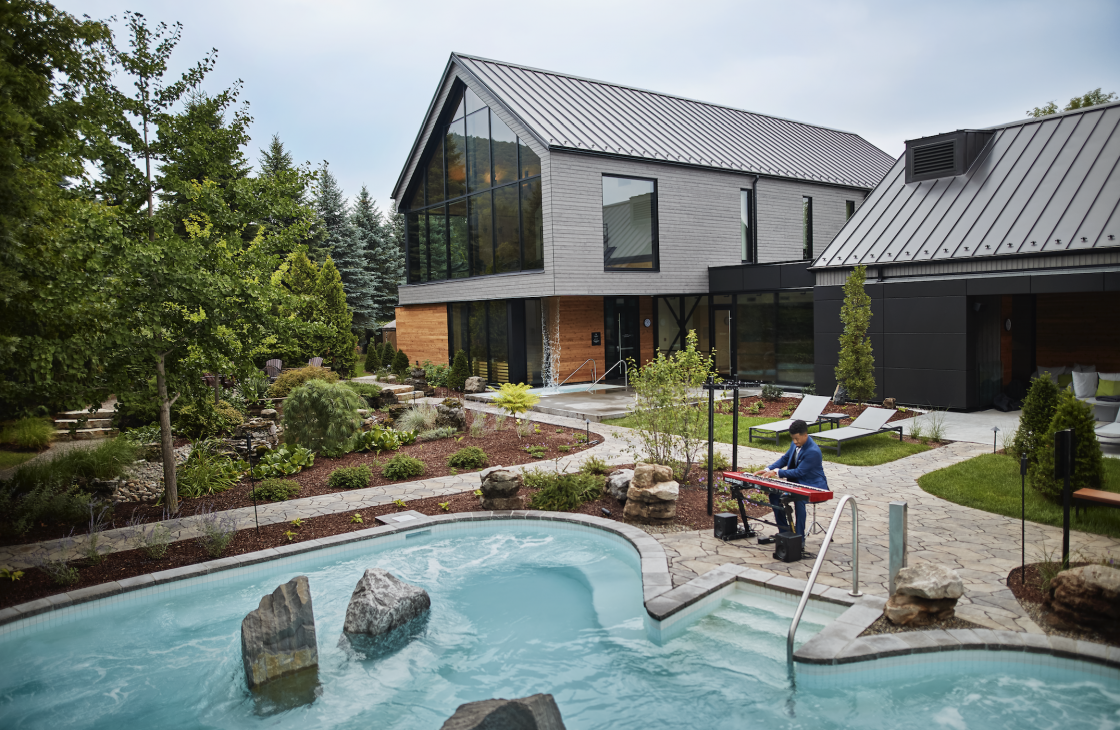 A HARMONIOUS ASSOCIATION – Driven by the power of music is how producer Matt Charland came up with the televisual campaign for Strøm launched in the spring. The soundtrack, inspired by jazz, was composed by Vincent Stephen-Ong, conductor of the Urban Science Brass Band, a band mixing music from New Orleans with hip-hop. This group of talented and versatile musicians was able to create an atmosphere synonymous to Strøm in a composition that simultaneously transports and centers.
Music has the amazing power, sometimes inexplicable, to provoke the same emotion, the same energy in a multitude of people from different walks of life. Music is lived, it is felt and shared, but it does much more than that.
Music stimulates natural euphoria, promotes concentration, improves memory, supports the learning of language and strengthens the immune system. In fact, more and more scientists are interested in the effect music has on the body and brain.
A doctoral thesis conducted at the University of Göteborg showed that listening to music on a daily basis reduces stress by stimulating positive emotions and by regulating stress hormones. Neurologist Pierre Lemarquis, who studies the benefits of music on the brain, also emphasizes its antidepressant properties. Listening to a tune that you love and that brings back memories activates the reward circle, stimulating the secretion of substances that affect our joy of life, such as dopamine, oxytocin, serotonin and endorphins.
Music is a powerful force channeled into a sound that transports us, delights us, brings us together and makes us feel good. The music created by the musicians of this campaign allowed different worlds to meet in unexpected places, which in return resulted in a creation, we hope, will inspire others.
To bring the power of music even further, every Thursday of June will feature the Strøm tour, which will be hosting these evenings accompanied by music, allowing you to enjoy the installations in a relaxed and unifying atmosphere. Starting at 6:30 pm.
Behind the scenes
YOU MAY ALSO LIKE THESE ARTICLES
Sublimate What Nature Has Given You
Woodstock & Co: Inspiring change