A Father's Day devoted to well-being
June 5th, 2023 by Strøm Spa Nordique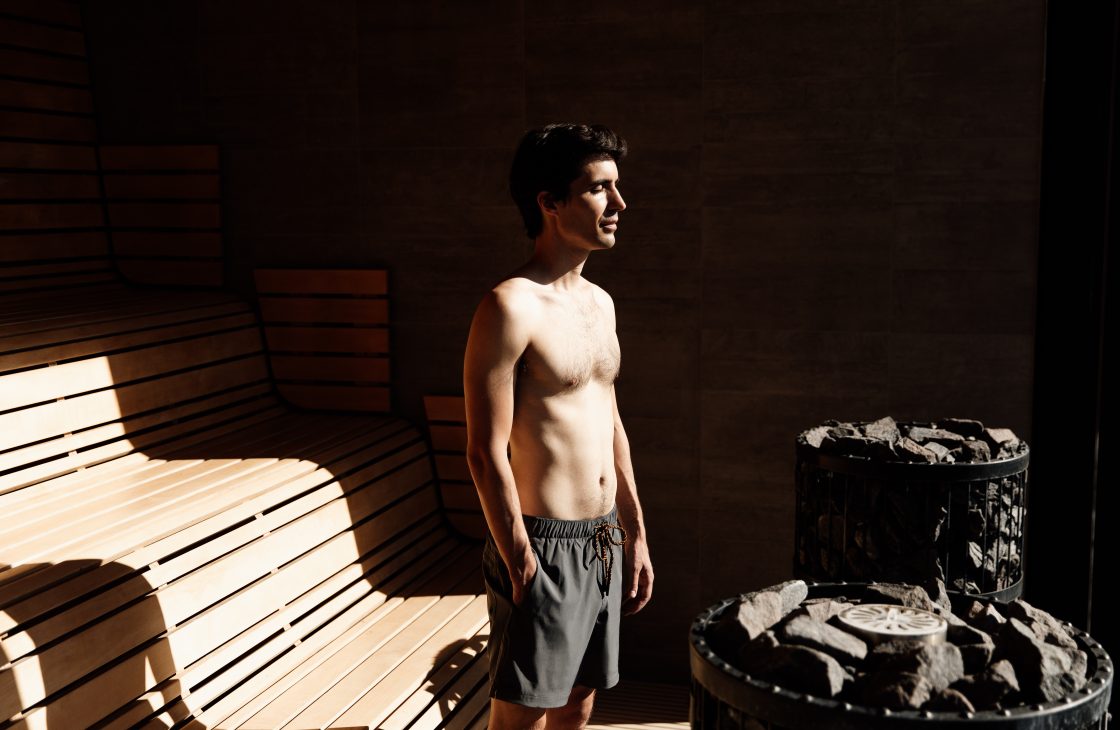 What if, for Father's Day this year, we invited Dad to take care of himself?
Although self-care is now embraced by many, and in different forms, the practices associated with it are more closely associated with people who identify as women. Indeed, while society has often emphasized traditional notions of masculinity, men have mostly been conditioned to prioritize achievement and place a little less importance on their inner well-being. In recent years, however, we have witnessed a paradigm shift: the contours of masculinity are evolving and being redrawn. We are finally recognizing the importance of men taking care of their physical, mental and emotional health, and the positive impact this has on their quality of life, health and relationships.
As the daughter, son or partner of these men and dads, let's honour this desire to embrace practices and rituals that do good to body and mind. To dive into relaxation, quietly or completely, we suggest 5 ways to offer your beloved father figure a moment of well-being, at one of our spas or at home.
The power of the thermal cycle
Practiced for millennia, thermotherapy is a ritual of well-being based on the external use of water for therapeutic purposes. Based on alternating hot and cold followed by a period of deep relaxation, the thermal experience has many benefits, including boosting the immune system, improving sleep quality, relaxing the body and muscular tension, and stimulating blood circulation. Suitable not only for sports enthusiasts, but also for those seeking a relaxation experience with tangible benefits, the alternation of hot and cold is experienced at the spa in the whirlpool bath, sauna and steam bath, then continued in the cold bath before concluding with a moment of relaxation.
At home, the Scottish shower can be recreated to enjoy similar benefits, at any chosen moment.
Back treatment
We're used to having our backs massaged, but not as accustomed to taking good care of them as we are to the skin on our faces. And yet! The back benefits just as much from deep cleansing and moisturizing.
Introduce your loved one to a purifying treatment for backs with imperfections, or a moisturizing treatment for drier backs. Designed to take care of a hard-to-reach area of the body, back treatment uses products tailored to individual needs and includes cleansing, exfoliation and extraction followed by a back massage and a moisturizing or purifying mask, during which a hot stone leg massage is performed. For Father's Day, enjoy a 15% discount on the back treatment.
Deep-tissue massage
Deep-tissue massage is mainly performed without oil, using slow, long strokes. These maneuvers target the deepest layers of muscle and connective tissue, helping to relieve chronic muscular tension and eliminate toxins. Contrary to what one might think, it doesn't necessarily involve greater pressure than therapeutic massage. A perfect experience for dads who'd like a gift combining well-being and lasting benefits.
Accessories for enjoying the water
Summer is just around the corner, and with summer come plenty of opportunities to get in the water! So that he can enjoy water activities in comfort and style, introduce Dad to the Strøm swimwear collection, inspired by Scandinavian aesthetics. Let him choose from a range of timeless colours (dark gray, forest green, black) and enjoy a 15% discount on swimwear, specially for Father's Day. To complete the look and migrate from one relaxation station to another, or from the pool to the terrace, why not add the essential Strøm bathrobe? It's just as practical at home, all winter long, to put on when you get out of bed or at night. Take advantage of a 15% discount on bathrobes, and make Dad happy.
Skin care in harmony with the forest
For the dads who are most committed to their skincare rituals, offering them a product from the BORÉAL line can be a natural way to enhance their routine. Simple yet effective, BORÉAL formulas are bursting with active ingredients derived from nature. For a ritual bathed in simplicity, consider offering the foaming gel cleanser, with yellow birch, red maple and Quebec black spruce, the emblem of the boreal forest. The gentle face scrub can also be a wise choice, to remove dead cells from the surface of the epidermis, improve skin texture and brighten the complexion. Its formula, based on white clay, bergamot and bourbon geranium, has a neutral woody-spicy fragrance, perfect for seducing Dad. The moisturizing cream, with aloe vera, is also perfect for moisturizing and softening in a single gesture, firming and protecting the skin of the face and neck in the process.