Equip yourself to enjoy your favourite winter sports
January 26th, 2023 by SAIL and Strøm spa nordique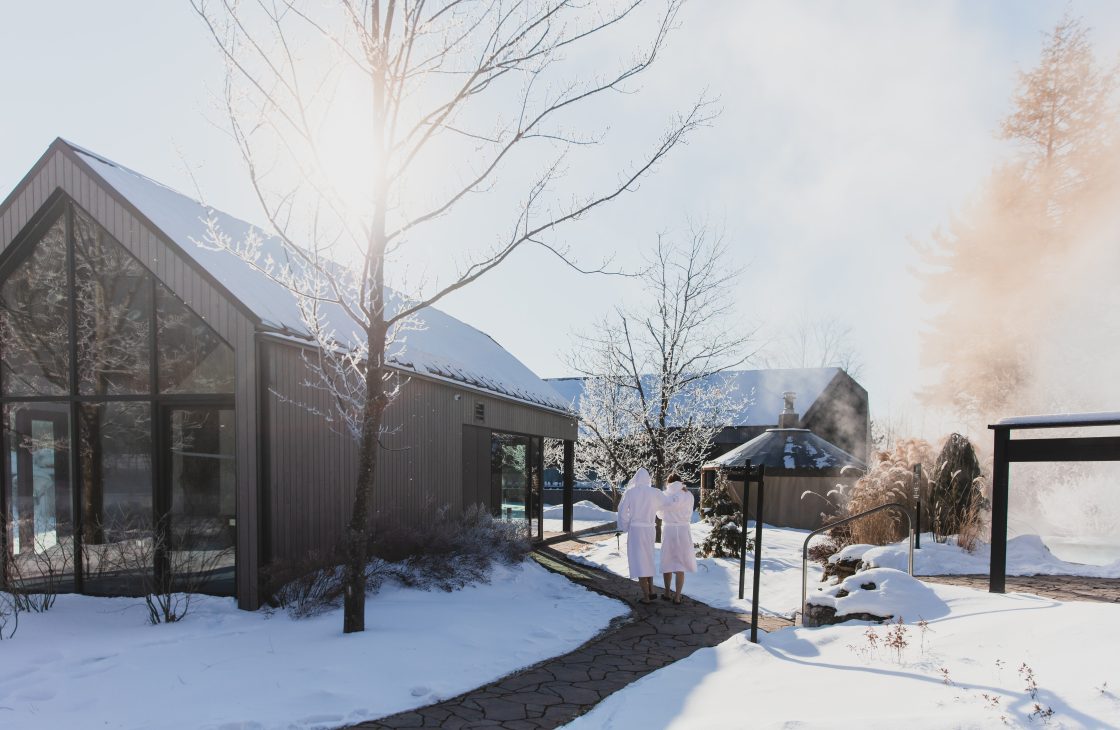 This article was produced in collaboration with SAIL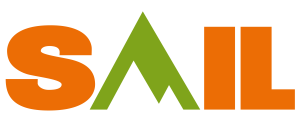 As the days get shorter, many of us slowly retreat into the warmth of our living rooms and wait for the return of the summer sun. We often view winter as something we have to get through, rather than enjoy. What if we changed the way we think and started to view the cold season as an opportunity to take care of ourselves? Just imagine learning to embrace winter rather than suffer from it! In order to encourage Quebecers to embrace the cold season, Strøm Nordic Spa launched the winter therapy movement in 2021.
Of course, having fun in the snow requires some basic equipment, but there are ways to build the kind of versatile winter kit that will enable you to fully enjoy the outdoors, no matter the winter sports you choose. 
In this article, you will learn how to gear up to practise your favourite winter sports:
Choosing warm winter boots
The right pair of snowshoes
Using the layering principles
Winter hydration
Stocking up on heating accessories
Keeping your feet warm with the right winter boots
If your feet are cold, chances are you won't be enjoying the magic of winter. A good pair of boots is arguably the most important item to have in your winter closet. Should you just go for the fluffiest, warmest pair available? This will depend on your chosen activity. Will you be moving a lot and sweating? In this case (if so), you probably won't need as much insulation as if you'd be standing still or going on an easy walk. As a guide, if you are taking up a low intensity activity, such as patiently waiting for fish to bite on a frozen river or snowmobile riding, you will need a higher level of insulation. You should also go for high cut boots as you may be wading through deep snow during your adventures. On another hand, those looking forward to trying winter hiking or snowshoeing should opt for a medium level of insulation. You may want boots with good ankle support and a waterproof membrane, so you can comfortably go and explore the backcountry and find the best winter views.
For some additional tips on how to choose the right pair of winter boots, have a read of the article.
Exploring the backcountry on snowshoes
A pair of snowshoes allows you to go off the beaten track and explore fresh, untouched areas of deep snow. This can be an extremely calming experience, as there is nothing quite like snowshoeing to truly take in the beauty of winter. But with so many types on store shelves, how can you select the right pair of snowshoes? Here, your chosen terrain will be the main criteria to consider. If you mostly intend to meander on groomed trails, a pair of recreational snowshoes will do the trick.
However, if you can't wait to explore the backcountry, pick a pair of off-trail hiking snowshoes. These often feature more aggressive traction and have a wider design to give you more flotation surface.
And if you thought your running season had ended with the leaves falling, there is good news! Runners can pick up a pair of running snowshoes (which are smaller, lighter, and narrower than recreational snowshoes) and carry on with their training program. No more waiting at home for the running season to start again!
Layering to stay warm during your winter sports
The key to staying warm without overheating this winter is to use the layering principles. By layering items on top of each other, you will have complete control over your body temperature, no matter what the winter weather throws at you!
Base layers such as hats, bottoms, tops and even underwear wick moisture away so you stay dry, even during high intensity sports. The best ones are made using natural fibres such as merino wool. Mid layers, on the other hand, keep you warm by trapping body heat. Wear a fleece or a synthetic sweater on top of your base layers for optimal warmth. Lastly, your outer layer should protect you from the elements. Opt for a breathable or waterproof jacket. If you are hiking, cross-country skiing or snowshoeing, you probably don't need an insulated outer layer as you'll be producing heat in no time. However, on very cold days or if you are likely to remain still for long periods of time, you may want to wear an insulated jacket. Don't forget to always carry a hat or headband, a neck warmer, gloves and an extra pair of socks for good luck!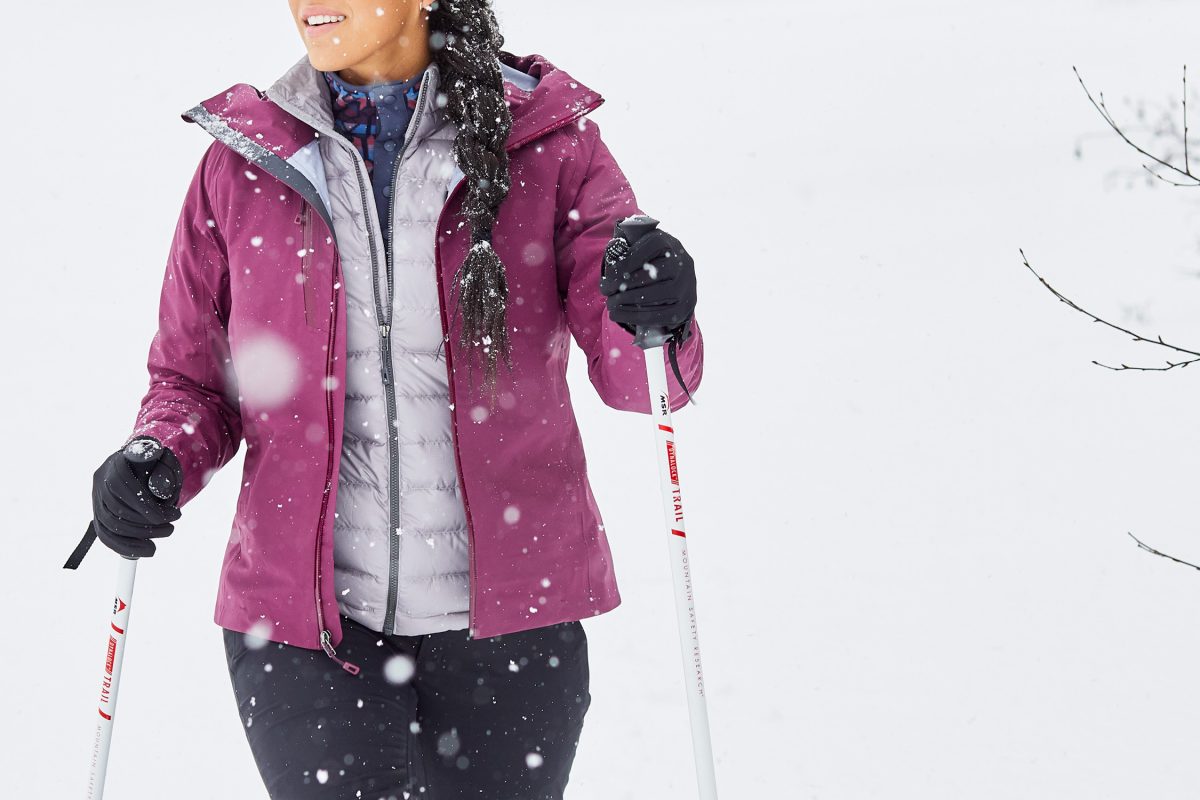 Don't forget to hydrate!
There is no better way to take care of our body than to give it plenty of water. Somehow, in cold weather, we often don't feel as thirsty and can neglect to hydrate properly. Whatever the temperature, make sure you always carry enough water for the duration of your outdoor activity. For this, you'll need an insulated water bottle, so your water doesn't freeze halfway through your outing! You can also take an insulated tumbler with you and treat yourself to a lovely, piping hot coffee, tea or hot chocolate as you sit down to admire the snowy landscape. There is nothing better for the soul!
Heating accessories for a little bit of luxury
If you are still worried about stepping out of your comfort zone to try a new winter sport, there are ways to keep you as comfortable as possible, even on freezing cold days. Stock up on heating accessories such as hand warmers, toe warmers or heated insoles to keep your hands and feet toasty warm. If you are the kind of person who is always chilly, or if you're planning on a long snowmobile ride, you could invest in heated socks, mittens, and even a heated vest or jacket!
Now that you are well equipped, there are no reasons to stay inside and fear the winter. This year, embrace your favourite winter sports, step out into the cold, and let the sun, snow and fresh air rejuvenate you!