The woman who roams the river
November 15th, 2018 by Strøm Spa Nordique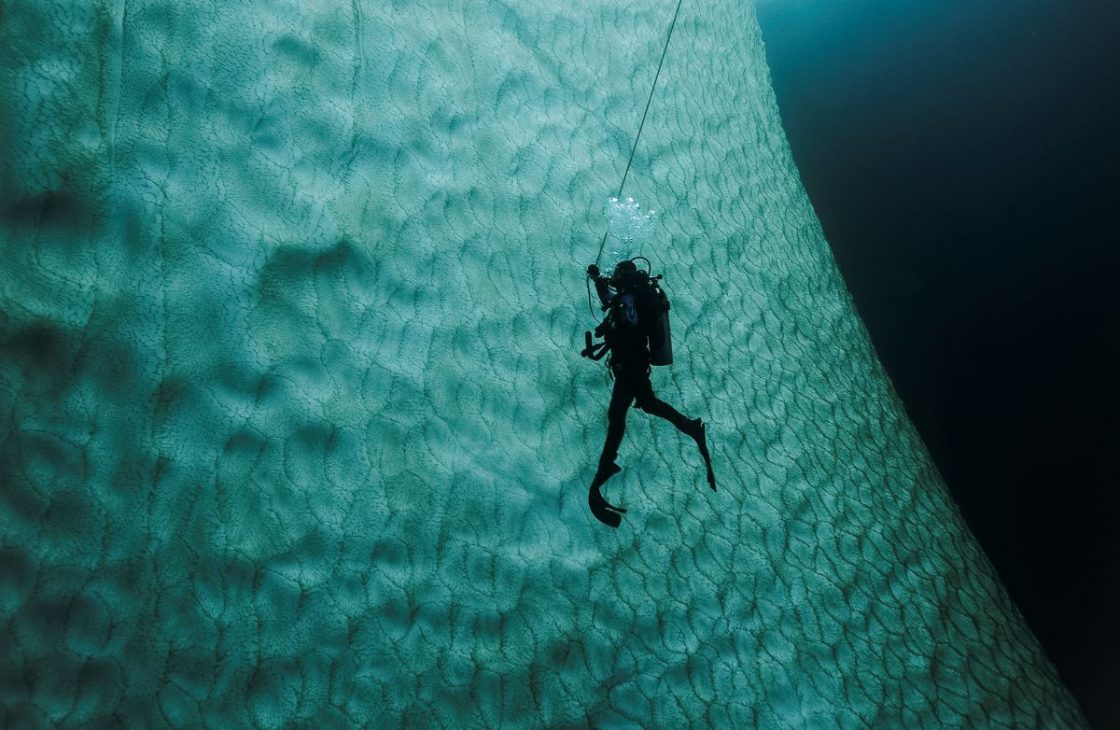 An encounter with diver, explorer and director Nathalie Lasselin.
In the Conquest of the St. Lawrence River – Nathalie Lasselin has travelled around the world to explore the underwater depths. In the icy waters of the Arctic, near the wrecks of the Caribbean or in the underwater caves of China, this explorer captures images of a world you can't see. Under the surface of the water is a rich universe that she reveals and documents so we can know more about its preservation.
Her most recent expedition, called Urban Water Odyssey, is an extreme continuous dive of more than 30 hours over 70 km, from one point to another on the island of Montreal. In addition to setting a new world record, the explorer has set herself a dual mission. On one hand, to collect valuable scientific data to help researchers better understand the St. Lawrence River. On the other, draw attention to this emblematic river to make us aware of the fragility of its balance.
A Mesmerizing River
The surrounding water and nature have always been an important part of the diver's life, recently inducted into the Women's Diving Hall of Fame and a Fellow of the Royal Canadian Geographical Society. During her Urban Water Odyssey expedition, she wants to document nature that lies near us, often neglected, and underappreciated:
"Nature in its raw state has always fascinated me! Taking the time to observe a bird make its nest, or simply sitting on a bench to watch the river, has a profoundly relaxing effect, and I think that being in contact with nature is essential to maintaining a well-balanced life. Immersing ourselves in nature and contemplating it forces us to slow down our pace and leads us back to the present moment! That's something the St. Lawrence taught me to do as I went diving. Since visibility is never very good because of the suspended sediments, I must be very attentive to what is right in front of me. If I try to go too fast or have too many cumbersome thoughts, I run the risk of not seeing an obstacle in time that would appear in front of me and thus endanger my safety when I drift in the rapids of the river. When I am in the river, I must be 100% in the present moment and observe everything that happens in the few feet I see in front of me. Having to focus so much on the immediate, on the "here and now" puts me in a state of mindfulness that soothes me and helps me put many things in perspective, even those that don't occur in the water. »
With its murky and somewhat green waters, the river may seem uninviting. Yet, it is a rich and diverse living environment with which she invites us to reconnect:
"Around the island of Montreal, there are more than 80 species of fish, 200 species of birds and dozens of mammals such as otters and beavers. All these animals live or feed in the St. Lawrence! The river is full of life and small islets of nature to admire it, but we might not take the time to do so. One of my objectives with Urban Water Odyssey is to invite people to reclaim the St. Lawrence so that everyone can reconnect with this natural resource. »
An unparalleled wealth
As it winds its way through Quebec, the river is intimately linked to our history and culture. It sculpts the landscape of many cities from here. From the breathtaking views of Cap Diamant to the famous Kamouraska sunsets, our rivers dazzles us, transports us and feeds us. In addition to being a pantry for us and hundreds of other species, it is the source of drinking water for more than half of Quebecers, and more precisely for 80% of Montrealers. However, at present, only 1% of the river is protected, and very little is known about its state of health:
Urban Water Odyssey is also a scientific mission in which Nathalie Lasselin has engaged with six researchers from the Université de Montréal to collect samples, which will then be analyzed:
"This is a project that contributes to the overall picture of the river and will take samples where scientists cannot always go. With this research, we will be able to analyze the presence of many things in the water, including hormones, herbicides, pesticides, drugs, antibiotics, etc. Once the analyses are completed, we will know a lot more about the health of the river, we will better understand its issues. Ultimately, this knowledge will help to better determine the actions to be taken collectively for the protection and preservation of the water we drink. »
The guardians of the river
Despite the precarious balance in which our river finds itself, Nathalie remains deeply optimistic:
To learn more about Nathalie Lasselin's projects, expeditions and documentary screening dates, visit www.nathalielasselin.com.
YOU MAY ALSO LIKE THESE ARTICLES
Survival mode in the wilderness for a weekend