Floristry: A Living Art
April 25th, 2023 by An Interview with Alice Berthe, of the Enfants sauvages flower farm
Bound by a passion for nature and a deep respect for it, Alice Berthe and Thierry Bisaillon-Roy founded the Enfants sauvages flower farm and floral design studio. A project in the colours of happiness to embellish the daily routine as well as the rituals of our lives. 
"Thierry and I had the opportunity to settle in Estrie, a region we hardly knew. Someone wanted to transfer the land that he had inherited to young people who wanted to get their start in organic farming, and it fell to us. At that time, Thierry was looking for a professional project. It was clear to him that he wanted to work with living things, with the soil, to grow things, but he didn't know what exactly. For me, I wasn't lining up to become a farmer or to work with my husband, but I liked flowers. Having grown up in France, born to a Colombian father and a French mother, flowers had always been part of my daily life. When we went to the public market each week, my mother bought a bouquet to brighten up the house. So, I dreamed of planting a rose garden with English roses on our land in Estrie, just for fun.  
"One day, Thierry's desires and mine came together, and we said to each other 'why not flowers?' It became obvious: we were going to build a flower farm."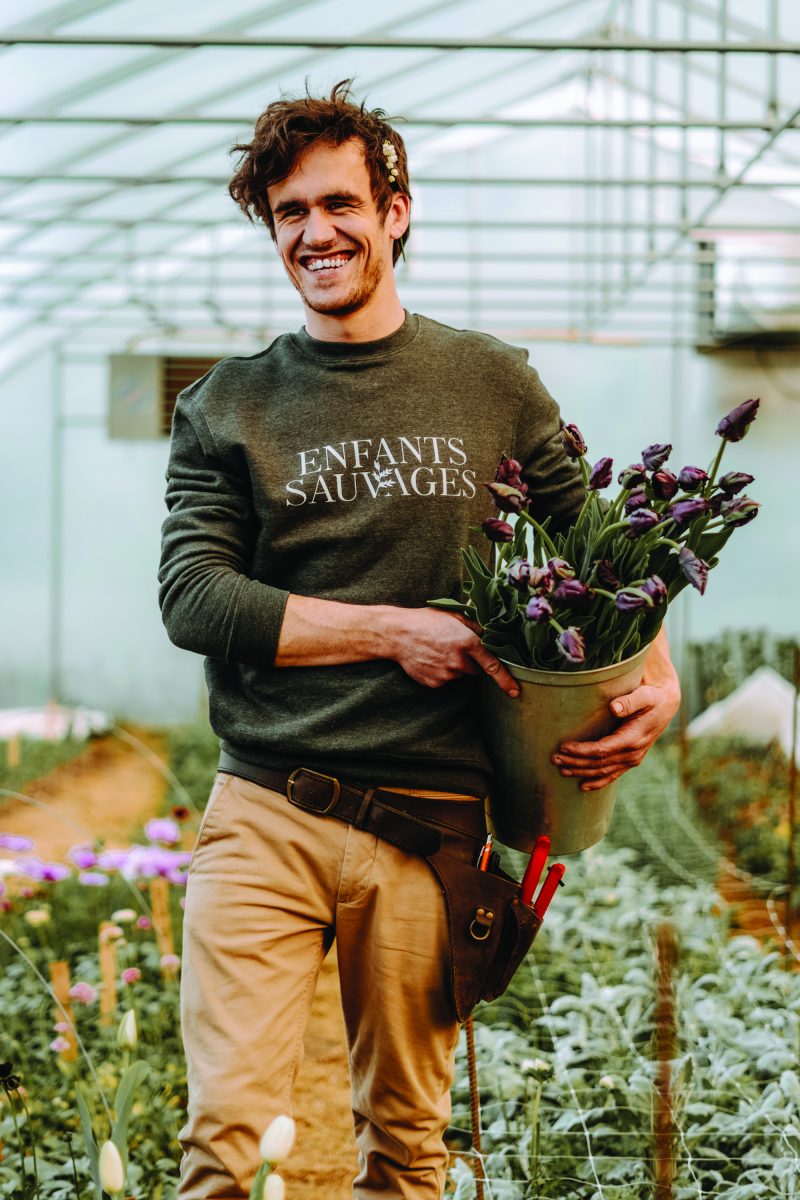 THE PROBLEMS WITH TRADITIONAL FLORISTRY  
"The name 'Enfants sauvages' ('Wild Children') came from this idea of taking part in an alternative form of floriculture, going a little against the current, practising responsible local farming without using chemical fertilizers or pesticides. 
"We know that traditional floristry in Quebec mainly focuses on flowers grown in the Netherlands, Colombia, Ecuador, Kenya…so, far away. These flowers are usually produced as monocultures, and since they aren't intended to be eaten, farmers often use a heavy hand when it comes to pesticides and chemical fertilizers. These flowers then travel long distances and pass through several hands before arriving in those of the consumer. This method of cultivation and supply has very serious social and environmental consequences. 
"Our approach therefore allows us to grow the same families of flowers that can be found in a traditional florist, such as roses, dahlias, peonies, tulips, but also to cultivate varieties that would not survive transport by plane, or which are rarer, and for which the price would be too expensive in the traditional supply chain, given the number of intermediaries involved. 
"By harvesting and preparing bouquets only on request, we also avoid substantial losses, which is more difficult with a traditional florist who has a physical storefront and has to keep a fully stocked fridge all year round. The trust that the customer places in us is therefore important, because while they choose the size and colours of their bouquet, they leave it to us to pick the freshest and most beautiful varieties while respecting the seasonality of the plants."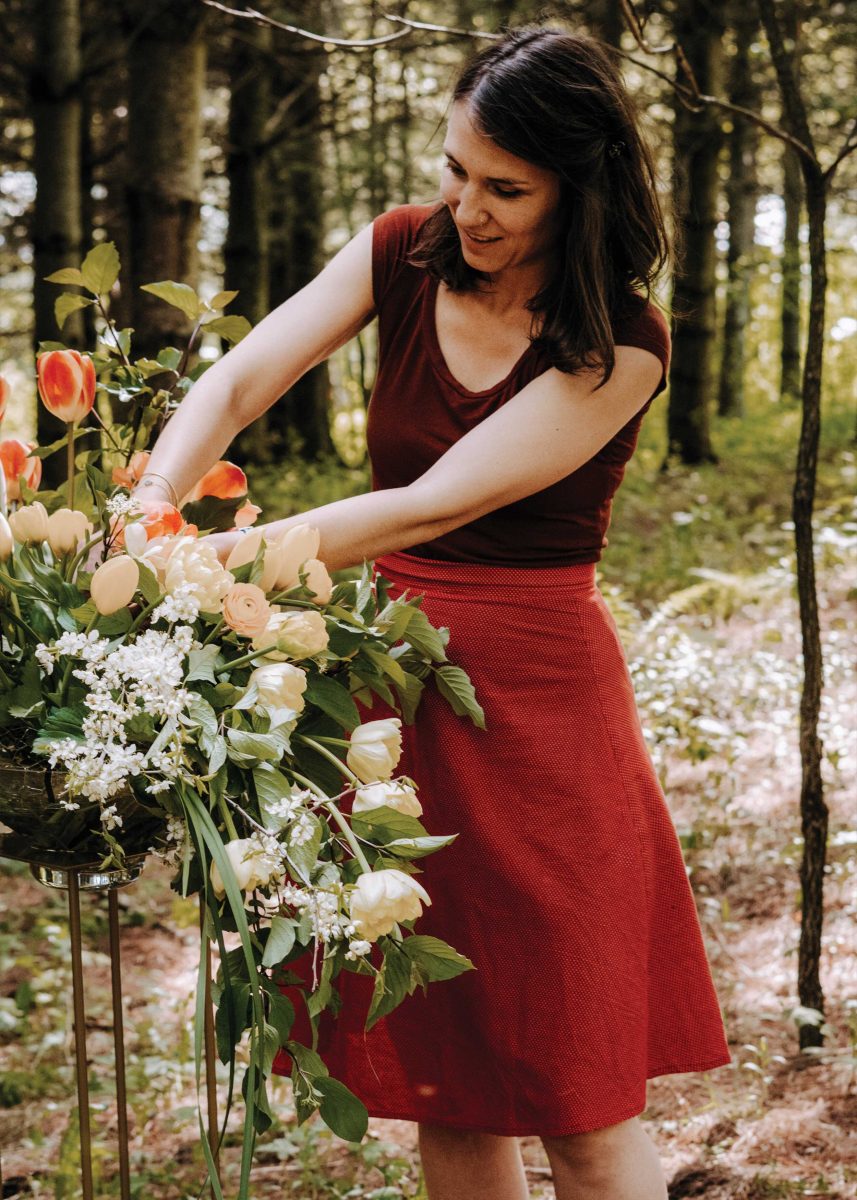 THE IMPORTANCE OF RITUALS 
"People often ask us if the pandemic affected our success, since flowers are seen as something of a luxury. Not really, because the need for rituals in people's lives is firmly rooted: birthdays, weddings, funerals… In Canada in 2019, $567,000 million worth of cut flowers and garden products were imported, which means that the demand is there, that the rituals in our lives need to flourish. 
"But why import them if we can grow them here? The flower farm offers a local answer to a universal demand. By purchasing a local flower, we're also buying a story. We know who grew it, who took care of it, who cut it. The gesture is even more meaningful." 

LIVING IN HARMONY WITH THE SEASONS 
"We live according to the seasons, with both hands in the flowers, and we feel the benefits of this connection with nature. Since the flowers grow from May to October, in the winter, we plant the seedlings and assemble the infrastructure. We have work to do all year round, but we really live with the seasons, and we try to share this concept of seasonality with our community. There's a time for everything, and a time for each flower. Just like with fruits and vegetables. In the same way that Quebec strawberries aren't available in December, the peony isn't a September flower!" 
FINDING BALANCE WHILE WORKING AS A COUPLE  
"My professional experience in cultural mediation, project management, and business development complement Thierry's passion and know-how for growing living things. He grows the flowers, and I market them. 
"We're aware that it's not for everyone, working as a couple, but for us, it works very well. We still give ourselves a structure, because we live together, we work together, we live in our workplace…our plantations are literally under our office window.  
"For example, we try not to talk about work in certain rooms of the house or on certain days of the week. Thierry has also done two hours of meditation per day for several years. That's almost unthinkable when you know that he is both a farmer and a dad, but it's possible! He wakes up at 5:30 am to meditate and does another hour in the evening when everyone is sleeping, the sun has set, and the flowers are closed. And with a pretty incredible consistency: the only time he missed his hour of meditation was the morning of my delivery three years ago. But he did it that night! So, this discipline is clearly something that helps us a lot in our respective lives, and in our business. We've also taken non-violent communication training, which gave us tools to better understand our needs, to better express them, and therefore communicate better with each other." 
…AND IN AGRICULTURE  
"A graphic designer who starts their own business can invest a few thousand dollars, buy a computer, software, a good office chair, and the next morning, they can start offering their services and generating money. By comparison, agriculture is a huge investment for very little return, because the cost of the equipment is very high. Over five years, we've invested $150,000, and we have annual expenses of $100,000…we only started turning a profit in the second year. But it's a lifestyle choice.  
"The difficulty also lies in the fact that our type of business isn't very prevalent around us, so we don't have many role models from which to draw inspiration. We're navigating in something that's still relatively unknown in Quebec, unlike vegetable gardening, for example, for which figures and data exist that allow people to make more concrete business plans." 
THE POETRY OF FLOWERS 
"Our goal in life, for Thierry and me, is to do activities that bring us joy. As entrepreneurs, we have many decisions to make, and we can quickly feel overwhelmed, so we always try to come back to this idea of working in joy and taking actions that are in line with our goal. 
"We're proud to think that our child is growing up between two rows of flowers. He's only three years old, but he already knows many different varieties; he really pays attention to them. He makes sure of the quality! It's important for us to cultivate this poetry of work, and the poetry of flowers. To show him that it's possible to make a living from what you love.  
"Working with living things means having epiphanies several times a year, even several times a day. It's a continuous wonder. That's what's magical about nature: no matter how well we know it, each time we return to it, it always does us good. It's in our DNA: we're made to be in contact with nature, which is why we never get tired of it." 
Visit enfantssauvages.ca if you want to book a flower subscription or to order your Mother's Day bouquet.