Champion, one day at a time
December 3rd, 2018 by Strøm Spa Nordique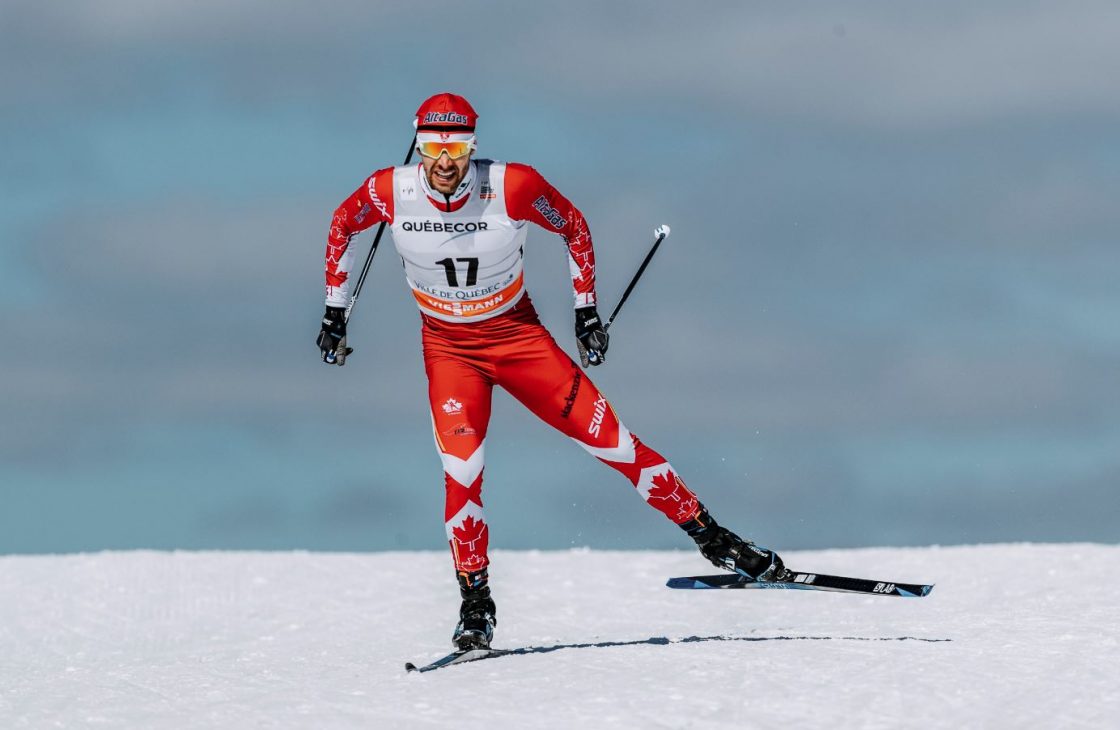 World champion, model of excellence in cross-country skiing, law student and lover of nature and new challenges, Alex Harvey has more than one string to his bow. An in-depth look into the daily life of an athlete who, beyond performance, focuses on balance.
SPORT AS A RITUAL
 Cross-country skiing is an endurance sport. How do you prepare your body for physical activity?
Fortunately, cross-country skiing training is very diverse, which is ideal for minimizing the risk of injury. I do a lot of mountain biking and road biking, running, roller skiing, weight training in the gym.
I work out 4.5 to 5 hours a day, divided into two sessions to have time to recover and to be effective during each workout.
Speaking of recovery, do you have a restorative ritual to prepare your body for new training?
Between my training sessions, I take a nap. Most of the recovery is achieved through sleep, but also with nutrition. I don't have a particularly complex diet, but I always eat within 20 minutes of the end of training so that my body can properly absorb the benefits of food (the best time for the muscles to properly recover and absorb nutrients from food is after training). After my meal, I take a nap, and finally eat a second meal that corresponds to the equivalent of a breakfast. Then I'm ready for the afternoon training. I go to bed early in the evening. I sleep about 12 hours a day, so half of my day is dedicated to recovery.
You suggested having a simple diet. What are the key principles of your diet?
Above all, it is about eating a balanced diet. While training, you spend a lot of energy, from 1,000 to 1,200 calories per hour. With a 5-hour day of training, we reach about 6,000 calories burned in addition to the basic metabolism. It is obvious that I must then eat sufficiently: lots of carbohydrates, proteins and vegetables. I do this by focusing on the quantity and quality of food.
Do you indulge in some treats? A glass of wine for dinner or a good dessert?
I drink a glass of wine with supper almost every night. It doesn't affect my training and some doctors recommend it. My girlfriend Sophie also cooks exquisite desserts, and I definitely have some!
 With your busy schedule, and the stress of competitions, do you engage in any form of relaxation or meditation ritual?
I escape with the help of my friends and the university. We talk about something other than sports, it allows me to let go.
Stretching helps me to relax at the end of the day, it's my little meditation, even if it's not yoga as such.
Otherwise, the day before a competition, I always do a visualization before going to bed. I imagine myself skiing on a competitive course. I observe the routine I will go through as the race progresses. This visualization technique allows me to reduce my stress. On the race site the next day, I switch to "automatic pilot" as I feel like I have already experienced the race through visualization.
LIVING IT OUT
Do you have any favorite places or landscapes to train in?
There are several splendid places in the world!
The Dolomites
Located on a plateau at an altitude of 2,000 m, the Dolomites, also known as Italy's pink mountains, are nothing short of grandiose. This place is majestic in both winter and summer, and I often do training camps there during the cold season.
Norway
The Norwegian landscapes are always beautiful. I was there last August for a three-week camp that included some roller-skiing competitions. One of them starts by boat: no road connects to it! We were starting from the bottom of a fjord to make an 8-km climb. The sights are breathtaking.
And closer to home, do you have fetish places in Quebec?
We are equally privileged at home!
Mount Sainte-Anne
I was born at the foot of Mont Saint-Anne and still live there. It serves as my backyard, this is my playground! I ride it several times a week, whether by bike or running. At the top, the view is spectacular over Quebec City, Île d'Orléans, Charlevoix, the river, and you can behold the Laurentians in all its splendor.
Several provincial and national parks
In Quebec and Canada, we are blessed with such beautiful provincial and national parks, for example, Jacques-Cartier National Park and Hautes-Gorges-de-la-Rivière-Malbaie National Park.
SUCCESSES AND PROSPECTS
What are your greatest successes, your greatest pride?
I have two world championship titles; one team and one individual. It certainly is a source of pride for me in terms of performance and results. More than that, I feel very pleased with my ability to have remained successful in a context where the competition was being held on the road, far from my family and friends.
 You are about to finish your law studies. How do you see this next chapter?
It stimulates me! Starting a new career will be a great challenge, which is very motivating for me. Nevertheless, for the time being, I'm focusing on training and competition. Cross-country skiing remains my main challenge, but I will welcome new experiences when they come my way.
Do you have a motto that guides your life?
The starting point for everything I do is to set a goal. When I go through a challenging time, I come back to this objective to stay on course. Being a little better every day is my way of making significant progress in the long-term.
What about your dreams for the future?
To start a family in the years to come and share my passion for sports with my children!
YOU MAY ALSO LIKE THESE ARTICLES
The use of technology for well-being