Transform your eating habits one plate at a time
May 23rd, 2019 by Strøm Spa Nordique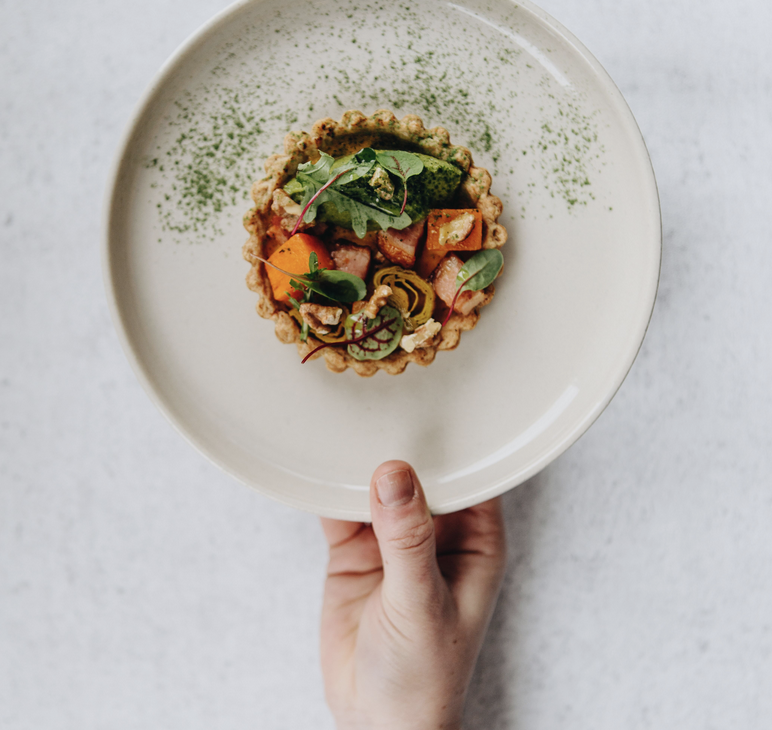 Interview with Isabelle Huot, nutritionist
GUIDE 2019 – Eating more fruits and vegetables and eating less meat, are some of the habits that Canadians should adopt according to the recommendations of Canada's new food guide. While changing your habits radically is difficult, making small changes to your menu over time makes the transition easier. A closer look on the changes proposed by the new guide with Isabelle Huot, doctor of nutrition.
The new guide now refers to food proportions rather than food portions. Vegetables fill half of the plate, whole grains occupy one quarter, and the other quarter is made up of protein foods (mainly from plant-based sources). What do you think of this change?
For many, the notion of calculating the serving size, which involves weighing or measuring food, was complex. That's what public consultations, that were conducted to update Canada's food guide, revealed.
Personally, in my practice but also in the various columns and articles I write, I have been advising for several years now to fill half the plate with vegetables or fruits, or both. It is a very simple strategy to implement.
Respecting the proportions rather than the portions also encourages you to listen more to the signs of hunger and satiety, which is a good thing!
The focus is on plant-based proteins at the expense of animal proteins. What is the reason?
Many studies confirm that a high consumption of red meat increases the risk of certain diseases, such as heart disease and certain types of cancer, including colorectal cancer.
Plant-based proteins have a lot to offer on the nutritional front. Legumes such as kidney beans, chickpeas and soybeans provide a good source of quality protein, contain a low amount of fat and are high in fibre. Tofu and tempeh are also very interesting, as they are nutritious and versatile. In addition, plant-based proteins are economical, which is great news for the consumers!
The guide now also takes the environmental impact of our food choices into consideration, where before it traditionally focused on the human health. Today, we acknowledge that the current environmental problems are likely to become health issues for future generations. As a nutritionist, how do you perceive this new awareness?
Environmental awareness invites us to make better choices for our planet and future generations. It's a mobilization I like very much. By reducing our meat consumption and focusing on locally grown fruits and vegetables, we are making a positive impact on the environment.
Dairy products are now positioned alongside other protein foods, and no longer considered essential for a healthy diet. What do you think about this major change?
Milk is classified as a protein food, just like fortified soy beverage or nuts or eggs. I have nothing against milk at all, on the contrary. It is a food choice that provides calcium and vitamin D. In the new Canadian food guide, milk is simply not put on a pedestal any longer.
Instead, we are returning to the famous advice of choosing a wide variety of food, to fill up with all the nutrients our body needs to function properly.
The guide values the consumption of a variety of food and depreciates processed food. Why do we want to eliminate processed food? And why is a varied diet synonymous with health?
Processed foods are often rich in bad fats, sodium and refined sugars, and are far from the clean label promoted by nutrition specialists. Cooking your own meals and snacks allows you to better control the quality of the ingredients. However, to consume less processed and ready-to-eat food, you need to plan and organize to cook at home, hopefully with your whole family! I also wrote the book Les menus solution famille, with nutritionist Nathalie Regimbal, to help families eat better with simple recipes and practical menus for six weeks.
Choosing a wide variety of food helps to diversify the consumed nutrients. Let's take a look at some vegetables and fruits: peppers contain vitamin C, while spinach is rich in magnesium and bananas provide a good dose of potassium. Eating several types of vegetables and fruits can help to cover the need for various minerals and vitamins. Variety is a guarantee for health.
TIPS FOR TAKING THE TIME TO EAT WELL
Establish, as a family, a weekly menu that will please everyone.
Cook meals together if the time allows it. Also, reserve 2 to 3 hours on the weekend to prepare food for your weekday meals.
Check the family's schedule and plan 1 or 2 meals per week you can enjoy together.
Turn off any distractions (TV, phone etc.) during meals.
Talk, discuss, exchange and communicate at the table.
Take the time to consciously enjoy every bite!
YOU MAY ALSO LIKE THESE ARTICLES
Disconnect from the outside world to reconnect with yourself
Live fully through the principles of acceptance and engagement therapy