Smorrebrod with marinated trout and radish, apple and fennel salad
July 2nd, 2019 by Strøm Spa Nordique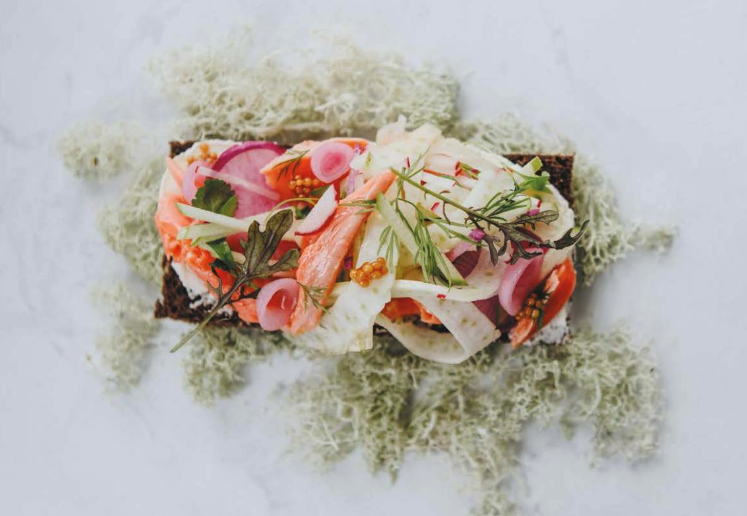 TO EAT – A smorrebrod is an open-faced sandwich made with rye bread, and in the 19th century it was considered to be a complete breakfast for the Danish people. For Raphaël Podlasiewicz, executive chef of the Strøm bistros, the smorrebrod is a blank canvas. Salty or sweet and perfect as an appetizer, this toast can be recreated by using inspiration and seasonal ingredients. To add a touch of freshness to the Scandinavian classic, we have played with different textures by layering the crunchy salad and the marinated fish.
Ingredients
– 4 SERVINGS
4 slices of rye bread
1 cup of crème fraiche (or fresh goat cheese, ricotta or fresh cheese)
Marinated trout
2 French shallots, minced
The stem of 1 fennel bulb
1 tsp crushed coriander seeds
1 tsp fennel seeds
1 cup apple cider vinegar
1 cup olive oil
1 lemon (juice and zest)
4 sprigs of fresh dill
1 trout fillet (about 250 g), skinless and boneless
Radish, apple and fennel salad
½ tbsp of Dijon mustard
1 lemon (juice and zest)
1 tbsp honey
1 tbsp apple cider vinegar
4 tbsp olive oil
1 radish, thinly sliced with a mandolin
1 fennel bulb (without stem), thinly sliced with a mandolin
1 granny smith apple, cut into thin juliennes strips
Preparation
Marinated trout
In a saucepan, sweat the shallots with the fennel stem, coriander seeds and fennel seeds.
Deglaze with apple cider vinegar, remove from heat.
Add olive oil, lemon zest and juice and dill.
Pour the hot marinade over the fish. Refrigerate until completely cooled.
Radish, apple and fennel salad
In a bowl, combine Dijon mustard, lemon zest and juice, honey, apple cider vinegar and olive oil. Add the other ingredients. Season with salt and pepper.
How to assemble
Lightly toast the slices of rye bread.
Spread each slice with ¼ cup of crème fraiche. Garnish with radish, apple and fennel salad.
Remove the trout from the marinade and coarsely flake it over the salad. Garnish with a few dill leaves.
YOU MAY ALSO LIKE THESE ARTICLES
About mindful eating
Disconnect from the outside world to reconnect with yourself
Live fully through the principles of acceptance and engagement therapy