Oven-Roasted Cheese
January 13th, 2023 by Raphaël Podlasiewicz, executive chef of the restaurants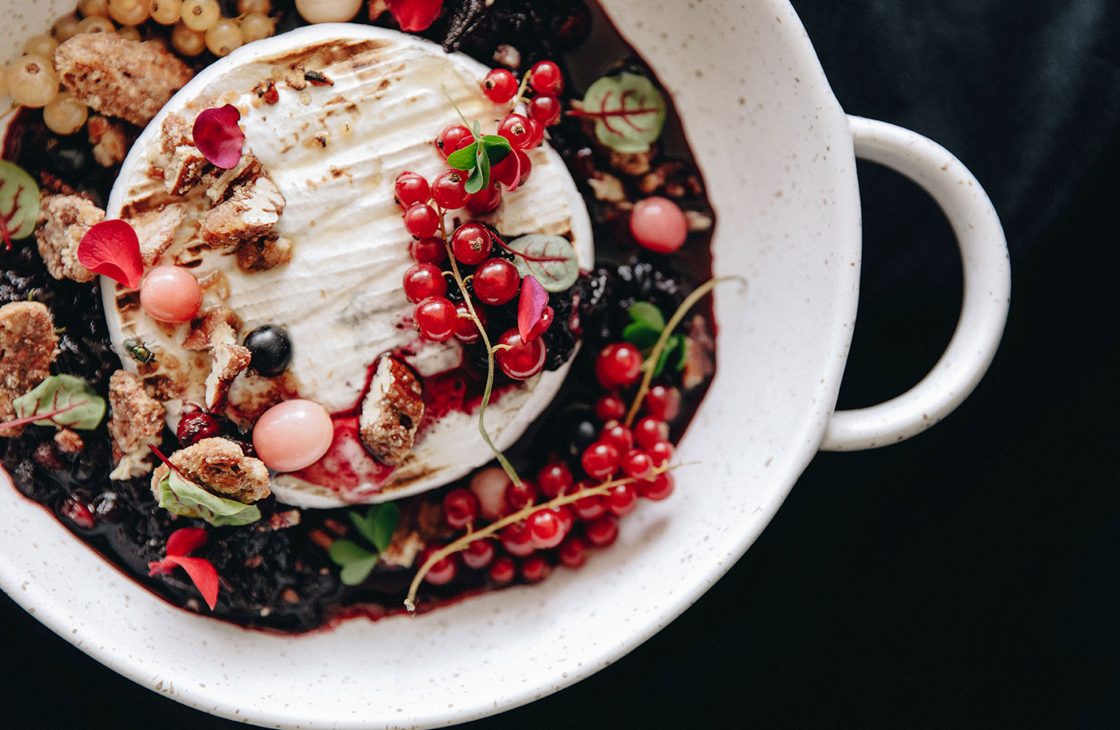 NORTHERN BERRIES / LINGONBERRY JELLY / CARAMELIZED PECANS
This dish is the perfect excuse to sit outside for a moment of comfort, with a blanket over your shoulders. With its flavours of maple syrup, northern berries and caramelized pecans, it can be shared as an appetizer or as a dessert, as you wish.
Preparation 10 min | Cooking 8 min | Serves 4
INGReDIENTS
1 200 g Brie from a local cheese shop
30 mL (2 tbsp) maple syrup
30 mL (2 tbsp) lingonberry jelly
125 mL (½ cup) northern berries of your choice (wild blueberries, haskap berries, etc.)
30 mL (2 tbsp) caramelized pecans
2 pickled onions, cut into strips
60 mL (¼ cup) vino cotto
A few sprouts of your choice
6 to 8 large croutons (slices of loaf)
PREPARATION
Preheat oven to 220°C (425°F).
Place Brie in a cast iron pan or ovenproof dish and drizzle with maple syrup. Bake for 8 minutes.
Top roasted Brie with lingonberry jelly, northern berries, caramelized pecans and pickled onions. Drizzle with vino cotto and garnish with a few sprouts.
---
Caramelized pecans
Preparation 10 min | Cooking 10 min | Yields 2 x 500 mL Mason jars
INGREDIENTS
125 mL (½ cup) maple syrup
500 mL (2 cups) roasted pecans
1 mL (¼ tsp) fleur de sel
PREPARATION
In a large skillet, bring maple syrup to a boil and boil for 3 minutes.
Add roasted pecans. Stir until the syrup crystallizes and forms a powder that coats the pecans.
Add the fleur de sel and stir.
Let cool. Store pecans in an airtight container.
Note
Pecans can be stored in an airtight container for up to 30 days.
---
Pickled onions
Preparation 10 min | Cooking 10 min | Output 2 x 500 ml Masson jars
INGREDIENTS
5 mL (1 tsp) mustard seeds
2 bay leaves
5 mL (1 tsp) juniper berries
5 mL (1 tsp) coriander seeds
125 mL (½ cup) water
250 mL (1 cup) cider vinegar
60 mL (¼ cup) sugar
5 mL (1 tsp) salt
250 mL (1 cup) peeled red onions
PREPARATION
In a saucepan, dry roast the mustard seeds, bay leaves, juniper berries and coriander seeds.
Pour in the water, then add the vinegar, sugar and salt. Bring to a boil and let the marinade boil for 2 to 3 minutes.
Divide peeled pearl onions into 2 sterilized 500 ml Mason jars.
Pour the boiling marinade over the onions, screw on the lid immediately and keep in a cool place.
Note
Pickled onions can be stored in the refrigerator for up to 3 months.