From the local artisans to your table
June 17th, 2015 by Strøm Spa Nordique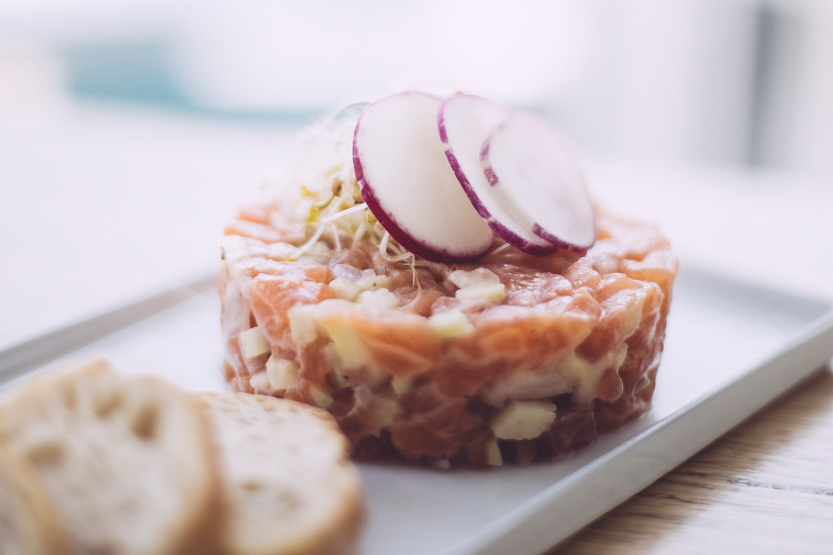 Because of the constant concern for the environment, but also to encourage local producers, the integration of local products to the bistro menus fits perfectly well with Strøm Spa's values.
The first of a series of articles presenting artisans featured at the Strøm Spa bistros introduces us to the fish market Saum Mom – Salmon Artisans.
Specialty: Atlantic salmon and its variations. Smoked, gravlax, jerky, terrines, cooked dishes … fifteen different salmon products are available, in addition to some other fine foods.
Owner and artisan: Daniel Ouimet, Chef-owner
A little bit of their history: Saum-mom has been a "fresh salmon artisan" for 20 years. First established in Laval, he decided, a few years later, to put his anchor down in Montreal. His mission: to give his clients a gastronomic experience by offering superior quality. Saum-mom's fresh Atlantic salmon arrives every week from an eco-responsible breeder in New Brunswick, certified "best aquaculture practices" by Responsible Seafood Choice.
A trained chef, Daniel Ouimet worked in Quebec and Europe. During his experiences, he quickly realized that when it came to smoked salmon, there was no variety available. This is where he got the idea to start ​​a business where the salmon would be in the spotlight.
Forced to evolve within different areas, Daniel Ouimet eventually became a salmon expert. He has developed his own smoking technique that complies well with the product. His salmon, cold-smoked with maple wood, has a soft texture, it is not too salty and it is preservative free.
The springtime-summer menu at Strøm Spa Mont-Saint-Hilaire, offers a Saum-mom discovery. You will have the pleasure to try three variations of their products: cold smoked salmon (smoked with maple wood), fresh salmon (salmon tartare) and smoked salmon jerky. Here is the recipe of our salmon tartare.
Ingredients:
Fresh salmon, skinless, diced (180 g)
Capers, chopped (5 ml)
Dijon mustard (5 ml)
Dried shallots, chopped (5 ml)
Green onions, chopped (5 ml)
Lemon juice (5ml)
Olive oil (5 ml)
Salt (to taste)
Pepper (to taste)
Sambal Oelek chili sauce (to taste)
Preparation:
Mix everything and… enjoy!
– Isabelle Ladouceur, chef bistro at Strøm Mont-Saint-Hilaire
For the bistro menu and to discover our specialties at Strøm Mont-Saint-Hilaire, click here.
For the bistro menu and to discover our specialties at Strøm Nuns' Island, click here.