Burrata and Mushroom Stir Fry
May 8th, 2023 by STRØM nordic spa
Eggplant caviar with black garlic Sourdough bread
The most beautiful moments of exchange, sharing, and connection often take place around the table. Gathered around a meal, an aperitif, or even just a drink, the discussions are imbued with authenticity and emotion. With this in mind, we offer you, to start, a dish to be shared, where burrata, mushrooms, and egg-plant take centre stage. To drink, a clarified rum punch inspired by a historical cocktail technique: the clarified milk punch. Two recipes for a delicious and surprising aperitif on the terrace!
Servings
2 to 4 (a dish to share)
Preparation time
45 to 60 minutes
Cooking time
45 minutes

Mushroom stir fry
Ingréedients
9 tbsp. sunflower or olive oil 3 tbsp. unsalted butter

3 cups (120 g) wild mushroom blend* 1 French shallot, finely minced

4 tbsp. black garlic vinegar from Vinaigrerie du Capitaine, or any other quality wine vinegar

1 tsp. garlic flower

¼ cup chopped garden herbs (chives, tarragon, parsley, thyme)

Salt and pepper
Preparation
In a large frying pan, heat about 2 ½ tablespoons of sunflower oil and 1 tablespoon of unsalted butter.
Once the butter is foaming and hazelnut-brown in colour, add 1 cup of the mushroom blend. Lightly salt.
Brown the mushrooms by stirring them a few times.
Once browned, add a third of the minced shallot and continue cooking for 1 minute. Set aside.
Repeat these steps three times.
During the third and final stir fry, add all the previously sautéed mushrooms, then deglaze with the vinegar.
Add the rest of the oil (1 ½ tablespoons), the garlic flower, and the garden herbs.
Season the mixture to taste. Keep warm.
*For this recipe, we used mushrooms grown at a local mushroom farm: oyster, honey-coloured armillaria, lion's mane, and maitake. In season, we recommend adding wild mushrooms such as chanterelle or morel to the mixture.
Eggplant caviar with black garlic
Ingredients
2 eggplants

¼ cup sunflower or olive oil 1 tsp. honey

1 tbsp. cider vinegar

4 cloves of black garlic, peeled, or two cloves of garlic, finely minced Salt and pepper
Preparation
Preheat the oven to 425°F (220°C). Cut the eggplants in half lengthwise, then make an incision in the flesh and cut it into squares using a knife.
In a large frying pan, drizzle the sunflower oil and sear the eggplants flesh side down over high heat.
Transfer the eggplants flesh side down to a baking sheet lined with parchment paper. Bake for approximately 20 minutes until the eggplant flesh is fully cooked.
Let cool for 15 minutes, then remove the peels from the eggplants to recover only the flesh.
In a blender, mix the eggplant flesh with the honey, vinegar, and garlic at high speed until smooth. Season to taste.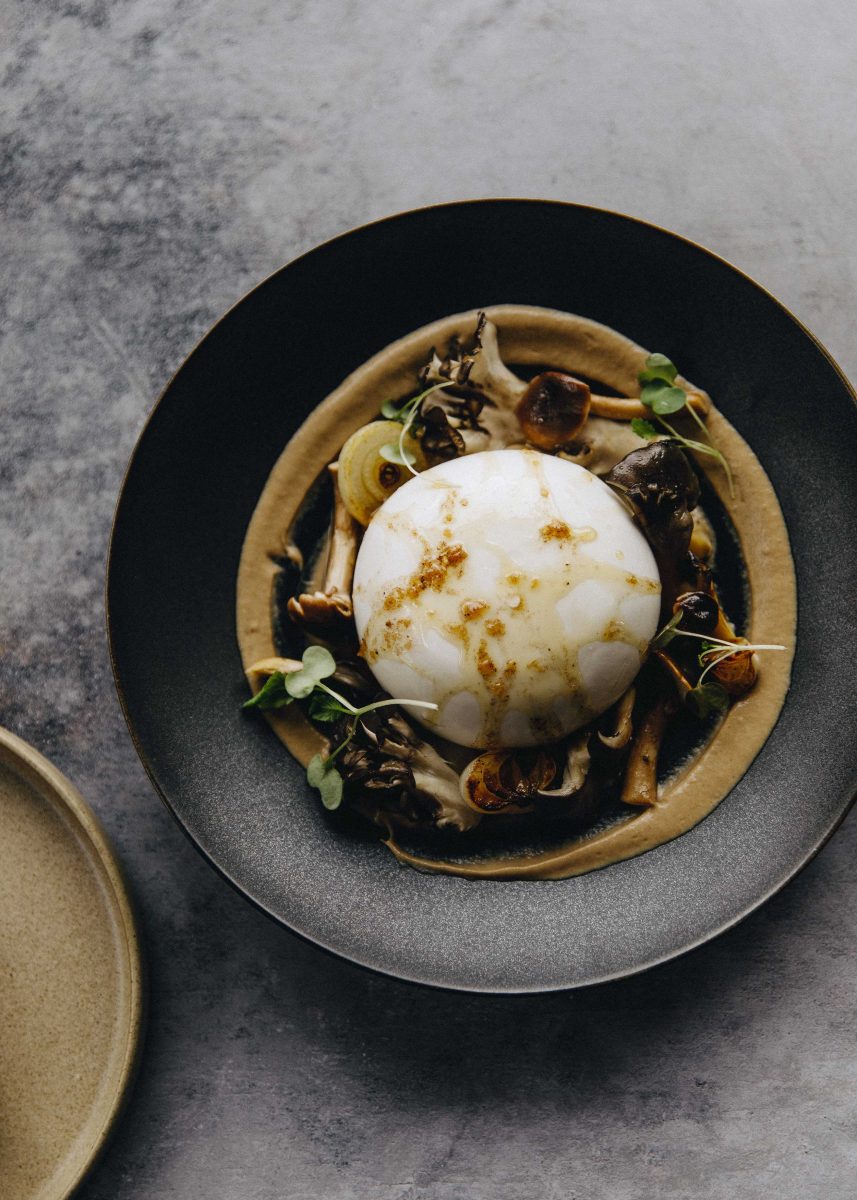 Assembly
1x 200 g slab of burrata
Eggplant caviar with black garlic, to taste Mushroom stir fry, to taste
1 pinch fleur de sel Freshly ground pepper
3 large slices of sourdough bread, cut into halves
Butter, to taste
Preparation
Take the burrata out of the refrigerator and let stand at room temperature for 20 minutes.
On a large plate, arrange the eggplant caviar in a fine layer, then place the burrata in the centre. Place the stir-fried mushrooms all around.
Season the burrata with a pinch of fleur de sel and a dash of freshly ground pepper. Serve with a few slices of sourdough bread, previously buttered and pan-toasted.