Asparagus and watermelon radish salad with strawberries and ricotta (4 servings)
July 17th, 2018 by Strøm Spa Nordique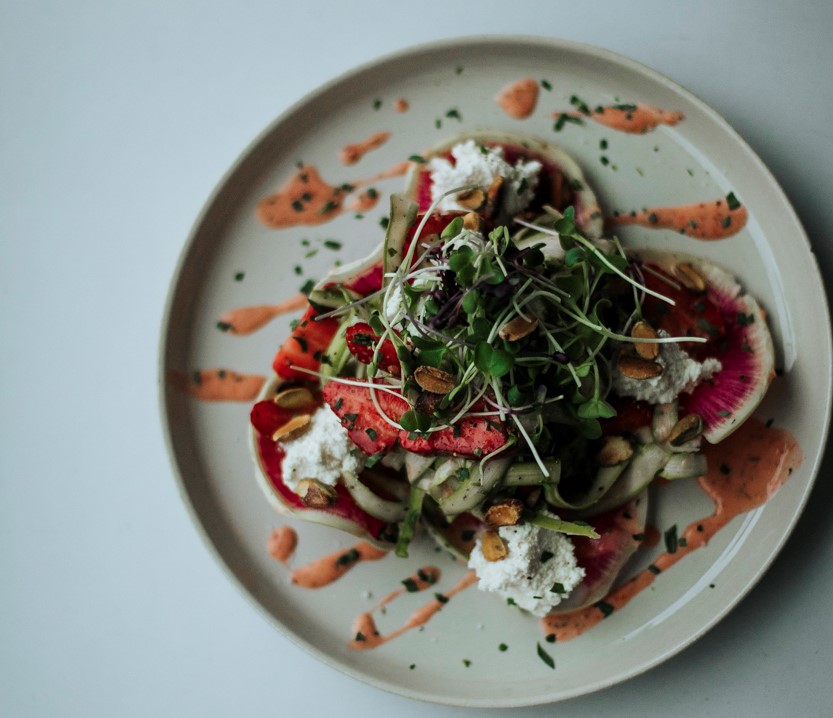 At this time of heat wave, Strøm offers a refreshing and nutritious summer salad.
Strawberry – tarragon vinaigrette
Ingredients
1 cup of olive oil
½ cup of apple cider vinegar
1 tbsp. of fresh tarragon, chopped
1 tbsp. of honey
½ cup of pre-washed strawberries, cut in quarters
Preparation:
Put all the ingredients in a blender and mix until you have an even and liquid consistency.
Refrigerate.
Asparagus and watermelon radish salad
Ingredients
450g (1 lb) of pre-washed green asparagus, shaved into ribbons. Immerse the asparagus ribbons in a bowl full of cold water and ice cubes for at least 20 minutes.
250g of ricotta cheese
⅓ cup of shelled pistachio nuts, coarsely chopped
2 cups of washed watermelon radishes, thinly sliced
1 cup of pre-washed strawberries, cut in quarters (optional; for decoration)
Freshly ground pepper
Sea salt
Preparation:
Separate the sliced radishes and arrange them on a plate to form a circle.
Place the asparagus ribbons (previously drained) evenly on top of the radishes.
Divide the ricotta on top of the ingredients.
Add a pinch of sea salt and some freshly ground pepper (to taste) over the whole plate.
Drizzle the strawberry-tarragon vinaigrette over the salad (to taste).
Sprinkle the pistachios evenly on top.
Finish by adding the strawberries for decoration (optional).
Enjoy!
YOU MAY ALSO LIKE THESE ARTICLES
Cheers to summer! Tips and tricks to drink responsibly
A smooth transition between work and vacation thanks to massage therapy
Lavender at work for your senses