Æble Fizz | Sparkling gin cocktail
January 25th, 2021 by RAPHAËL PODLASIEWICZ, EXECUTIVE CHEF OF THE RESTAURANTS, STRØM NORDIC SPA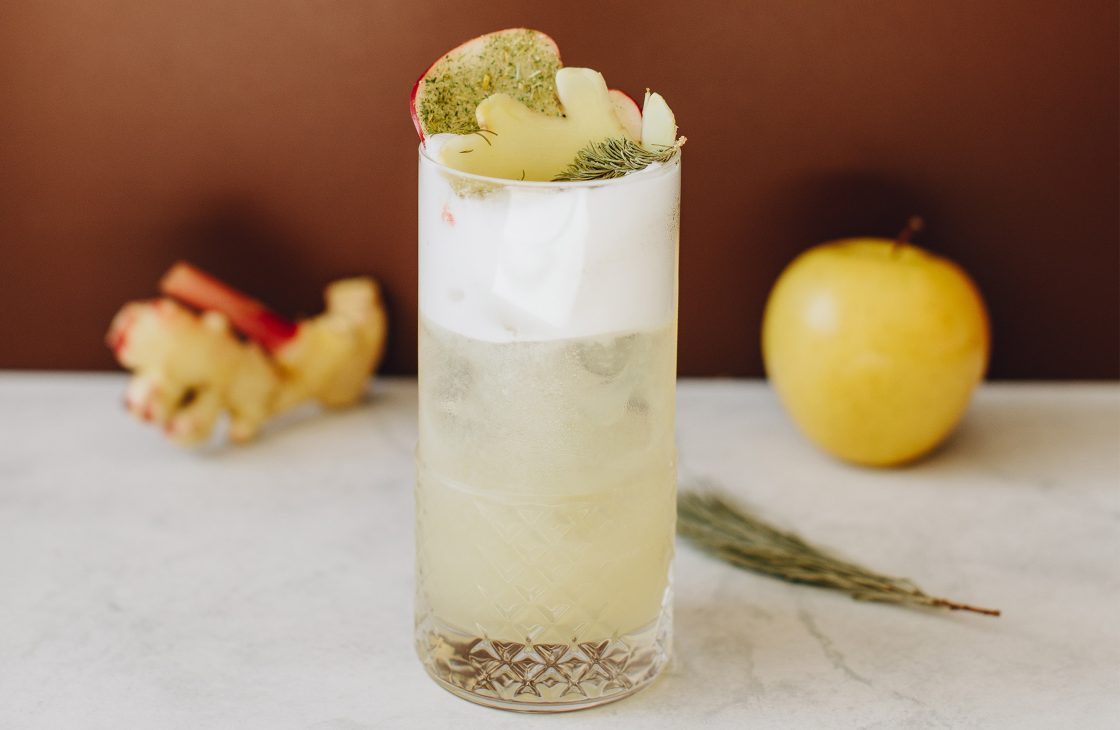 AWAKEN YOUR TASTE BUDS — Food autonomy isn't just about what garnishes our plates, but also what fills our glasses. From the Laurentides to Gaspésie and passing through the Eastern Townships, this sparkling gin fizz encapsulates the know-how of local artisans. Imagine a sweet mixture of apples from our orchards, honey elixir from the Hautes-Laurentides, ginger from the Jardin des Funambules in Estrie, and conifers from the Gaspésie forests. At once smooth and effervescent, this gin cocktail will undoubtedly awaken your taste buds and warm up those long winter evenings.
Ingredients
Ginger and conifer syrup
1 cup water
1 cup sugar or organic cane sugar
2 tbsp. young Quebec ginger or fresh grated ginger
2 tbsp. Gaspésie Sauvage coniferous mix
Æble fizz
30 mL (1 oz.) Dandy gin
22.5 mL (¾ oz.) honey vermouth from the Desrochers bee farm
15 mL (0.5 oz.) lemon juice
45 mL (1.5 oz.) ginger and conifer syrup
1 farm-fresh egg white or 30 mL (1 oz.) aquafaba
120 mL (4 oz.) sparkling cider
1 apple slice (optional)
Honey, to taste (optional)
Powdered conifers (optional)
Ice cubes
Preparation
Ginger and conifer syrup
In a saucepan, bring the water and sugar to a boil.
Add the ginger and coniferous mix and remove from the heat.
Let infuse for at least 2 hours, then strain the syrup with a fine sieve and refrigerate.
For optimal results, let the syrup infuse for 12 to 24 hours before filtering it.
Æble fizz
Fill a cocktail shaker half-full of ice cubes.
Add the Dandy gin, honey vermouth, lemon juice, ginger and conifer syrup, and egg white.
Close the shaker and shake vigorously for 20 seconds.
Fill a glass half-full of ice cubes.
Filter the cocktail over the glass, then top up with the sparkling cider.
Garnish the cocktail with the apple slice brushed with honey and sprinkled with powdered conifers.