A Nordic Terroir
November 29th, 2018 by Strøm Spa Nordique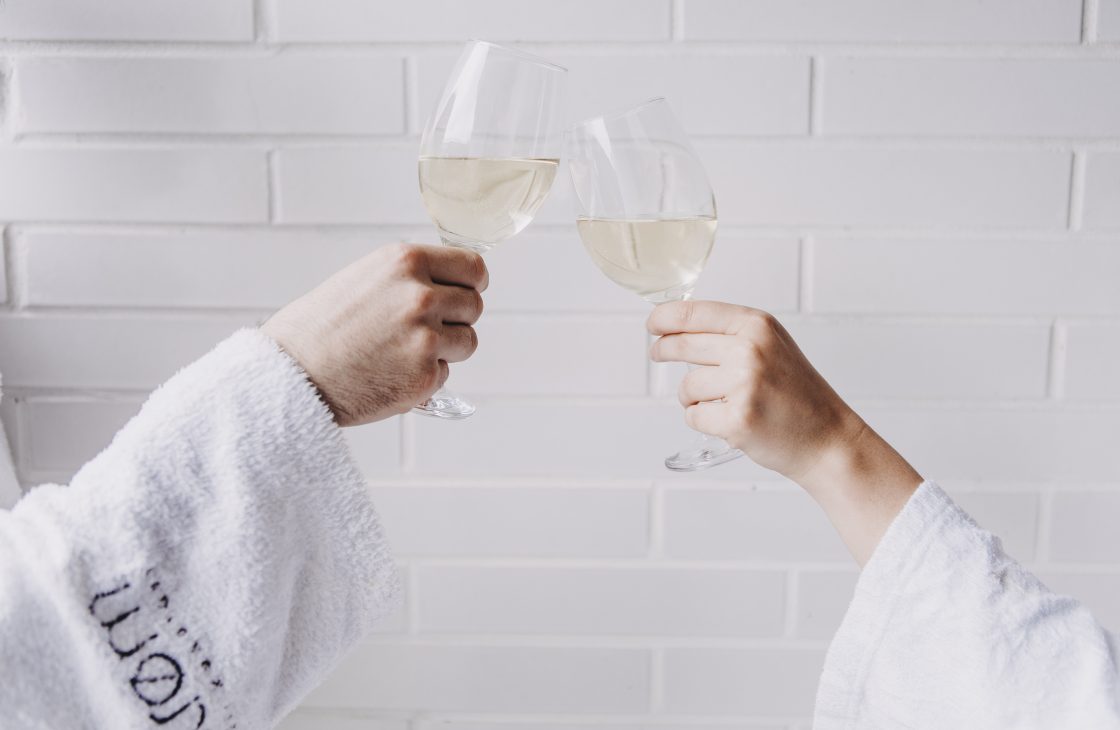 With its 6.5°C average annual temperature, southern Quebec is far from Languedoc-Roussillon and its average 7°C… in January! And yet, these two regions produce wine. Without a doubt, the northern climate of the Belle Province is the primary limiting factor for viticulture.
A late spring or early fall frost, like a severe winter, can jeopardize a full year of production. Our seasons are sometimes too short to allow an ideal ripening of the fruit, which is a challenge for the winegrowers. To remedy this, some of them are acquiring an impressive technological arsenal: greenhouses, underground geothermal systems, etc. Under these more controlled conditions, the cultivation of Vitis vinifera, a European vine variety whose grape varieties (Cabernet Sauvignon, Pinot Noir, Chardonnay, etc.) are world renowned for their oenological qualities, becomes more easily attainable. Others prefer to rely on the terroir and let nature share what can grow and what is not adapted to our climate. They then opted for the use of hybrid varieties such as vidal, maréchal-foch or black frontenac, which were more resistant to cold and diseases than the Vitis vinifera.
Despite everything, Quebec's northern climate is the cradle of countless possibilities. It's up to you to experience them!
Domaine Bergeville, Le blanc brut
Hatley, Eastern Townships, Quebec
Sparkling white wine | 750 ml | SAQ code : 13374562 | 27,85 $
The Bergeville Estate only offers sparkling wines made according to the traditional method. Simply called "Le Blanc", this cuvée is a blend of st-pépin, white frontenac and white acadie, three hybrid grape varieties. The result is a dry and fresh wine with a clean bubble, slightly buttered with aromas of ripe apple, apricot and citrus fruits. Perfect for an aperitif! Certified organic by Ecocert Canada.
 Domaine St-Jacques, Pinot gris 2017
Saint-Jacques-le-Mineur, Montérégie, Quebec
White wine | 750 ml | SAQ code : 12981301 | 21,35 $
The microclimate in which Domaine St-Jacques thrives offers each vintage the additional weeks of heat that allows Vitis vinifera to be grown like Pinot Gris. Surprisingly delicate, this wine pleases for its freshness, its aromas of white flowers and yellow stone fruits such as peach. It will be a hit with a cod and a citrus salsa!
 Clos Saragnat, Avalanche 2014
Frelighsburg, Eastern Townships, Quebec
Ice cider | 200 ml | SAQ code : 11133221 | 27,40 $
Christian Barthomeuf is none other than the creator of what has become one of Quebec's greatest specialties: ice cider. Its Avalanche cuvée, aged at least two years before being released on the market, is surprisingly complex. You will recognize candied apples, dried fruits, Scottish caramel, honey, spices… Both rich and fresh, it is a dessert in itself! Certified organic by Québec Vrai.
YOU MAY ALSO LIKE THESE ARTICLES
Five books to rediscover your true North