An inviting terrace for summertime
April 29th, 2016 by Strøm Spa Nordique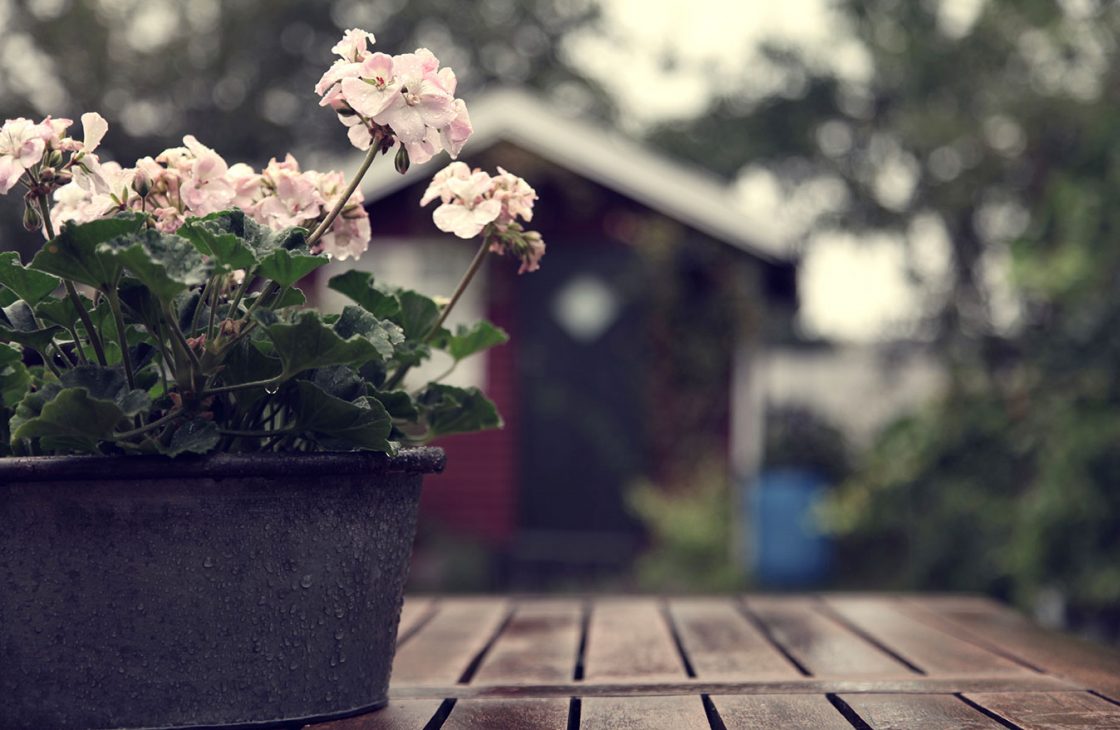 The terrace should be an extension of your home. Treat this space as if it was a room inside your house.
By Audrée Kemp Bélanger, Landscape Architect – Designer, AKB Design
1- Furniture
The furniture is the centerpiece of your outdoor space. Choose comfortable furniture, that is weatherproofed and … beautiful! It most certainly should be in harmony with the interior decoration of your house. For a more country-chic look, woven wicker chairs would be a good choice. For a more modern style, metal and wooden chairs might be a better selection. Arrange the dining room furniture in a comfortable and convenient place, don't forget a sideboard, and convert a corner into a lounge / relaxation area as you would do inside. There is no limit to what you can do with your terrace but above all, if you choose good quality outdoor furniture, it will not be necessary to bring the cushions inside.
2- In the shade
Nowadays the sun is very strong and we must protect ourselves from those rays. Whether it is on a covered terrace adjacent to the house, under a canvas gazebo or an umbrella, it is essential to be able to take shelter in the shade to feel good. In addition, covered areas allow us to stay outside during a small rain shower and they protect our outdoor furniture. Also, it has the effect of nicely identifying your dining area or outdoor lounge area.
3- Accessories
They are so important! They make the patio a warm, inviting and comfortable space! Cushions, carpets, candles and outdoor dishes allow us to inject color! Dare to choose different textures, colors and patterns for a lively terrace! Or do the opposite and choose everything in navy blue and white for a more sophisticated look! Decorate your terrace as an extension of your home. Treat this space as if it was a room inside your house. Outdoor carpets allow identifying different areas on the patio such as the dining room area or the living room area. For a terrace adjacent to the house, adding a mirror on a wall of the house will enlarge the space and make it brighter. Put a sideboard close to the table to conveniently store the outdoor dishes and to serve refreshments. And why not add an exterior lamp? Love it!
4- Greenery
You want to have a lot! Let's start with a must for every terrace in summer, a vase filled with freshly cut flowers from the garden. Then, choose potted plants that are easy to maintain and that correspond with the amount of sunshine they get during the day. For example, if your terrace is in the shade, nice big ferns and boxwood are excellent choices. For a sunny terrace, grasses or hydrangeas will have a beautiful effect. Use pots to frame different areas of the terrace: two on each side of the steps for example. Select large floor pots to well define the space. Herbal pots are always nice and very convenient to have on the terrace. Place them in the center of the table and your guests can help themselves and add fresh herbs to their plate!
5- Lighting
We cannot say it enough, lighting is essential in decorating your space, inside and outside! Outside, it can extend the day and brings another dimension to the layout. Install a hanging lamp over the dining table, wall sconces on the exterior walls of the house, put lanterns with battery operated candles on the ground and string lights in the trees. Also, the installation of landscape lighting by a professional will give your design a unique magical side.
6- Swing
My favorite thing for the terrace this year: the swing! I make it my project for spring. What a nice place to read or take a nap!
7- Privacy
It is important to feel good on the terrace and be sheltered from the eyes of neighbors. Whatever the size of our outdoor living area, there are plenty of solutions to give us privacy: planting shrubs to form a screen, curtains, wooden privacy panel…
8- Fireplace
What could be better than the flames of a fire to relax and add to the atmosphere! Be it small or big, gas or wood, modern or traditional, it is a must for the terrace and acts as a piece of decoration. Put it in a spot where it is visible from the dining table, lounge area or even the spa.
9- Comfort
Think blankets, cushions and patio heaters…! Patio heaters allow us to make the most of our summer evenings, even late into the fall season! The purchase of a patio heater turns out to be a good investment and should not be overlooked. The models that are on the market now are beautiful and will fit in well with the decoration of your terrace!
YOU MAY ALSO LIKE THESE ARTICLES
Bring the beautiful spring season into your home
A festive and inviting porch for the holidays and all winter long