A festive and inviting porch for the holidays and all winter long
December 4th, 2015 by Strøm Spa Nordique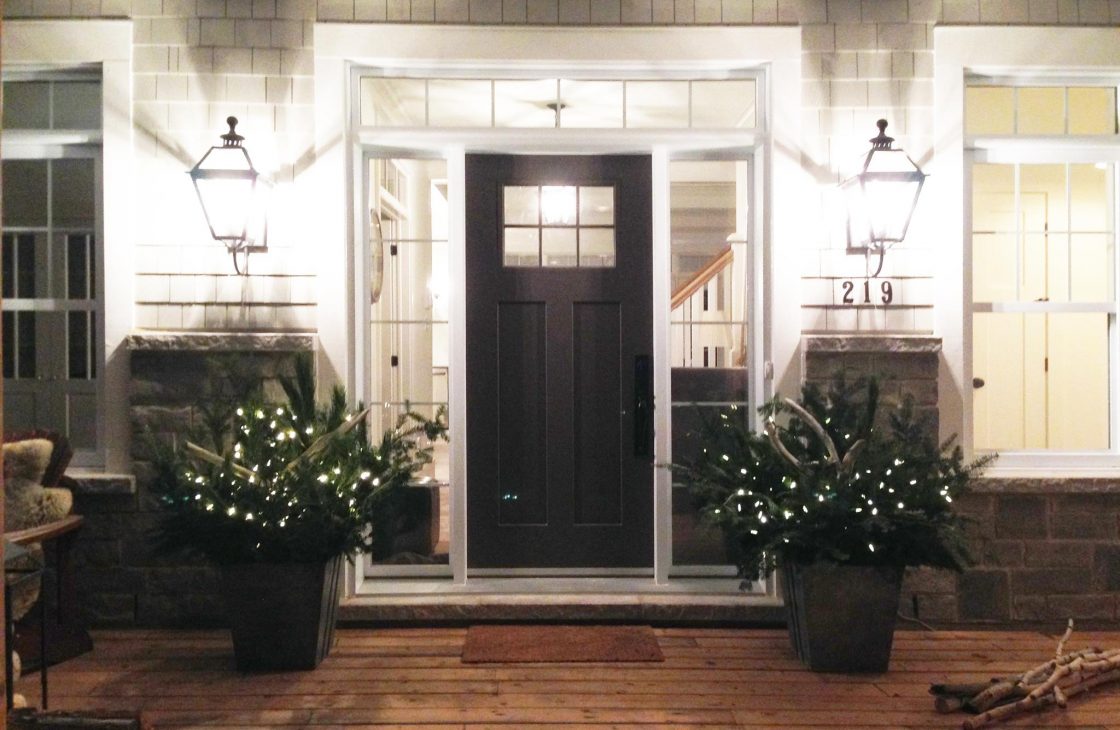 The main entrance of your home is so important decoration! It's like the invitation for a wedding or special event … It sets the tone for the overall atmosphere which is found in the house.
1- Pots
Arrange two oversized pots on either side of the front door for a striking effect. It is simply and generously filled with green winter branches of all kinds. The height of the branches in the pot should reach about 40 " in height. We approach the pots to the door to coaching rather tight, which makes the whole more inviting.
2- Go for a winter deco rather than too "Christmas"
By choosing a natural decoration with pine branches, fir, hemlock, cedar, pinecones, branches, enjoy your assemblies all winter without blazer. A decoration too "Christmas" has no meaning in the middle of February …
3- White lights
The lights are a must at Christmas but throughout the winter (sometimes in the garden all year!). It adds a magical dimension to the elements they light and allows us to take advantage of our longer trips outside. We choose the white, for a chic and timeless effect.
4- Driftwood
To do different this year, we swapped the birch wood popular for driftwood that will be just as beautiful in the fir branches, while giving a touch more chic! It is simply deposited in the center of branches rather than planting them in to the vertical.
5- The indoor-outdoor connection
Make your home can also be seen from inside the house. This is an easy way to brighten the entrance. For example, the closer to the pots windows appreciate the interior of the house.
6- Off Topic
When space permits on the porch, nothing like a relaxing space for sitting. We choose chairs or bench, and covered with a sheepskin or warm blankets. It's missing the hot chocolate! A pile of logs for the fireplace is the most beautiful winter effect on the balcony!
7- Lanterns
Arrange lanterns with, inside, candles with batteries that will turn to
the time of your choice on the porch. These candles will provide a more diffuse lighting, different lights pots and lights on the house, which will give a desired look to your decor.
8- Most small bright wire
This little light over everything he makes magic touch! Outside or inside, the effect is dramatic. Blow of assured heart! Use it this year in your pots for a refined lighting, or even inside in a large clear glass vase.
9- Lounge light
Install a dimmer on your outdoor lighting home for a cozy atmosphere outside too.
Good decoration session!
-Audrée Kemp Bélanger, Landscape Architect – Designer (AKB Design)
To learn more about AKB Design, click here.
YOU MAY ALSO LIKE THESE ARTICLES
Bring the beautiful spring season into your home