BORÉAL / A holistic ritual with high-performance skin care
July 12th, 2021 by Judith Ritchie, Holistic Beauty Consultant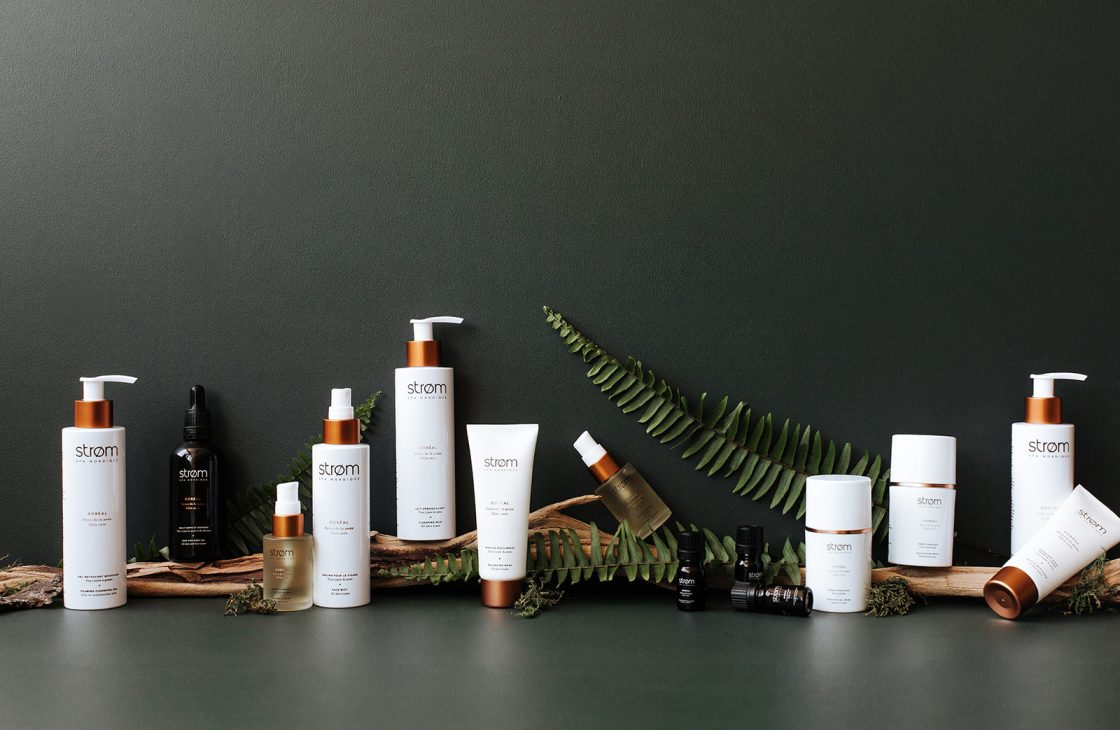 More than ever, people are looking for effective natural products with a thoughtful composition and tangible benefits. Strøm Nordic Spa responds to this need and presents its BORÉAL skincare line, officially launched last fall. Deeply rooted in the philosophy of Strøm Nordic Spa, this range of products offers performance and naturalness, without compromise.
The power of nature is revealed
Soothing and regenerating, nature is an inexhaustible source of balance. Did you know that black spruce, blue honeysuckle, red maple, jack pine, wild chamomile or even white cedar have benefits for the skin? This is how each BORÉAL product, made from Nordic active ingredients, is an invitation to honour not only nature, but also one's own nature.
By offering our skin local essences in perfect harmony with what surrounds us, we celebrate the direct link between skin, nature and spirit; with an understanding that everything is linked from an overall beauty perspective. Through a gesture or an olfactory memory specific to the spa, BORÉAL treatments act as catalysts of well-being by propelling us into the heart of the boreal forest and by reviving this feeling of plenitude which is at the source of everyone's beauty.
A comprehensive beauty approach
Reproducing a spa treatment with personalized gestures allows everyone to become the creator of their own beauty ritual. The advantage of the BORÉAL range is notably to be able to recreate the Strøm experience at home.
"We wanted to offer a nomadic complement to the Strøm experience in order to allow everyone to bring back gestures, movements, textures, smells, results, but also the feeling of well-being that comes with it. The idea was therefore to make this ritual possible at home." – Julie Morin, treatment director who supervised the creation of the line
Experience the range by discovering the six steps of face care and creating a personalized routine tailored to your needs.
Face care ritual
1. Cleanse: Foaming cleansing gel or cleansing milk
The sulfate-free foaming cleansing gel gently cleanses the face without drying out the skin. It contains extracts of yellow birch, red maple and Québec black spruce. Apply on damp skin, massage lightly and then rinse. It leaves your skin with a pleasant sensation of invigorating freshness.
The cleansing milk is made from aloe vera gel, vitamin E and black spruce essential oil. Apply morning and evening on the face and décolleté to thoroughly cleanse the epidermis, then rinse with water. The skin is soft and perfectly hydrated.
2. Balance: Face mist
The face mist is made with aloe vera gel, wild chamomile extract and rosemary essential oil. It helps restore the physiological pH of the skin. Spray on a perfectly cleansed face.
3. Exfoliate: Gentle face scrub
This gentle exfoliant is ideal for removing dead surface cells and visibly improving skin texture. It contains extracts of white clay, bergamot and geranium bourbon. Use it once or twice a week in a circular motion and rinse thoroughly afterward.
4. Purify: Balancing mask
This balancing mask hydrates and purifies the skin in addition to bringing a lasting nourishment. It is made from white clay, lavandin and white cedar. Apply once or twice a week and leave on for 10 to 15 minutes. The skin appears refreshed, purified and revitalized. The mask gives your skin a more youthful appearance and leaves it feeling soothed.
5. Illuminate: Regenerating serum or vitamin C serum
The regenerating serum, which is ideal for dehydrated skin, contains aloe vera and salicylic acid. It moisturizes the skin for a luminous complexion and smoothed wrinkles.
The vitamin C serum gives a real boost to illuminate the complexion. It contains black spruce, honeyberry and wintergreen.
6. Moisturize: Dehydrated skin moisturizer or sensitive skin moisturizer
The moisturizer for dehydrated skin nourishes for a brighter complexion and faded wrinkles. It contains aloe vera and omega-3. When applied, the skin appears visibly smoother, revitalized and rejuvenated.
The moisturizer for sensitive skin contains hawthorn, black spruce and vitamin E. The complexion appears clearer, more even and the texture of the epidermis is improved.
BORÉAL face treatment in spa
BORÉAL products come together in this facd care ritual to promote skin health and a feeling of well-being and rootedness. It begins with the analysis of the skin, then continues with exfoliation, activation, extraction, application of a serum, massage, pressure points and application of the balancing mask. An experience combining beauty and efficiency available in our four Strøm Nordic Spa.