Quebec Naked Oat Risotto with L'Hercule from Charlevoix
August 27th, 2021 by Raphaël Podlasiewicz, Executive Chef of Nord restaurants and Fika café at Strøm Nordic Spa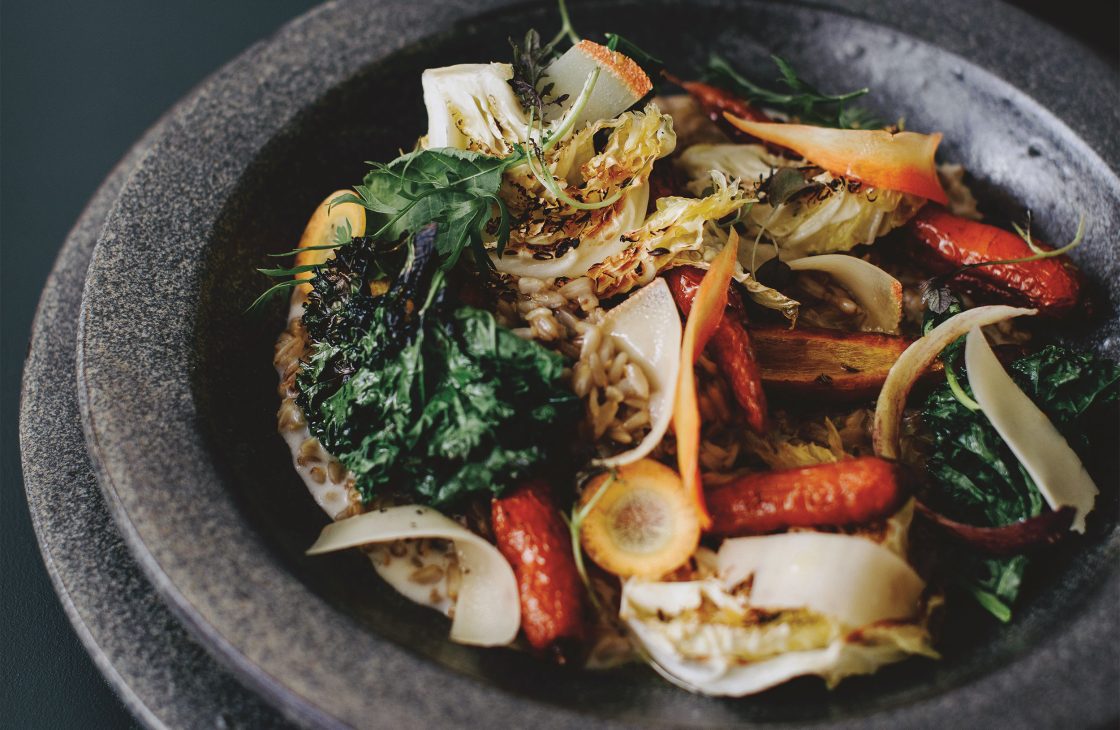 HONEY-ROASTED CABBAGE, CARROTS AND WILD CARAWAY
Put comfort and local produce on your plate with this creamy risotto made with naked oats from Quebec, which will emphasize the fall vegetables and L'Hercule, a hard cheese from Laiterie Charlevoix. A delicious way to approach oats in a savoury version and to revisit the traditional risotto, which can just as easily be served during the week as for a long, drawn-out dinner on a stormy Sunday.
Servings : 4 or a large platter to share | Preparation time : 35 minutes | Cooking time : 1 h 20 minutes | Cooling time : 20 minutes
INGREDIENTS
Honey-roasted cabbage and carrots and wild caraway
12 medium winter carrots
½ head of white, green, or Savoy cabbage, cut into 8 wedges
6 tbsp. sunflower oil from Quebec
¼ cup honey
2 tbsp. dry-roasted wild caraway seeds
4 large kale leaves, washed beforehand and cut in 3
Salt and pepper
Naked oat risotto
1 cup naked oats*
3 cups vegetable broth
3 French shallots, chopped
2 tbsp. unsalted butter
1 tsp. minced garlic or garlic purée
8 thyme sprigs, coarsely shredded
½ cup white wine
¾ cup Charlevoix L'Hercule cheese, shredded
Charlevoix L'Hercule cheese shavings (optional)
Kale sprouts (optional)
Salt and pepper
PREPARATION
Honey-roasted cabbage and carrots and wild caraway
1. Preheat the oven to 200°C (400°F).
2. Spread the carrots and cabbage wedges out on a large baking sheet lined with parchment paper.
3. Sprinkle with the sunflower oil, honey, and wild caraway seeds, then season. Mix to coat the vegetables fully.
4. Roast in the oven for about 30 minutes or until the vegetables are nicely coloured and tender. Halfway through the cooking time, add the kale leaves and stir.
Note : The vegetables proposed in this recipe can be substituted for other root vegetables of your choice.
Naked oat risotto
1. Rinse the naked oats well in cold water and drain.
2. In a saucepan, bring the vegetable broth to a boil, then reduce the heat to minimum to retain the heat.
3. In a large-rimmed saucepan over medium-low heat, sweat the chopped shallots in 1 tbsp. of butter.
4. Add the garlic and fresh thyme and continue cooking for 1 minute.
5. Add the naked oats and continue cooking again for 1 minute.
6. Deglaze with the white wine and reduce by half.
7. Over medium heat, wet the naked oats to their height with the vegetable broth and reduce until the liquid is absorbed, then repeat this step until the oats are tender (about 45 minutes).
8. Once the oats are tender, turn off the heat, then add the shredded cheese and the remaining tablespoon of butter. Season and serve immediately, accompanied by the honey-roasted vegetables and wild caraway, Charlevoix L'Hercule cheese shavings, and kale sprouts.