Boldwin, the beer that would like to change the world
March 12th, 2018 by Strøm Spa Nordique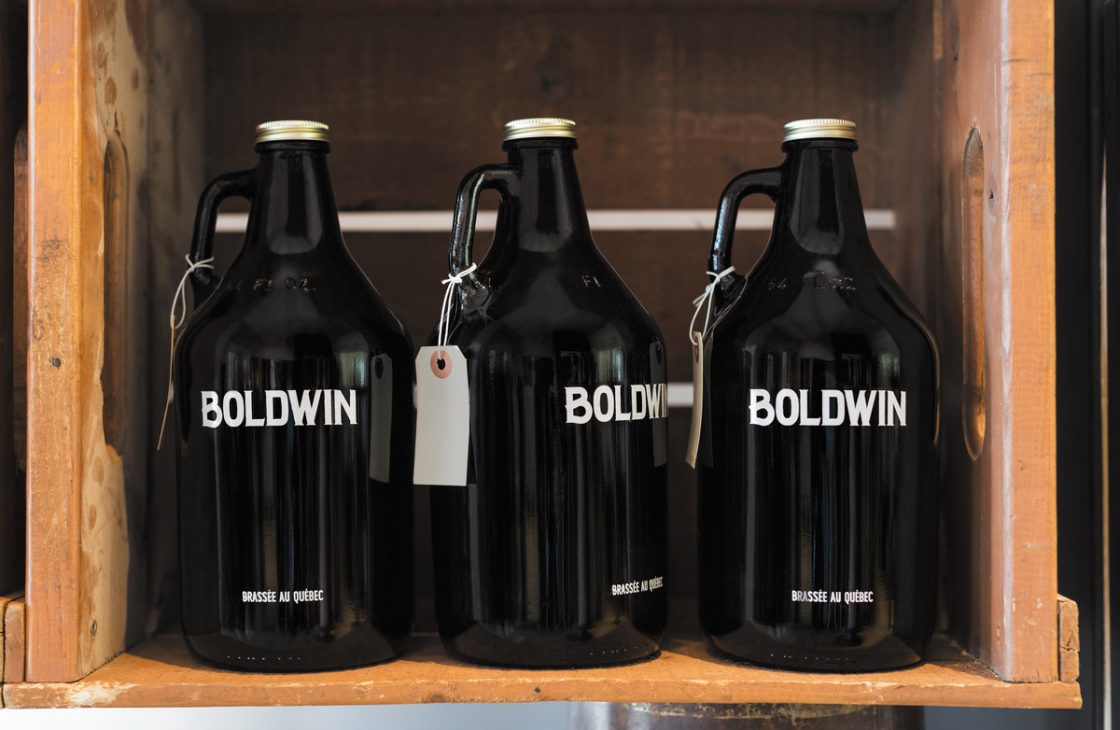 A local success story – Corporate social responsibility
"Changing the world one sip at a time" is the mission of New Deal, a committed microbrewery that produces organic craft beers. In their one year of existence, this small company from Boucherville has developed 3 regular beers and several special editions that are distributed throughout Quebec. These tasty, refreshing and thirst-quenching beers called Boldwin (the beer brand of the New Deal Brewing Co.) are a favorite with Quebecers, especially since they also have a real social mission.
A meeting with a team of passionate and committed craftsmen.
Doing business differently
Carving out a place in the beer market, a market that is already saturated with countless players, many of whom are established since a long time, is not an easy task. Distinction is therefore absolutely necessary, and that is exactly what the New Deal Brewing Co. did by launching their brand of beers responsibly brewed with organic grains and hops from Quebec.
"We wanted to enter the market with a completely different approach. An approach that is socially responsible and reflecting our values. We wanted to create a beer of high quality that respects the values the people from Quebec hold close to their hearts, being the community, the respect for the environment and also the quality of the ingredients used. It is this thinking that has been the driving force behind this whole adventure," explains Jean-François Giguère, Chief Marketing Officer at New Deal.
Beer as an agent of change
The company has set out on a bold mission and does not hesitate to go through great lengths to achieve it. "It is fundamental for us to do what we said we were going to do and to be in the action. Everything is based on our four pillars: organic production, local sourcing, minimizing our ecological footprint and offer exemplary work conditions," says Jean-François Giguère. Put in practice, how does all of this translate? "We buy all of our organic hops and the majority of our (organic) malt from small local producers." tells us Mr. Giguère. "To reduce our environmental footprint," he continues, "we chose to sell our beer exclusively in cans, a 100% recycled and recyclable packaging (which is unfortunately not the case for glass here in Quebec where it is crushed and buried at the end of its lifetime). Aluminium is also lighter than glass, which helps with fuel economy during transportation. Also, we give our spent brewing grain (the leftover grains after the beer brewing process) to several local companies, who use it to make bread, soap, dog biscuits, and even to feed their livestock." On the social side, the company set its minimum wage at $15 and chose to not automate part of its production line in order to reserve certain tasks for workers that come from an organization that supports the integration of people with disabilities into the work force. "We are very happy with this and would like to develop more partnerships of this kind with organizations from the region," he underlines.
A beer for everyone's taste
Simple and tasty, Boldwin beers speak more to the general public than to the connoisseurs: "We wanted the people who taste our products to enjoy the experience of entering into the world of microbreweries and leave them wanting to drink more than just one beer." says Mr. Giguère.
Currently, the brewery offers three regular beers: a blonde American Pale Ale, a rousse and an American IPA. Occasionally, Martin Audet, who is responsible for developing recipes and new beers, is also creating special editions.
"I'm always thinking of new recipes that I would like to experiment with. Recently we released a very successful white IPA that might become one of our regular beers. We are also finalizing the production of a sour honeysuckle beer which will be offered this fall. We also want to brew a special edition with fresh hops for the holiday season: a SMASH (derived from the English expression "single malt, single hop"), which is a beer made from a single type of malt and a single type of hops. We are expecting a very aromatic beer with lemony and herbaceous aromas," explains Martin Audet.
Beer and food pairings
Pale Ale: refreshing, slightly sweet with hints of fruit.
Pairing: sauteed chicken with a creamy lemon sauce
IPA: beautiful bitterness with hints of grapefruit, herbs and apricot.
Pairing: steak and French fries
Extra special bitter: a round, creamy rousse with subtle hints of bitterness and a maple and barley sugar finish.
Pairing: cheese and cold cuts platter
And what does the future bring?
Expansion, consolidation and innovation, the future already seems to be taking shape at the company.
"We want to continue to explore our products and have fun developing new recipes. We also want to continue in the progress of our social responsibility, increase original initiatives, and finally consolidate our presence on the market. But more than anything, we hope that Quebecers will continue to discover us and drink our beers for their great taste, but also because they respect our values," explains Jean-François Giguère.
A flourishing success: let's raise our glass and drink to that!
*Photo credit: New Deal
*You can try the Boldwin beer at the Strøm Nordic Spa on Nuns' Island
YOU MAY ALSO LIKE THESE ARTICLES