Top 5 Valentine's Day movies
February 10th, 2016 by Strøm Spa Nordique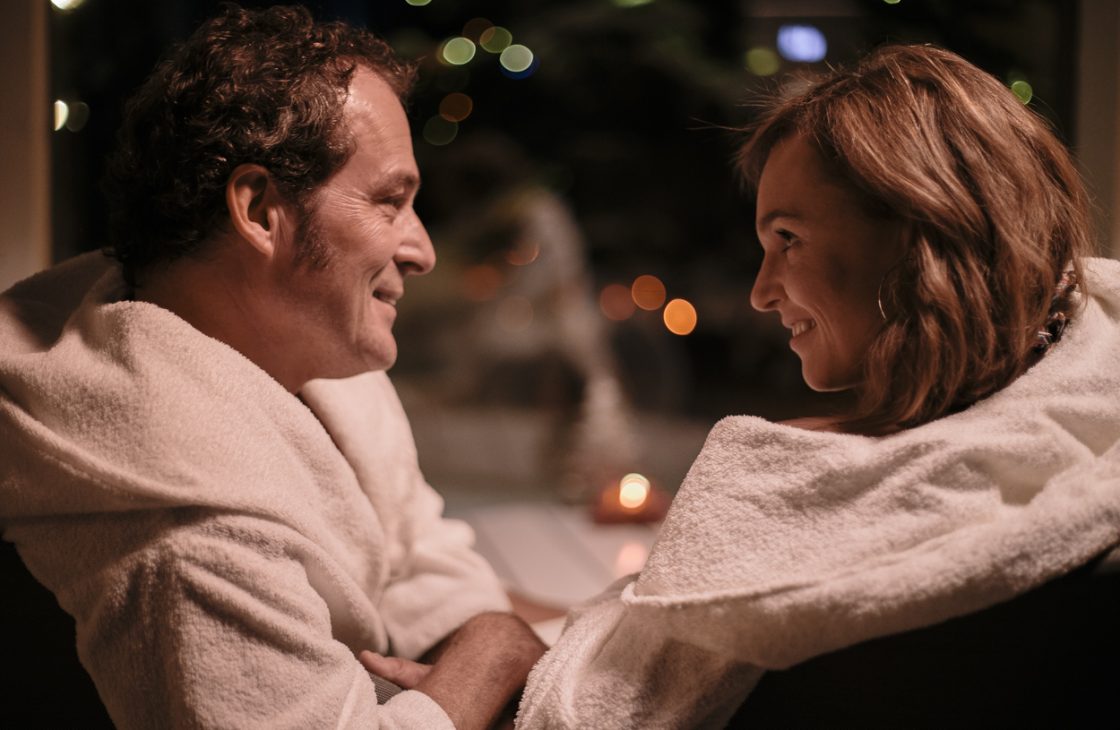 Cinema is the perfect vehicle to highlight the most burning or the most heartbreaking passions. And there are way more movies than just the ones for Valentine's Day! Nicholas Sparks is not the only one who is able to write novels about love – even if "The Notebook" was very good – let's look at five romantic movies of the new kind.
By Nicolas Gendron, Journalist and film critic
Juno, by Jason Reitman (2007)
Carried by a sunny soundtrack, which gives you a furious desire to learn how to play the guitar, this atypical romantic comedy is based as much on the charm of its performers – the rising stars of 2007, the endearing Ellen Page and Michael Cera – as it is on its characters. We follow Juno, 16 years old and a free spirit, when she learns that she is pregnant by her friend Paulie. Her heart is torn between abortion and adoption, and her friendship with Paulie is put to the test, while the prom ball is coming closer and closer. Academy award winner for the best original screenplay, the movie touches the conventions surrounding adolescent love and the conservative American family, with humor that is both, sophomoric and offbeat. Smiles guaranteed, in fact you will not be able to stop smiling for a while.
The Reader, by Stephen Daldry (2008)
A successful adaptation of the German bestseller by Bernhard Schlink, this intimate and legal drama tells us a story of the heart. In a Germany that is still ostracized by the Second World War, a teenager (touching David Kross) experiences his first love in the arms of a tram conductor (icy and sensual Kate Winslet), twenty years his senior; and their frolicking is always accompanied by a reading ritual, from Tintin to Tolstoy … What he does not know is that this woman was once a guardian of a concentration camp, and their paths will cross again during a nerve wrecking trial. A powerful breath dominates the whole movie, showing very subtle the exacerbated fragility of the former lovers, the camera follows closely for fear of missing the buried secrets and other unfulfilled hopes.
Mary and Max, by Adam Elliot (2009)
The concept of soul mate also exists in friendship, and this animated gem from Australia admirably proves us exactly that. Like Wallace and Gromit, the characters of Mary and Max come to life before our eyes thanks to play dough, sculpted with great care and many endearing details. She is 8 years old, lives in Australia and is suffering under the mocking laughter of her classmates. He is 44 years old, lives in New York, suffers from Asperger syndrome and eats his emotions. The little girl is tired of her loneliness and picks Max's contact information randomly out of the phone directory at the post office. So begins their correspondence, including several packages filled with chocolate. Lending their beautiful voices to the cause, Toni Collette and the late Philip Seymour Hoffman infuse the characters with an extra dose of humanity. A delightful tale that celebrates the invisible ties that bind us together.
Amour, by Michael Haneke (2012)
I will not hide it from you: "Amour" is the perfect name for this movie, but it is also the most heart-breaking recommendation of the lot. The Austrian director submerges us into the daily life of Georges and Anne, two octogenarians, eternal accomplices, that are suddenly hit by their old age. Suffering from paralysis, Anne gradually becomes a shadow of herself, while her husband is taking care of her. Even their love for classical music, they are retired music teachers, doesn't change a thing. Permeated by the moving and dignified acting of Emmanuelle Riva and Jean-Louis Trintignant, this shocking movie raises many questions about love being the cornerstone of our existence. If compassion and affection give way to self-sacrifice what is left of the love? A lesson in life, essential and beneficial.
Blue is the warmest colour (The life of Adele), by Abdellatif Kechiche (2013)
In May 2013, on the same day as a major protest was held in France against marriage for all, this fifth film of French-Tunisian Abdellatif Kechiche won the Golden Palm in Cannes and ignited passionate reactions. The movie lasts three hours, never loses sight of the two actresses (beautiful Adèle Exarchopoulos and Léa Seydoux) and scrutinizes their body and soul. But it is important to see beyond the intensity of the proposition adapted from the graphic novel "Le bleu est une couleur chaude". Sexual orientation is a challenge like any other. The dazzling feelings keep you glued to your seat and sadness overcomes you when it is time to say goodbye to the characters. It is almost two movies in one, a very condensed life that is passing gracefully in front of us.
YOU MAY ALSO LIKE THIS ARTICLE