Stories of the heart
January 31st, 2018 by Strøm Spa Nordique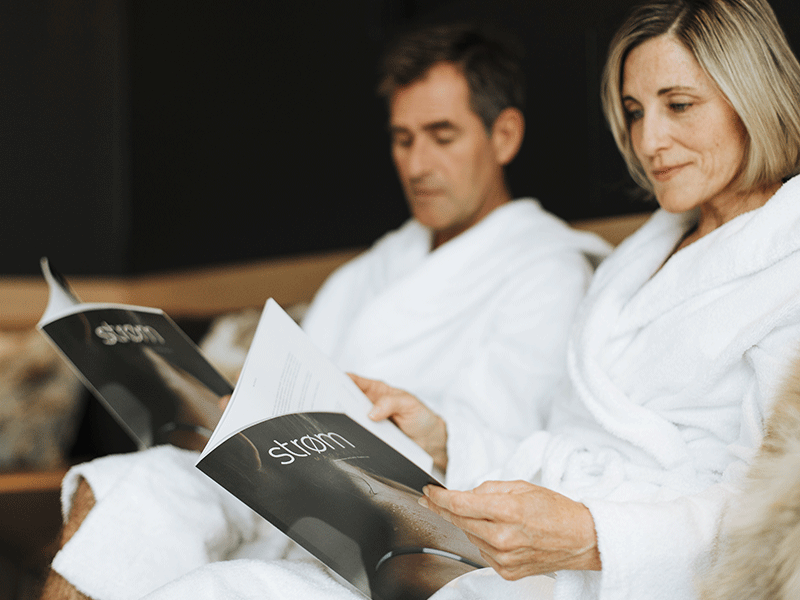 Literature is the art form where love and desire can be explored from every possible angle. From epistolary pearls, awakening love to family legend, here are three suggestions that stimulate your passion.
La renarde et le mal peigné, by Pauline Julien and Gérald Godin (Leméac, 2009)
She was an outspoken activist and singer-songwriter of Quebec music, he was a poet and politician who campaigned by bicycle. These precious "fragments of love letters" between Julien's "peau-line" and Godin's "Gégé" are so modern in their feelings that one would never think that they were written between 1962 and 1993. Between illness and betrayal, doubt and brilliance, the stage and even continents, emerges an elusive and instantaneous portrait of a love that conquered time and tempestuous moments. Light-years away from the long, quiet river, their unceasing dialogue overflows with mutual admiration. As Gérald used to say to his Paolina: "I love you because you want to go further, and because you will never settle for less or a life that would not fully satisfy you." A must read to come back and understand the essential meaning of soulmates.
Appelle-moi par ton nom, by André Aciman (Farrar, Straus and Giroux, 2007)
This novel by André Aciman, an American author of Italian-Turkish origin, is a perfect read for this year's Valentine's Day. Recently resulting in the excellent film adaptation, Call Me By Your Name, directed by screenwriter James Ivory and Italian filmmaker Luca Guadagnino. The story plays out in summer and follows Elio, a 17 year old melancholic, as he falls under Oliver's spell, an American university student working as an intern for Elio's father, a professor. At the family's villa, on the Italian coast, confusing feelings and growing desire soon become entangled with languor and confrontation. Contrary to its film version, the novel ventures beyond that first summer to explore the mysterious world of memories. And it doesn't forget to underline the profound humanity of the father-son relationship. An object of remarkable sensuality.
Mon étincelle, by Ali Zamir (Le Tripode, 2017)
In the Comoros, the "islands of the moon", a young girl named Etincelle experiences the turbulence of her first loves as if she were on an airplane flight, where the mythology of her family resurfaces, because after all, "The journey, like love, gives us wings that are at the same time cheeky and chivalrous, unbearable and daring, dangerous and life-saving." A brilliant witness to the unusual colours of his native country, Ali Zamir has fun challenging the rules of fairy tales with many unique detours, all of which evoke, in their own way, the sacrifices that must be made to cling to the vast "waiting room" of life. Also, the meeting of Etincelle's parents, Douceur and Douleur, is giving the entire book a unique brilliance. Written in a warm and unpredictable style, carried by winds from elsewhere that are refreshing the landscape.
By Nicolas Gendron, journalist
YOU MAY ALSO LIKE THESE ARTICLES
Five books to lose yourself in the Great White North
The perfect routine to overcome the lows of winter