A beautifully decorated winter terrace to enjoy the pleasures of the cold season!
November 22nd, 2021 by Audrée Kemp Bélanger, Landscape Architect – Interior Designer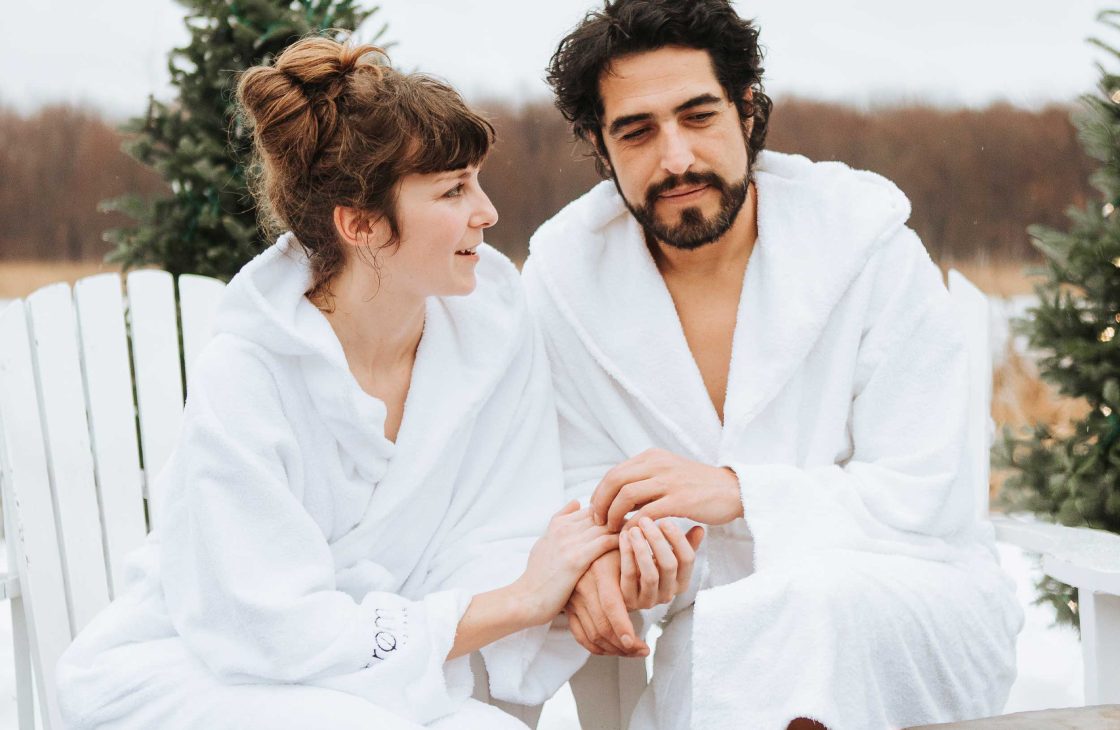 During my childhood the outside terrace of our house was always ready to receive family and friends, in summer and in winter. My fondest memories though are the ones from the middle of the winter, when we were coming home after a snowmobile ride and warming up by the outside fireplace drinking a hot chocolate.
Make your outdoor terrace your biggest ally this winter, by decorating it in a way that will allow you to enjoy all the pleasures of the cold season to the fullest.

Comfortable furniture and warm blankets
Although winter is synonymous with cold temperatures and snow, it is essential to have comfortable outdoor chairs to sit on and side tables in order to enjoy your outdoor living space. Choose weather resistant furniture and make sure that you don't place it too far away from the house, so you don't have to shovel a long way to reach it. Add warm blankets, old fur coats or sheepskins to create a comfortable and inviting look. Why not add this pretty pillow with its wintery pattern? There is no reason to go inside with these beautiful textiles that warm our body and our heart!
The reuniting warmth of a fireplace
The outdoor fireplace is a fundamental element in winter. There is nothing better than flames of a fire to add to the ambience and induce a relaxed mood. It doesn't matter if it is made of stone or metal, wood burning or gas, along the wall of your house or in the middle of your garden, your outdoor fireplace is the star of winter. Surround it with chairs, benches or even big wood logs placed vertically to enjoy its warmth. Place a large basket or metal box filled with fire wood right next to it, not only for its beautiful and decorative effect, but also for its practicality. Patio heaters are also a very good idea for winter and combined with the fire they make the outdoor gatherings even more comfortable. To add a festive atmosphere set up a hot chocolate or S'mores bar around the fire.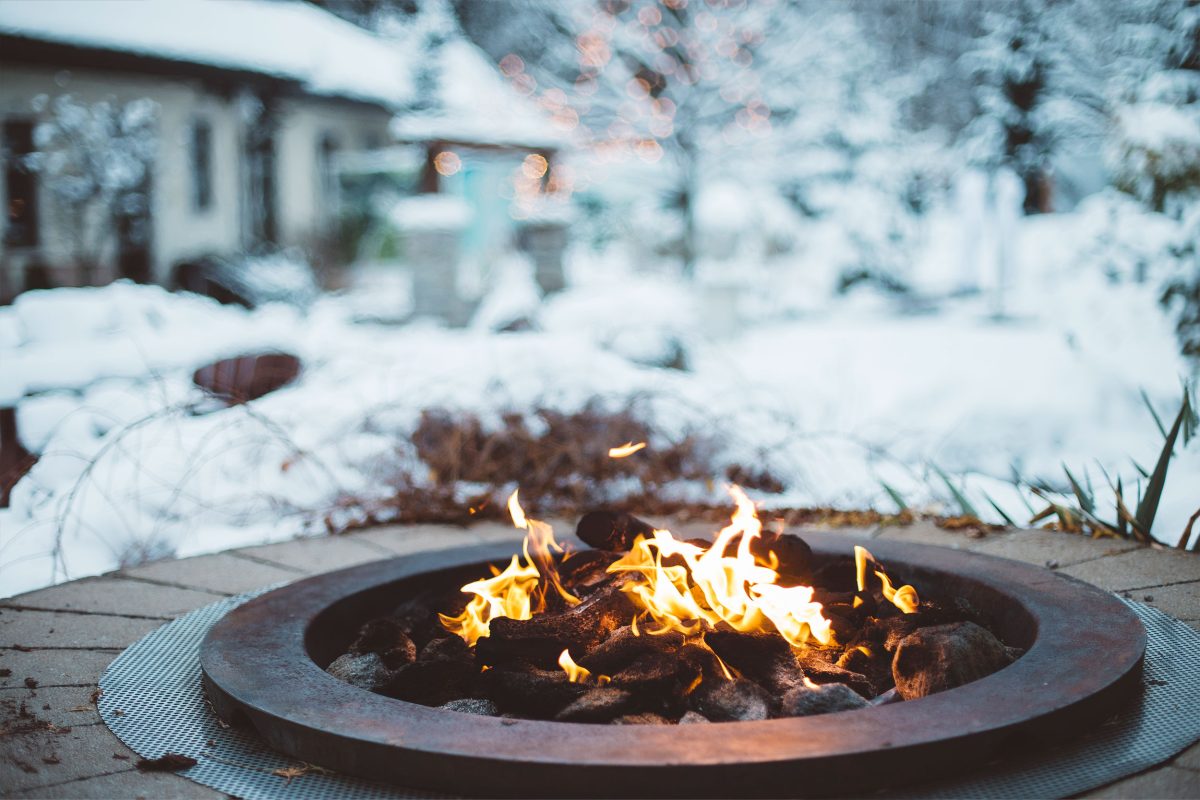 Plants and greenery
Fill the pots (big and small) and flower boxes on your terrace generously but in a simple way with a mixed variety of twigs and branches of fir trees: pine, fir, hemlock, cedar, pine cones, wild berries….. They'll add life, texture and color to your decoration. Another great idea is to place a small spruce tree in a wicker basket and put it on your terrace. Not only will it release a sweet aroma but it adds volume and a beautiful decorative touch.
Lighting, lighting, lighting
It can't be said enough, lighting is crucial to your outdoor decoration. During the winter season the days are short and darkness sets in early. To make the most of your outdoor area, professional landscape lighting will extend the day and give your garden a unique and magical look. Illuminate the trees, shrubs and your trellises for a beautiful background! Add lights to the exterior walls of your house. Also place lanterns, with battery-powered votive candles, all over the floor and on tables. Choose white flameless candles with a timer that will light up at your desired moment and white bulbs for a chic and timeless effect. To finish (those who know me, know them well!), I LOVE the little string lights. They are delicate, easy to place wherever you want and they give a magical touch to any decoration. The will be your favorite in no time, promised! Use them in your pots for a refined and different lighting. Viewed from inside, your outside area will be breathtaking!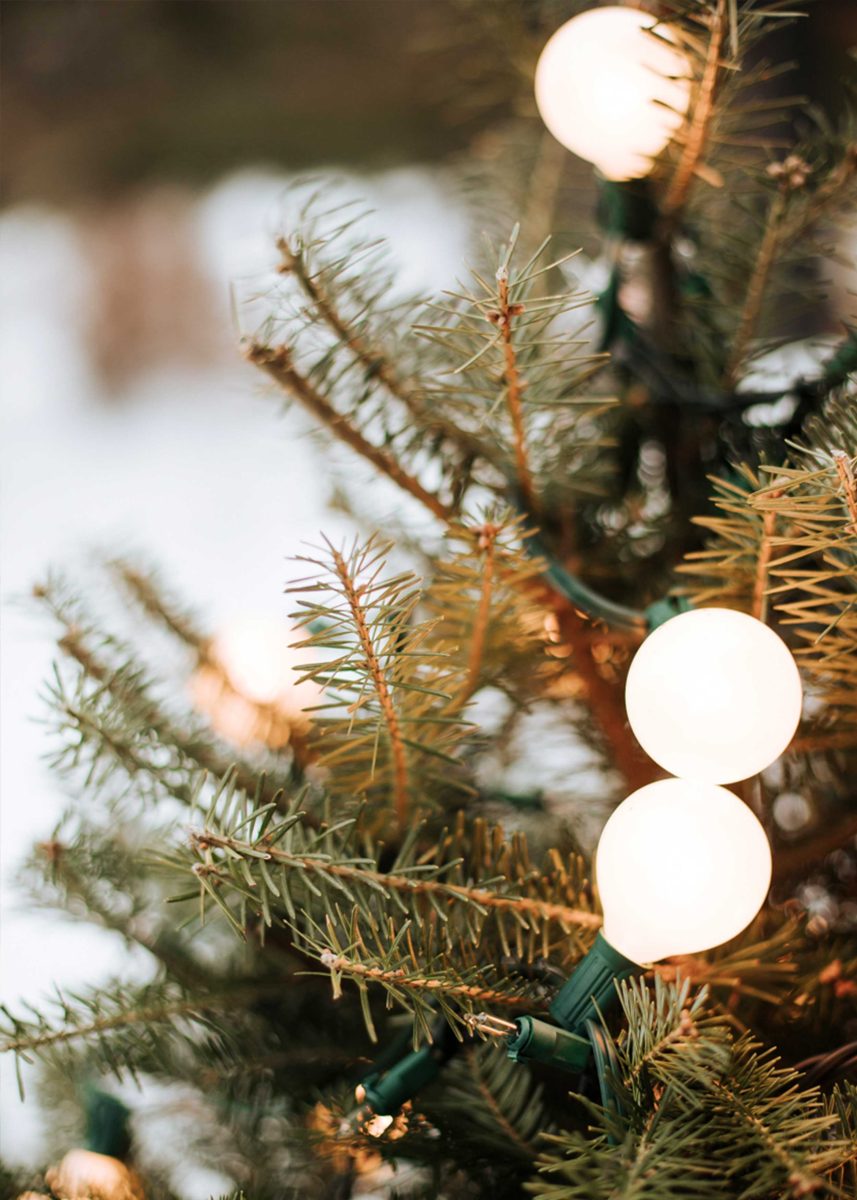 A well thought out and professional landscaping
To be able to have a snow free terrace or deck that is ready to accommodate people at all times, you might want to consider integrating heated paving stones when planning your landscaping. Never again will you have to shovel the snow before you can enjoy your outdoor relaxation area. If the heated paving stones are not an option, consider to keep a bucket full of scented de-icing salt nearby….A great way to keep your terrace safe and surprisingly fragrant!
Also, don't forget to position your spa close to your house, so that it is quickly accessible once you leave the house…in your bathing suit in the middle of winter! Place a patio heater nearby and a coat rack in order to hang your bathrobes and towels.
It is also very important to consider planting conifers and other plants that thrive in the winter season. For example Holly (or Ilex) reveals bright red berries during winter, Dogwood (or Cornus) has large red branches and Boxwood (or Buxus) keeps its deep green foliage and perfectly accentuates your garden space. These plants bring color and keep the intimacy of your garden once the leaves of all the other trees and shrubs have fallen. They are the backbone of your winter landscape!
The finishing touch:  accessorize
Add antique winter sports equipment such as old cross-country skis, a wooden sled, snowshoes, skates, etc. to your decor. They add old charm and are great conversation pieces! Also, once winter has arrived, I can hardly wait to install a bird feeder in my garden. I never get tired of watching them come and go! The birds add life and soothing background music to the garden.
Have a wonderful winter!