Summer get-togethers
May 29th, 2017 by Strøm Spa Nordique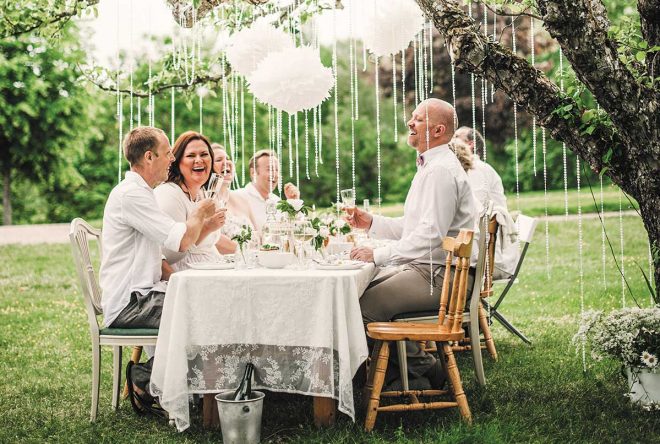 At this time of year, I always have the same desire: to bring the inside outside.
By: Audrée Kemp Bélanger, Landscape Architect – Interior Designer
AKB Design
www.akbdesign.ca
Summer get-togethers in our backyards are the real moments of happiness of the summer season. I love the warm and different welcome that summer tables offer my guests when I receive them outside. So I'm taking advantage of these beautiful days and talk to you about the art of decorating your table and terrace. The vibe is relaxed and the air invigorating. Eating outside with the sounds of the forest, or in a green oasis in the middle of an ocean of concrete, is a universal need.
The outdoor table can become a charming oasis with a couple of smart accessories. Get out of your comfort zone and dare to create beautiful and inviting tables. Choose a relaxed but balanced decoration with a structured layout, enhanced with little elements from nature.
In fact, for a fabulous country chic table, choose a bouquet of wild flowers. Simply put them in the middle of the table, they will be the perfect touch for an easy-going concept, and your guests will feel pampered and lighthearted. Between you and me, they will have no choice but to have a good time!
Surround yourself with objects that are showing the patina of time as well as with urban pieces that have clear lines: lanterns, pretty charger plates made of natural fiber in neutral or white colors or made of shiny metal, delicate place settings, with or without a design, pillows with vivid colors, shells, pebbles, driftwood….
Decorate the space above the table with a chandelier, decorative light chains or flags made of festive and elegant fabric.
Take out your most beautiful pieces, new or vintage. The results will be charming and elegant! Your guests will be surprised by the way your interior decoration will be reflected in your outside space. In the end, we all seek that close connection between the inside and the outside.
YOU MAY ALSO LIKE THESE ARTICLES
Bring the beautiful spring season into your home