A simple and natural winter decoration: One room at a time
November 21st, 2016 by Strøm Spa Nordique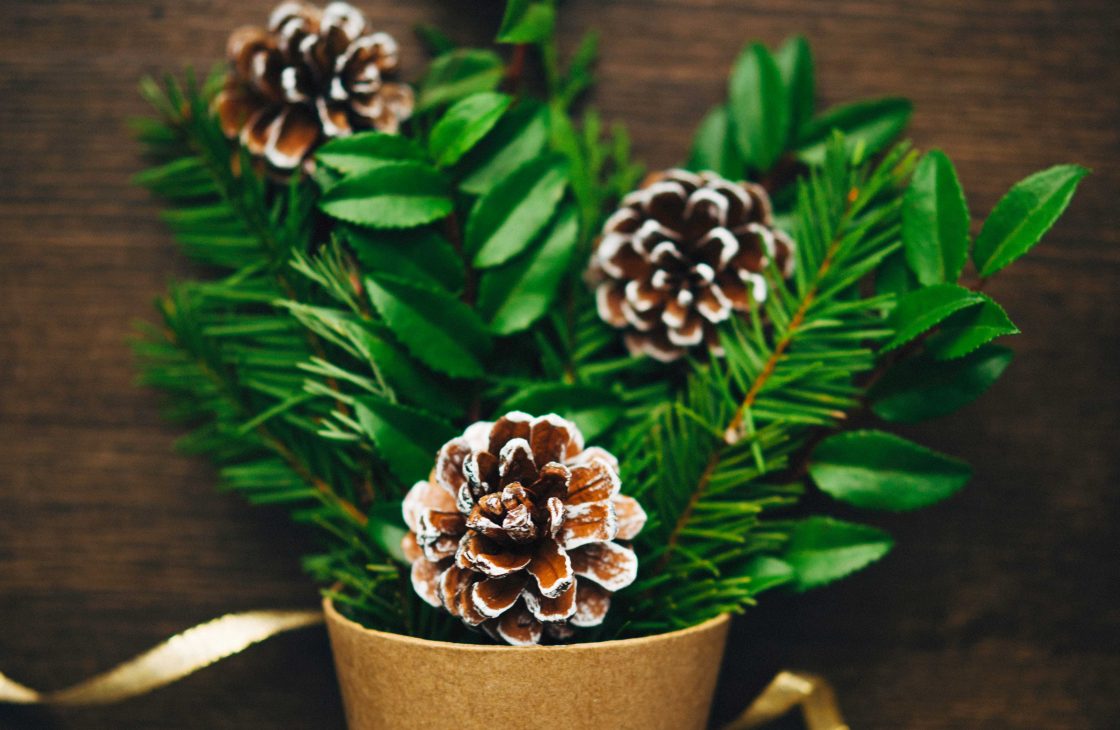 It is that special time of year where we proudly prepare our four walls to welcome our guests into our beautiful and warm home. This year, the attention is drawn back to the basics. It's the perfect moment to blend the shimmering radiance of the season with the simplicity of nature.
– By Audrée Kemp Bélanger, Architect – Designer AKB Design
I am a huge fan of big, mighty and spectacular natural branches. Displayed in a large vase, they add a subtle and exquisite seasonal scent, and bring a little bit of that cottage look to our interior. They are easy to come by, just go for a stroll along the edge of forest trails. Why not take this opportunity and look for branches with the whole family, breathing fresh air and filling the mind with beautiful memories. It is also a great moment to collect pretty pine cones, which are a perfect addition to your decoration arranged in a bowl at home and in the Christmas tree. And don't forget the traditional branches of the red dogwood.
There is nothing more magical than to step into a house that has been transformed into a wonderland for the holidays. For a successful effect, it is important to create a continuity of color palettes in your home. We like the cream colors and the shades of white, gray, touches of transparency and the elegance of silver and gold compositions. We also love black and hints of red accents, but most of all, the multiplication of the rich blend of soft textures offered by the different shades of green of the winter foliage. We use fir, boxwood, pine, cedar, magnolia, eucalyptus, sage … Choose simple arrangements with minimal color. The arrangements have more impact when the colors are in the same tones.
A brief and practical guide for a simple and natural holiday decoration!
The front porch:
Welcome your guests with a lovely wreath hanging on your door. Mix the different textures of foliage for a refined and different effect: different shades of green make the arrangement even more beautiful! Finish it with just the right amount of color by incorporating holly branches with small red or green berries but no leaves. Choose a burlap ribbon to hang your wreath for a raw and natural effect. To frame the entrance, arrange plenty of big branches in large wooden or metal pots on both sides of the door and decorate them with strings of white lights. Stacking wood logs on your porch close to the door also gives an immediate cottage effect!! A well-chosen doormat and some lanterns on the ground give the final touches to the arrangement and let your guests immediately forget the holiday rush.
Main entrance:
Start by displaying a beautiful bouquet of green branches on the console. Putting a candle or string of lights on the surface of the table will add a little magic touch. For a warm and inviting atmosphere add a throw blanket and a festive cushion on a bench in the entrance. A large wicker basket is convenient to gather the presents we would like to offer to our guests. Empty the wardrobe to make room to hang up your guests coats in an easy and elegant way. To finish, the hooks on the walls of the entrance are perfect for adding some additional decorative elements in this space: a wreath, ornaments, a beautiful scarf…
Powder room:
The powder room should not be overlooked because all the guests will eventually pay it a visit. A branch of fragrant pine tucked on a shelf is the perfect holiday touch for the bathroom. Choose a comfortable towel with a festive motive or prepare a little basket filled with folded single use towels, a nice gesture your guests will appreciate. On a mirror or metal tray, place a forest scented candle, an exquisite soap and a small vase with a fir branch.
Kitchen:
A wreath hanging on every kitchen window brings a festive and dynamic touch in all simplicity. How about using square wreaths this year, they are just as elegant! Also, a large vase filled with fir branches of any kind will have a wonderful impact on the island. Add a bowl filled with clementines, a classic that brings a nice touch of color to the kitchen. Decorate the lights over the island with a few branches. Expose your pine cones, a lovely tea service, beautiful tableware, green foliage, ornament balls, etc. under a couple of glass domes. The old-fashioned style of some objects is just beautiful all by itself. Change your kitchen towels for ones with winter motives. Do the same with the carpet in front of the sink. For a cocktail party with friends, add a touch of color by putting some fresh pomegranate arils to your champagne glasses, and to top it add a sprig of rosemary, mint or even fir.
Dining room:
Change your table runner for a runner made with fur. Add pillows to the chairs for a comfortable look. A simple fur placed on the back of a chair will add a chic and casual effect to your table. Decorate the chandelier above the table with fir branches and ornaments for a beautiful impact. Bring in your outdoor lanterns and use them on the table. Accentuate them by filling them with ornament balls, green branches and white lights.
Living room:
Add wool or cashmere throws to your sofa and switch out your summer cushions with velvet, wool or silk cushions … Incorporate some cushions with winter motives. Arrange seasonal flowers, like white poinsettias and amaryllis on the tables as a focal point. You could also change the curtains for ones that are more opulent, superb and plush. Get out the holiday cards you received and choose the ones that match your decoration and color scheme. Put them in the corner of a mirror, on the dresser or hang them on a wire with clothespins, an easy way to display them. Also change the summer pictures in the frames with pictures of winter landscapes.
Christmas tree:
This year buy a real Christmas tree, there is nothing like it. We love to add a bunch of natural branches in the tree, insert them not to deep in order to see them protrude. Choose white lights and add balls of white fur for a chic winter effect. Incorporate natural elements like pine cones, burlap ribbons, berries and sparkling new elements. Vintage photos of your family also add personality to your arrangement. Replace the traditional tree skirt to hide the tree stand with an elegant wicker basket for a natural style. Display the gifts under the tree as works of art; they are part of your decor. Use gift wrap that matches your decor. There is no need to put in all your free time to wrap your presents! Take your leftover fabric, scraps of construction paper, craft paper, ribbons, lace trimmings etc. and use them to wrap your presents and recycle at the same time! Put the finishing touch by inserting a small green branch under the ribbon of the present.
Fireplace:
Placing pillar candles on the mantelpiece is the perfect solution to decorate your fireplace. It doesn't matter if they are natural or battery operated candles, just vary them in size and chose cream and white colored ones. Fill up the fireplace mantel; put them in front of a large mirror or a large painting of a white horse or a deer in the snow. Also add some pine or fir branches or narcissus throughout to add contrast, texture and color. To achieve a beautiful wintry effect add a wicker basket filled with wood logs on the side of the fireplace (it doesn't matter if your fireplace is wood burning or gas)!
Stairs
Highlight the movement of your stairs, by hanging a series of wreaths or your precious Christmas stockings. By hanging them increasingly higher, it will attract the eyes of your guests. Or loosely hang a garland of different fir branches and ribbons on the handrail which you can refresh throughout the holiday season. Putting battery operated pillar candles on each step will give a beautiful light and a theatrical effect to the stairs.
Master bedroom:
Again, drape warm blankets on the bed, change the pillows, and put a fur rug as a focal point at the foot of your bed. Decorate with a surprising mix of textures and patterns. Put vases filled with smaller branches on the bedside tables. A wreath hung on the wall above the headboard is festive and surprising. Change out the pictures in your frames choosing ones with winter images.
Guest room and other rooms:
Bind some green branches together with a hemp cord or a nice butcher string. Add some fruits or citrus fruits. Hang them on door handles, hooks, light fixtures or the corner of the headboard for a friendly artisan touch. Place them on the nightstand and on linens.
Have a great time decorating your house and Happy Holidays!
YOU MAY ALSO LIKE THESE ARTICLES
A festive and inviting porch for the holidays and all winter long