What do I do now?
April 13th, 2020 by Judith Ritchie, author and journalist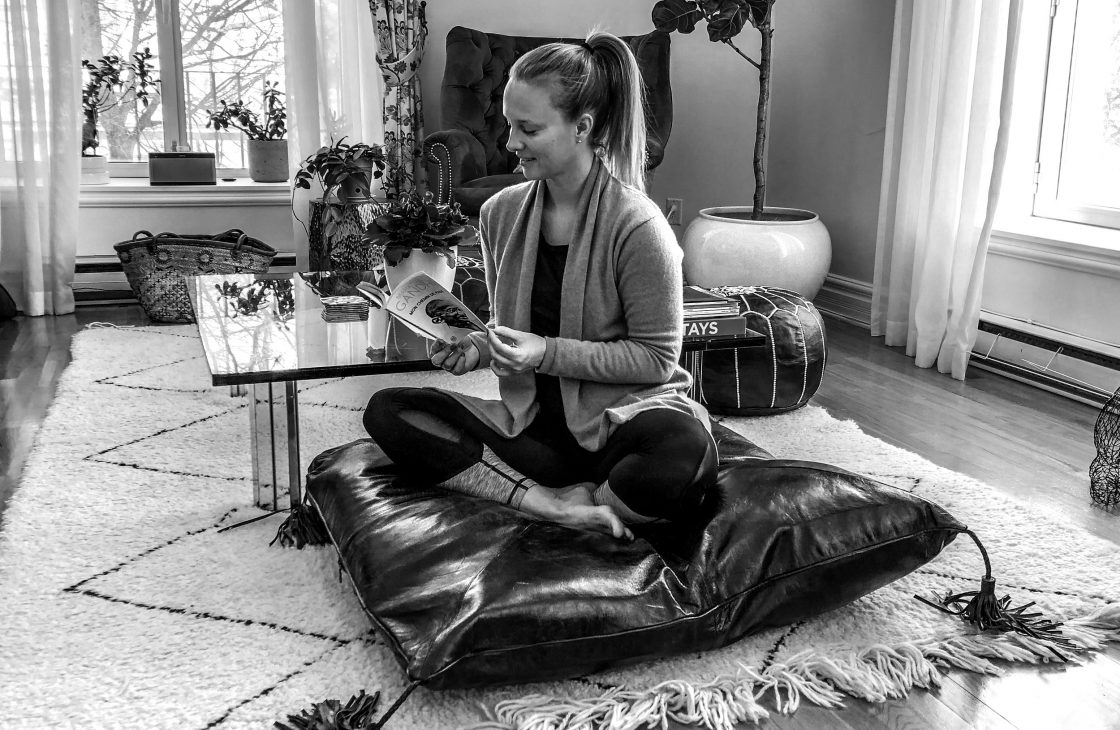 A testimony? Who am I? Everything we experience is so personal. This confinement is individual before it is collective. The saying "it all comes from within" takes on its full meaning at this time. I think that the murmurs of our unconscious reappear in a brutal way when our freedom is being put to the test. After the shock, the grief, the anger… the acceptance? Well, not quite. It's a time to redefine our living space. Understand: life itself. It's time to reinvent ourselves. It's time to gain height and depth. Luckily, there's social media, that big addiction. I sometimes wonder: isn't that a way to not get inside yourself again? Running away from the great encounter? Our demons? Our fears? Our regrets? Our dreams? I think this quarantine is a tsunami of unanswered questions. Where are we today? Where are we now? With whom? Why are we here? I think answers come through intuitive action. Gestures that matter. Gestures of the moment. "Now what do I do?" NOTHING! More than ever, we need to connect with ourselves. I would even say, to something greater than oneself. This great immutable force that is Love and that nourishes the energy that heals. For my part, I allow myself inner destruction. As would do Shiva, the god of destruction, illusion and ignorance. This voluntary destruction is also the beginning of the creation of a new world: Shiva transforms! We are in full mutation. Between the destructive fire and the hope of liberation. For the moment, the best way to explore the universe is by diving inside the great mystery. It's fabulous and without borders! How can you do it? Through meditation. So I invite you to do it… right now.
5 meditations against COVID-19
Meditation is a great ally to remain sane in times of chaos. Because we all need it, here are five ways to change your negative thoughts related to Covid-19. These ideas are taken from the book The Best Meditations on the Planet, by Dr. Martin Hart, founding president of the American Society of Alternative Therapists.
TAKING CONTROL OF OUR THOUGHTS
Whenever you experience any feelings of anger, anxiety, fear, sadness or discouragement related to Covid-19, stop your activities and concentrate on these feelings. Go back through your thoughts to identify which ideas caused this feeling (several? Very normal!). Write them on a blackboard in your head and imagine that you are erasing them with a brush. The idea is to regain control of your worries and make a conscious choice to make them go away. Then, think about someone you love, a friend, a lover, a pet… see how good you feel, how lighter and happier you feel. Repeat the exercise every time you have negative thoughts and thus transform the negative into positive!
GETTING RID OF PERFORMANCE ANXIETY
About 75% of people will experience some form of performance anxiety, whether it is related to job loss, financial insecurity or illness. In this period of uncertainty brought on by this pandemic, the idea is to create a protective bubble. The technique? Visualize a beam of light as bright as a laser beam penetrating through the top of your skull and into the middle of your body. This light passes through each of your chakras and comes out at the height of your coccyx, to anchor itself in the heart of the earth. You feel anchored to the ground, wrapped in a cocoon of light. Secure. Imagine that the light breathes in and breathes out your anxieties. Stay in this meditative state for as long as you wish.
DEALING WITH IRRITANTS
While it is not always easy to change its own working conditions, or, in this case, of confinement, meditation helps to deal with the irritants and the annoyance one can feel. The technique? Increasing your tolerance through thought. When you are in a deep relaxation mode, target a situation that irritates and destabilizes you, visualize this situation becoming less and less constraining and annoying until it completely disappears. Repeat the exercise until you feel completely at peace.
TURN FEELINGS OF INADEQUACY INTO COURAGE
It is often our own sense of inability or powerlessness that prevents us from succeeding. Through meditation, it is possible to replace your negative thought patterns with positive thoughts for better performance and self-esteem. The technique? Inhale the quality, exhale the flaw. Think of a word that awakens your sense of powerlessness. For example, Covid-19. Identify its opposite. Here, it would be health. Inhale thinking of health, exhale Covid-19. Every time you exhale, your powerlessness will decrease, and your health will increase!
DISPEL THE FOG OF ANXIETY
In order to see the future positively, one must first stop being worried, anxious, mistrustful or preoccupied (which is not easy at the moment, I agree!). Meditation can help increase your chances of a happy outcome in situations you worry about. The technique? Facing the worst outcome and choosing the light. Think of the worst possible outcome, then think of the best possible outcome. In a deep state of relaxation, try to identify what is troubling you in this situation. Feel a huge fog around you. You can no longer see anything. Suddenly, a hand appears and guides you through the fog into a room lit by candles. In front of you are two doors. The worst outcome, and the best outcome. Open each of them and experience the emotions of both eventualities. Observe your emotions. Don't panic! You're only an observer. When you're finished, come back to the closed doors. Mentally illuminate the one that leads to the favourable outcome and concentrate on that possibility!