The Fika
July 6th, 2022 by Strøm Spa Nordique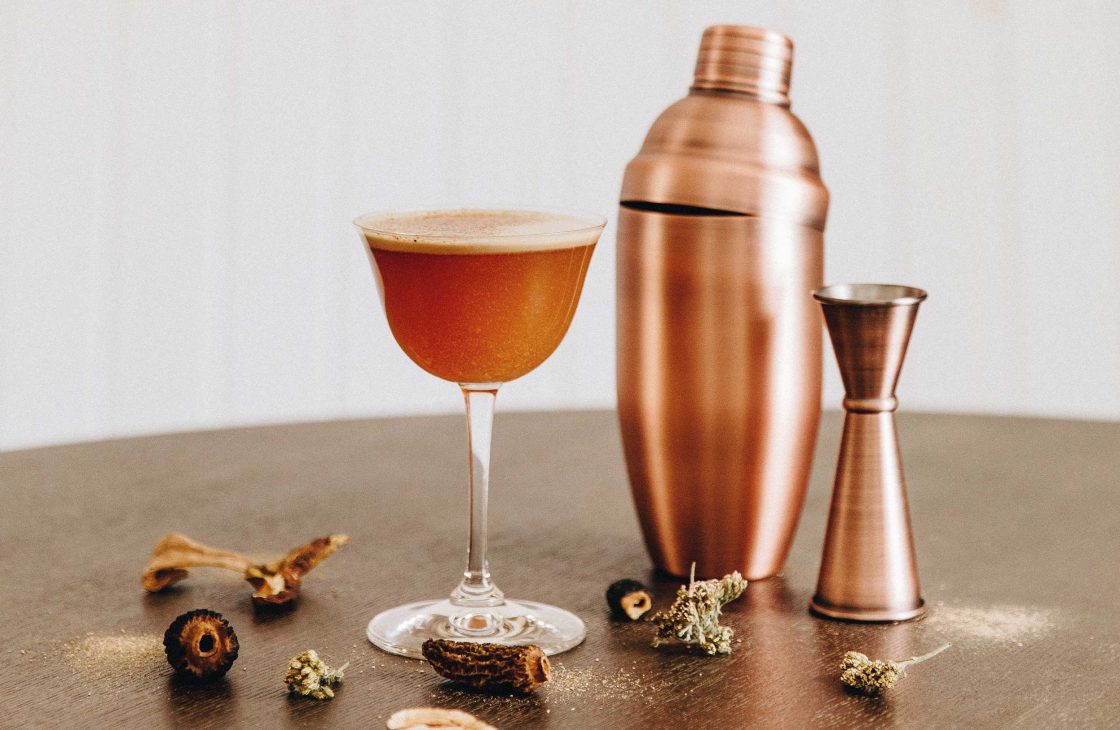 ICED COFFEE WITH MAPLE GIN AND WiLD MUSHROOMS
IN THE FOREST — Thousands of species of wild mushrooms have inhabited our forests since prehistoric times, only a portion of which we know about. The mushroom is full of nutritional benefits. It is often used for medicinal or consumption purposes and—more surprisingly—in rituals.
A true symbol of our land, its harvest is an integral part of our heritage. Did you know that the mushroom has everything the body needs to lead a healthy life? Rich in vitamins, minerals, and fibre, it is also the only plant to provide vitamin D. The mushroom helps strengthen the immune system and stimulate the metabolism: it obviously hasn't finished surprising us!
Yield: 1 serving
INGRÉDIENTS
5 oz maple gin
5 oz oat milk
1 oz wild mushroom syrup
5 drops Kebek wild mushroom bitters (can be replaced with Angostura bitters)
1 drop Noroi vegan foamer (can be replaced with 1 egg white or 1 oz aquafaba)
1 double espresso
1 powdered wild mushrooms
Sirop aux champignons sauvages
1 cup dried wild mushrooms
½ cup brown sugar
½ cup maple syrup
¼ cup water
PRÉPARATION
Fill a martini or tulip glass with ice cubes to chill it.
In a cocktail shaker, add all the ingredients except for the wild mushroom powder, finishing with the double espresso.
Fill the cocktail shaker with ice cubes and shake vigorously for about 20 seconds.
Remove the ice cubes from the martini
Double strain the contents of the cocktail shaker into the glass.
Sprinkle the wild mushroom powder over the
Wild mushroom syrup
In a saucepan, bring all the ingredients to a
Transfer to an appropriate container and let cool completely in the refrigerator, keeping the wild mushrooms in the mixture.
Strain the syrup before
Notes : Kebek bitters can be found online at amerkebek.ca. Noroi vegan foamer is available at the SAQ.