Recipe | summery appetizers
June 2nd, 2015 by Strøm Spa Nordique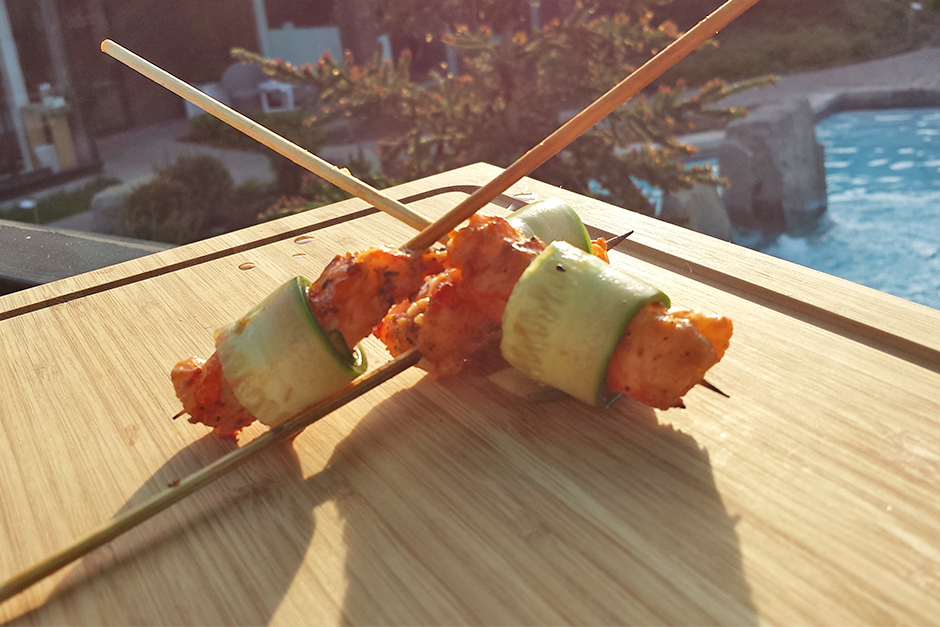 Grilled Argentinian shrimp skewers in a spice crust and Sherry marinated cucumbers
Ingredients:
Argentinian shrimps
250 ml of orange juice
Sherry
One cucumber
A mixture of spices
RECIPE:
Marinate shrimps with the spices of your choice
Reduce the orange juice with the Sherry to about a 1/3 of its original volume
Use a mandolin to cut the cucumber lengthwise into fine slices
Marinate the cucumber slices in the Sherry-orange juice reduction
Put the shrimps on skewers and grill them on the barbecue until they are white
Roll one marinated cucumber slice around each shrimp
Enjoy!
Mint and lime rainbow trout ceviche
Ingredients:
Juice of one lime
One rainbow trout
A bunch of mint
A drizzle of olive oil
A drizzle of maple syrup
250 ml of orange juice
RECIPE:
Combine the orange juice, lime juice and olive oil and marinate the trout for 12 to 20 hours in this mixture
Slice the trout very thinly
Put one slice of trout and a mint leaf on little skewers or toothpicks
Drizzle a little bit of maple syrup on top of the skewer
Enjoy!
Mango salsa and grilled halloumi with fennel leaves
Ingredients:
One Halloumi cheese
The feathery leaves of one fennel
One very ripe mango
One red onion
Olive oil
Juice of one lemon
One bunch of coriander
One red bell pepper
RECIPE:
Cut the mango, the red bell pepper and the onion in small dices and mix them with the coriander and the lemon juice
Marinate for 24 hours
Cut the halloumi cheese in small cubes and roast it with the fennel leaves, then put the cheese cubes on little skewers or toothpicks
Put the salsa in little shooter glasses, also called verrines, and place a halloumi cheese skewer on top
Enjoy!
Note: is also perfect as a salad.
Bon appétit !
– Michaël St-Jean, chef at Chic Traiteur, partner of our Cøzy Thursday
To discover the upcoming themes that are offered at the Cøzy Thursdays in 2015, click here.
YOU MAY ALSO LIKE THESE ARTICLES
From the local artisans to your table