Epsom salt | for a deep relaxation
January 22nd, 2018 by Émilie Coulombe, well-being collaborator and horticulturist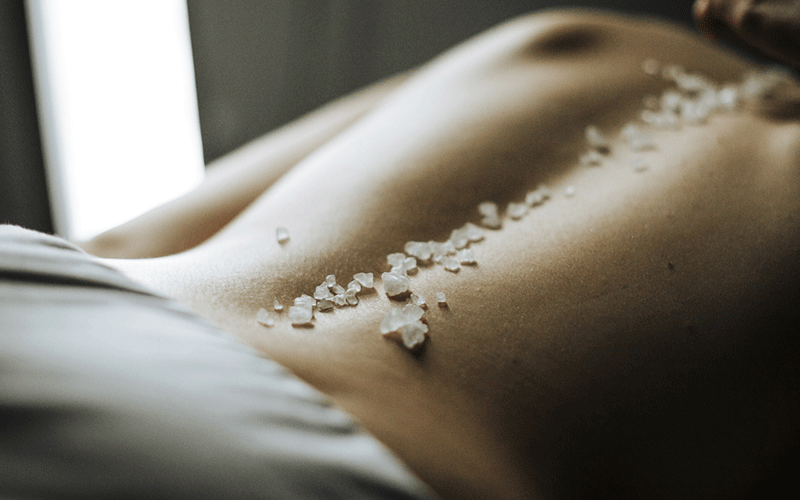 A handful of crystals of this simple ingredient are enough to help us relax and enjoy its many benefits.
Epsom salt is used for various health reasons and is popular among others in hydrotherapy.  This is the salt that is being used in large quantities in floatation baths to create the effect of weightlessness. But beyond this physical state, it is mainly the therapeutic effects that make it interesting, especially its anti-inflammatory properties, which make it a great help in relieving muscle pains.
Perfect at-home relaxation
While it is difficult to recreate a floatation bath at home, you can still enjoy a deep relaxation and the energizing effects of Epsom salt in your own bathtub. Add a good amount of Epsom salt to your bath water. The key to a perfect relaxation is the water temperature. If your water is between 20°C and 25°C it will have a firming and toning effect. For a deep relaxation and muscle relaxation, aim for a temperature of 37°C instead. And for a total sensory experience, choose a fragrant Epsom salt or add a few drops of eucalyptus essential oil to the water.
As with any approach to natural medicine, some people should check with their pharmacist before immersing themselves into very hot water, including pregnant women, people with heart problems, hypertension or varicose veins.
Salt scrub
For a do-it-yourself express treatment give your feet a salt scrub when you leave the bathtub.  Mix 2 tablespoons of Epsom salt with 2 tablespoons of oil, such as sweet almond oil or argan oil. Gently massage your feet with the scrub in a circular motion, the salt grains will soften the rougher areas and give the skin a healthy appearance.
A little bit of history
Magnesium sulphate was named Epsom salt because of the exploitation of a salt mine in the city of Epsom, England during the Renaissance. Like the Roman baths, it was a whole way of life and an economy that was created at this epoch around these greatly beneficial baths. Nowadays, magnesium sulphate, being available in abundant quantities, comes from different places, making the Epsom salt the most commonly used bath salt there is. Due to its widespread use, magnesium sulphate is presently the most studied form of bath salt. It is classified as an essential medicine by the World Health Organization due to its many medicinal properties. It is an affordable product that can easily be purchased at a pharmacy.