Roaming Québec with these five books
November 19th, 2021 by Nicolas Gendron
From Kamouraska to Arvida, local literature has always been able to observe the region and tell Quebec's story in a different way. Let me propose to you five recently published books that don't just rely on the landscapes but focus first on the human who inhabits the horizon.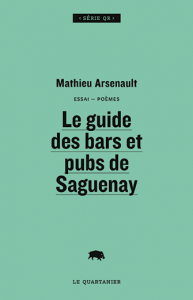 BY Mathieu Arsenault (Le Quartanier, 2016)
Whether he describes his own environment in La vie littéraire or the emotional life of teenagers in Album de finissants, Mathieu Arsenault has his very own style, between lucid fantasies and suspicions of anthropology. His new book is divided into two parts: first, in an essay on the concept of the phone-book (in the caméra-stylo (camera-pen) movement), Arsenault implies that the production of something real has become almost impossible in this era of hyper self-consciousness. Second, observing the patrons in the bars of Saguenay, with a little detour to Rimouski, he transforms his notes into impressionist poems, into snapshots of barmaids, karaoke fans and other "creatures" of the taverns: "C'est là que le buck a sorti / c'est là que le buck était / le buck était juste là" (That's where the buck came out / that's where the buck was / the buck was right there). Far from being a drinking guide, as one might think by reading the title, this book summarizes rather the "true reality" of the bar life during happy hour or at the last call.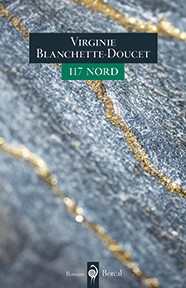 BY Virginie Blanchette-Doucet (Boréal, 2016)
Nominated for this years' prestigious literary award France-Québec, which will be granted in the fall only, this first novel by Val-d'Or born author Virginie Blanchette-Doucet, slowly moves along the coveted lands of her native Abitibi. The mines redeemed the properties of some people to extract the underground wealth – "À l'aube, les familles marchaient à côté de leur maison juchée sur une remorque…" (At dawn, families walked next to their houses perched on trailers) – while Maude recalls childhood memories with her friend Francis, whom the young woman left behind, and more recent ones of the gold bullions she shaped like precious cakes in a local refinery. Having taken refuge in Montreal with a single check disguised as a compensation gift for the eviction, the heroine can't help herself but to retrace her steps and to absorb all the anonymous kilometers of the Parc de la Vérendrye. She didn't witness her house being destroyed, but the area still remains her comfort zone. With her lace-like writing style, Virginie Blanchette-Doucet is definitely an author to be watched.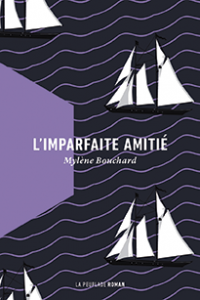 By Mylène Bouchard (La Peuplade, 2017)
Co-founder of the Saguenay-based publishing house La Peuplade, Mylène Bouchard wrote a third novel, as ambitious as it is capturing, deconstructing amicable love or…amorous friendship! A cultural journalist by the name of Amanda, named in honor of the schooner Amanda Transport – yes, yes, the "star" of the documentary Les voitures d'eau by Pierre Perrault – confides in her daughter Sabina over fifty years of her eventful life, a heart divided on two continents. Between Prague, her chosen exile, and the Isle-aux-Coudres, her birthplace, this great lover shares her travel diaries and the thread of her passionate correspondences, in an intimate fresco where the ghosts of Charlevoix meet the men recorded in her Registre des lièvres, a register of dead and resuscitated loves. "Aimer, c'est voir avec les mêmes yeux (…) écrire la même histoire."(To love is to see with the same eyes (…) write the same story.) Moved or thoughtful, the reader can only question the foundations of her heart.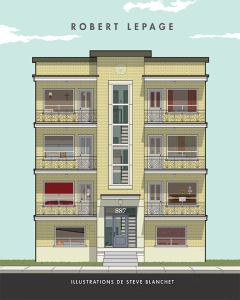 by Robert Lepage ; illustrations de Steve Blanchet (Québec Amérique, 2016)
In this, his most personal piece in a long time, Robert Lepage takes on the subject of memories – those of his childhood, as a comedian and those of the Quebec society –baring all his filial love and saluting his father, a former Canadian Navy hero who became a taxi driver to support his family. 887 is the address where he took his first steps in the 1960s on Murray Avenue, in the heart of the Montcalm neighborhood in Quebec City. He summons the personage of a neighbor by the name of Johnny Farago and of General de Gaulle, as well as beloved symbols of the capital, among others the Parc des Braves and the Château Frontenac. From his growing passion for theater to the difficult mandate of delivering the vibrant Speak White poem at the 40th anniversary of the Nuit de la poésie, Lepage establishes himself as a leading creator and calls on all of Quebec to probe his personal and collective memory. This is an exceptional work of art that is enhanced by the brilliant graphic talent of Steve Blanchet, creative director at Ex Machina.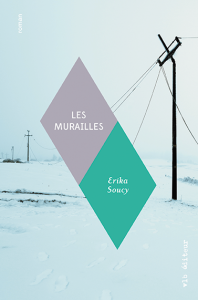 by Erika Soucy (VLB Éditeur, 2016)
Originally from Portneuf-sur-Mer, poet Erika Soucy returned to the Côte-Nord, following her father's footsteps, to "infiltrate" the jobsite of La Romaine. Inventing the title of an office clerk, she secretly records (extra) ordinary things of everyday life, from the barmaid's big heart to the prejudices against the Indians ("Où c'qu'y'a des plumes, y'a du vol!" (Where there are feathers, there is flight!)). The absent father figure is depicted with infinite accuracy, all but resentful, whilst very explicit; the rural exodus is rethought by the main concerns: "On a tellement un beau coin! Si on déniaisait nos jeunes, y feraient de quoi de bon avec ça. En tout cas, de quoi de mieux que La Romaine pis que les mines à Fermont."(This is such a beautiful corner! If we denied our young people, what good would that do? In any case, what can be better than La Romaine worse than the mines in Fermont.) No offence to the Rambo Gauthiers of this world – to whom Soucy, by the way, had written a viral letter on social networks – , construction is not an end in itself, it is neither a fatality. A novel of great beauty, endowed with a proud language, without compromise.